The premiere of "The Comey Show"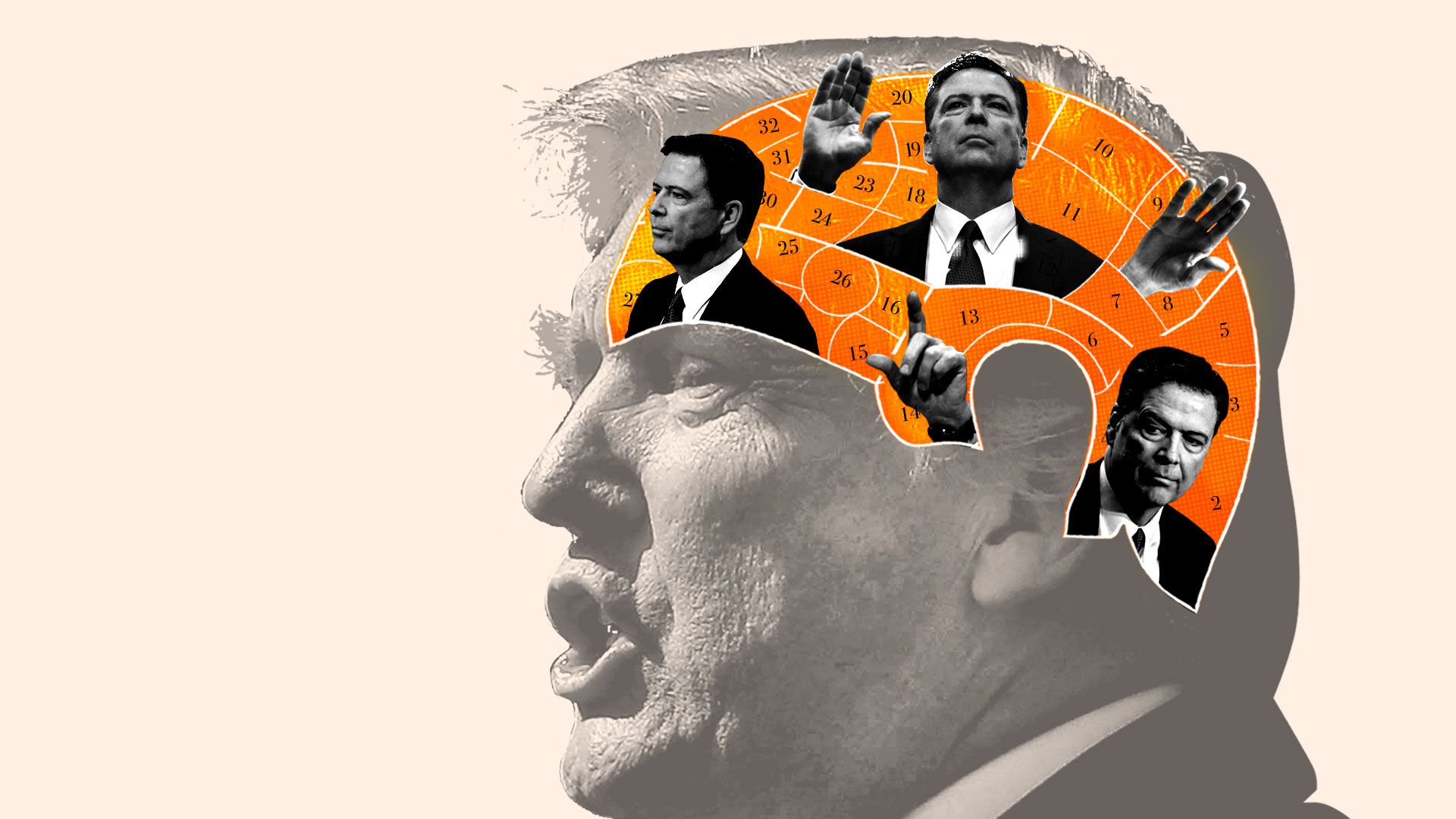 "The Trump Show," which has produced two seasons' worth of epic cliffhangers and plot twists, is getting a competitor: "The Comey Show," which is scheduled to run for at least five weeks, and will needle and gall President Trump amid global, legal and political crises.
Why it matters: In both his prime-time interview with ABC's George Stephanopoulos and an interview with USA Today, fired FBI Director James Comey argued that Trump is "morally unfit to be president," making it clear that, like a skilled political candidate, he'll be repeating a specific message with fervor and discipline on a coast-to-coast book tour that includes a saturation schedule of interviews and audience events.
In his interview with ABC, fired Comey called President Trump a "person who sees moral equivalence in Charlottesville, who talks about and treats women like they're pieces of meat, who lies constantly."
Comey used almost identical wording in the interview in with USA Today, calling Trump "someone who is able to see moral equivalence in Charlottesville or to speak and treat women like they're pieces of meat and to lie constantly."
Adding to the campaign feel, Comey told ABC that Americans need to vote Trump out: "I think impeaching and removing Donald Trump from office would let the American people off the hook ... People in this country need to stand up and go to the voting booth and vote their values."
On Trump's fitness for office: "I don't buy this stuff about him being mentally incompetent or early stages of dementia. He strikes me as a person of above average intelligence who's tracking conversations and knows what's going on."
Trump tweeted five times about Comey yesterday, before the broadcast: "Slimeball! ... I hardly even knew this guy. ... (he is not smart!), will go down as the WORST FBI Director in history, by far!"
Be smart ... In texts, emails and calls, here's what we're hearing about "The Comey Show":
A veteran of Bush 43's White House: "Comey is far more morally credible than the others who've tried and failed to ... have impact."
One of D.C.'s top GOP operatives: "Comey matters a lot for 2 reasons: 1) right now is the last best chance to get a legislative agenda moving in a GOP-controlled Congress, and instead Trump & RNC is 100% focused on fighting a former aide who is irrelevant; and 2) Trump & the RNC focusing 100% on Comey will help Comey's publisher sell a million+ books (just like they helped [Michael Wolff's] Fire/Fury). That really matters because it raises the price that publishers will pay for other Trump tell-alls."
A White House official: "[H]is comments show an implicit political bias during a time when he's one of the most important figures in the Mueller and Congressional investigations. How can anyone take him seriously as a non-partisan figure from here on out?"
But keep your eye on the ball — the twin investigations in Washington and New York that are delving into Trump and his businesses:
Matt Miller, former Obama Justice Department official and MSNBC contributor, notes that special counsel Robert Mueller "doesn't have anything like Comey's flair for the dramatic ... And he will make his decisions just on the facts. ... [W]hat Comey laid out in his testimony to the [Senate] Intelligence Committee will be more important for Mueller's decision-making than what is in his book and what he says in his interviews."
And Jonathan Swan reminds us: "The main game for Trump — and the reason his agitation levels went through the roof the last two weeks — is what happened to Michael Cohen. Trump allies are exponentially more worried about the [New York feds'] probe and the prospect of investigators poring over Trump's business dealings than they are anything Comey is saying."
Go deeper ... What Comey said.
Go deeper