What's on the table as Abe meets with Trump at Mar-a-Lago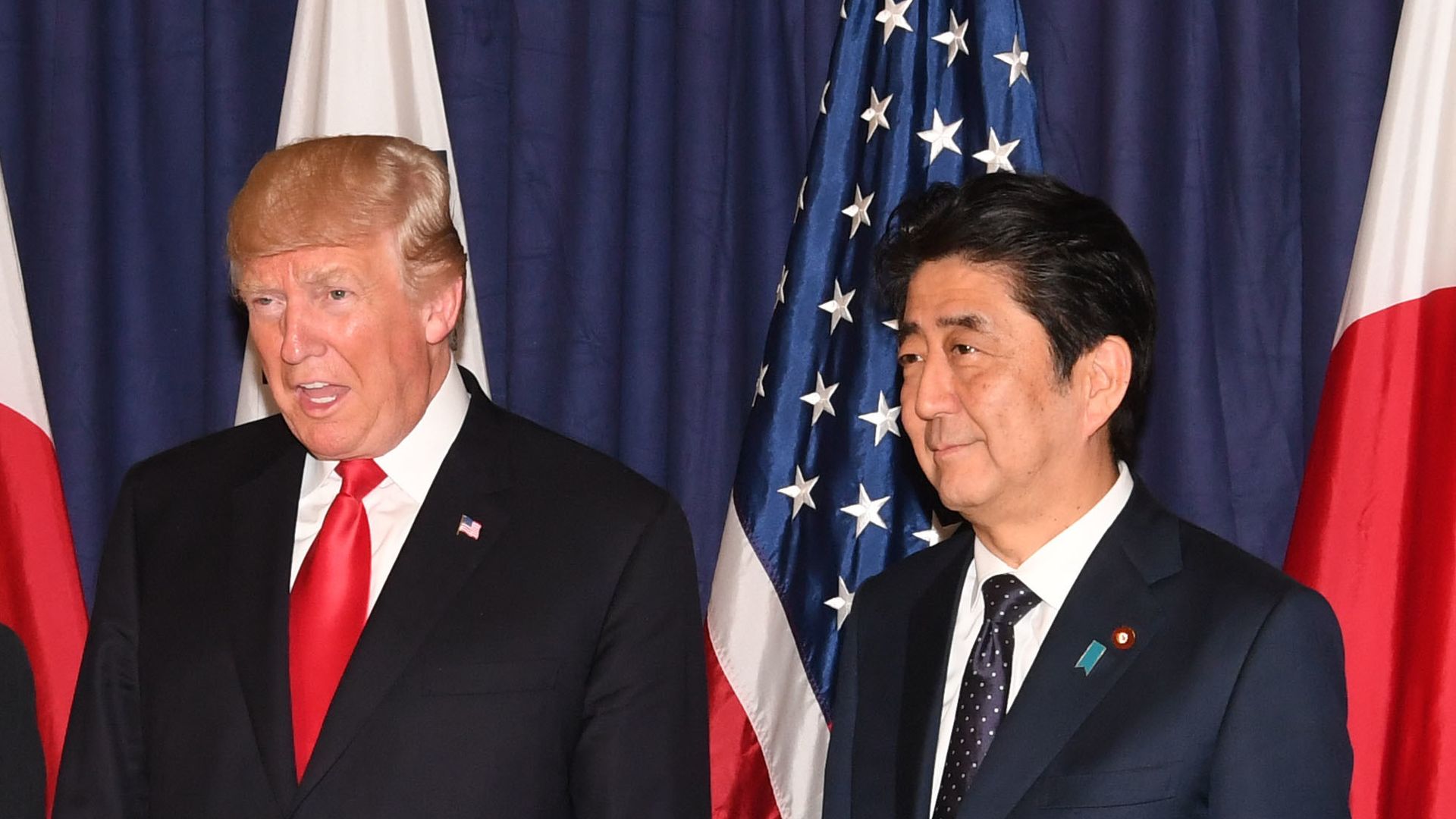 Next week, Japanese Prime Minister Shinzo Abe visits President Trump at Mar-a-Lago on the heels of a big pivot from the White House as the president directed his top advisers to re-examine the Trans-Pacific Partnership.
The big picture: Trump seeks close cooperation with Japan on resolving the North Korean nuclear threat, but he's alienating Tokyo with tariffs. Both issues are on the table as the two leaders meet on April 17th and 18th.
Reconsidering TPP: The Japanese government has expressed its willingness to welcome the U.S. back to the TPP, but is proceeding with caution. Trump will take a close look at reforming bilateral or multilateral trade relationships with TPP members, but "there would have to be changes" to the deal for him to rejoin, a senior White House official said.
Dealing with North Korea: Trump will seek advice from Abe on how to approach a summit with Kim Jong-un, per the senior official. A Japanese diplomat told Axios that Abe hopes to remind the president of his top policy priority which is to secure the U.S.'s help in rescuing the Japanese abductees in North Korea, some of whom have been in Pyongyang for over 40 years.
Trump's steel and aluminum tariffs: The Japanese were alarmed when they were not exempted from the president's tariffs in March, and it's an issue that'll likely come up in Florida next week. The official said Trump "has left open an avenue" for Japan, and other U.S. allies, to petition for exemption.
Chinese influence: China continues to pose a security threat for Japan with its military presence in the South China Sea. As the leaders meet, "naturally the issue of freedom of navigation in the South China Sea will come up ... It is a matter of international concern," the official said.
Go deeper: How the U.S. has interfered with Japan's plan to counter China
Go deeper