The juiciest excerpts from James Comey's new book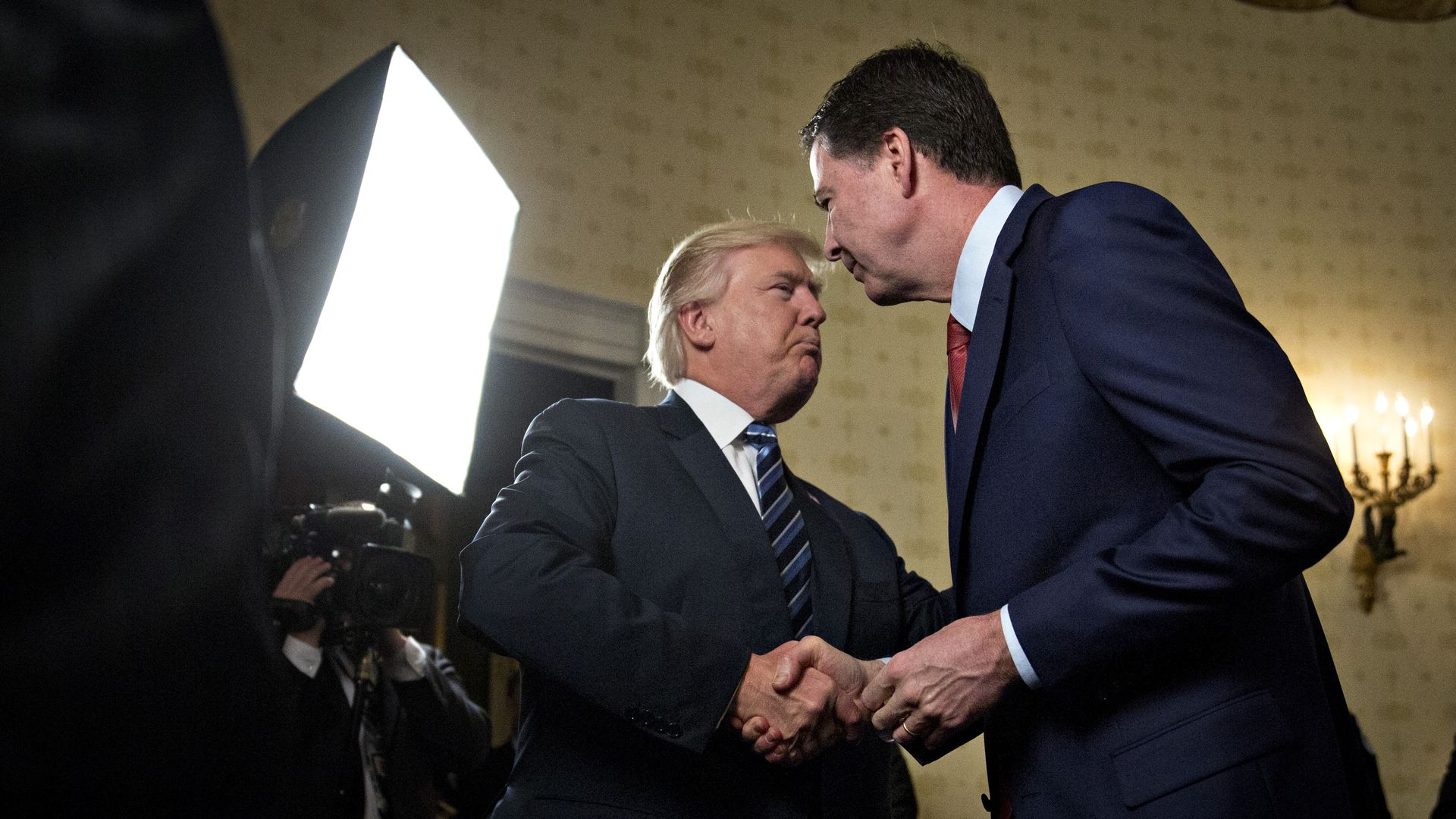 Former FBI Director James Comey's forthcoming book,"A Higher Loyalty" is making a splash in the days before its release as several leaked excerpts reveal it to be an unfiltered look at his short-lived time in the Trump administration.
What's next: The book hits shelves on Tuesday, and Comey is doing a nationwide press tour in the weeks that follow.
Comey accuses Trump of having been more concerned about his political appearance while President-elect than Russian meddling, and says the Trump team's approach was focused on "how to position these findings for maximum political advantage." (Politico)
Comey details the now-infamous "loyalty dinner," writing: "The president of the United States had invited me to dinner and decided my job security was on the menu." (Axios)
He refers to Trump as "untethered to the truth" and unethical. (Washington Post)
Comey describes feeling as though Trump was sitting "on a throne" in the Oval, "separated from everyone who spoke to him by a large block of wood." He adds that Bush #2 and Obama never did that. (Axios)
Comey says John Kelly called him after his firing and told him he was "sick" about the situation and "intended to quit" in protest. Kelly "said he didn't want to work for dishonorable people," referring specifically to Trump. (The Daily Beast)
Comey admits that even though Trump's actions might be unethical, they "may fall short of illegal."(Washington Post)
He says "it's possible" that President Trump was in Moscow at a hotel with hookers who were "peeing on each other." He continued "I honestly never thought those words would come out of my mouth." (NY Post)
He also jabs at Trump's physical appearance, saying he is "orange" with "white half-moons" under his eyes and really does have small hands. (Washington Post)
Go deeper: Trump reacts to the Comey book, calls him an "untruthful slime ball"
Go deeper