Exclusive excerpt: Comey felt Trump was sitting "on a throne"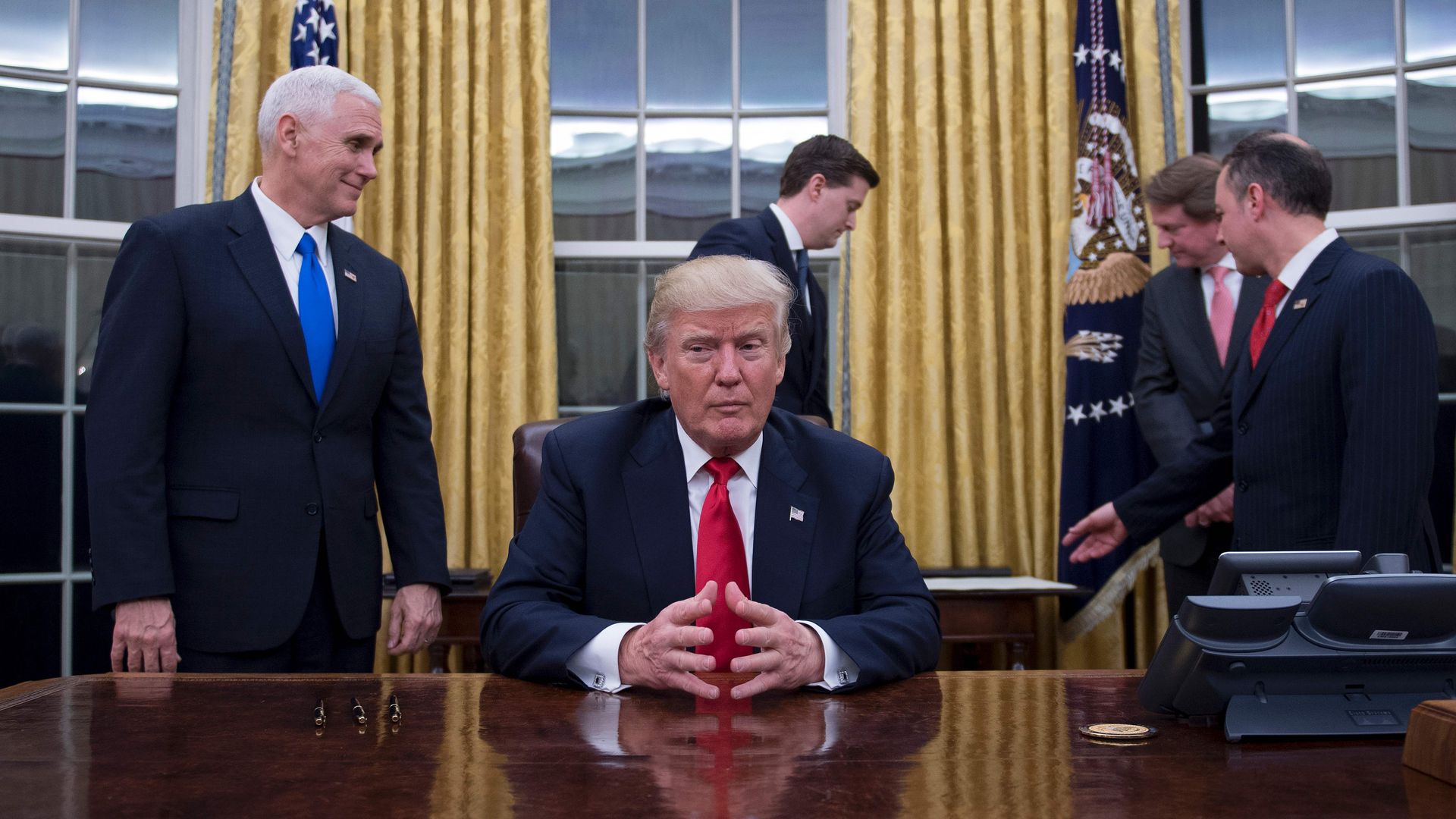 James Comey has an eye and memory for detail — color, curtains, wood — that infuses "A Higher Loyalty" (out Tuesday) with take-you-there accounts like this vivid take on President Trump and his FBI director in the Oval Office:
"Though this was not the first time I'd seen the new president, it was the first time I had seen him in his new office. He didn't look comfortable. He was sitting, suit jacket on, close against the famous Reso­lute desk, both forearms on the desk."
"As a result, he was separated from everyone who spoke to him by a large block of wood."
"In dozens of meetings in that space with Presidents Bush and Obama, I cannot recall ever seeing them stationed at their desk. They instead sat in an armchair by the fireplace and held meetings in a more open, casual arrangement."
"That made sense to me. As hard as it is to get people to relax and open up with a president, the chances are much better in the sitting area, where we can pretend we are friends gathered around a coffee table. There, the president can try to be one of a group, and draw the others out to tell him the truth."
"But when the president sits on a throne, protected by a large wooden obstacle, as Trump routinely did in my interactions with him, the formality of the Oval Office is magnified and the chances of getting the full truth plummet."
"[S]itting at the desk once used by Presidents Kennedy and Reagan, he launched into one of his rapid-fire, stream-of-consciousness monologues."
"I had often wondered why, when given numerous opportunities to condemn the Russian government's invasions of its neighbors and repression — even murder — of its own citizens, Trump refused to just state the plain facts."
"Maybe it was a contrarian streak or maybe it was something more complicated that explained his constant equivocation and apologies for Vladimir Putin."
Go deeper: Inside the "loyalty dinner"
Get more stories like this by signing up for our daily morning newsletter, Axios AM. 
Go deeper