Ryan may be forced to leave speakership by summer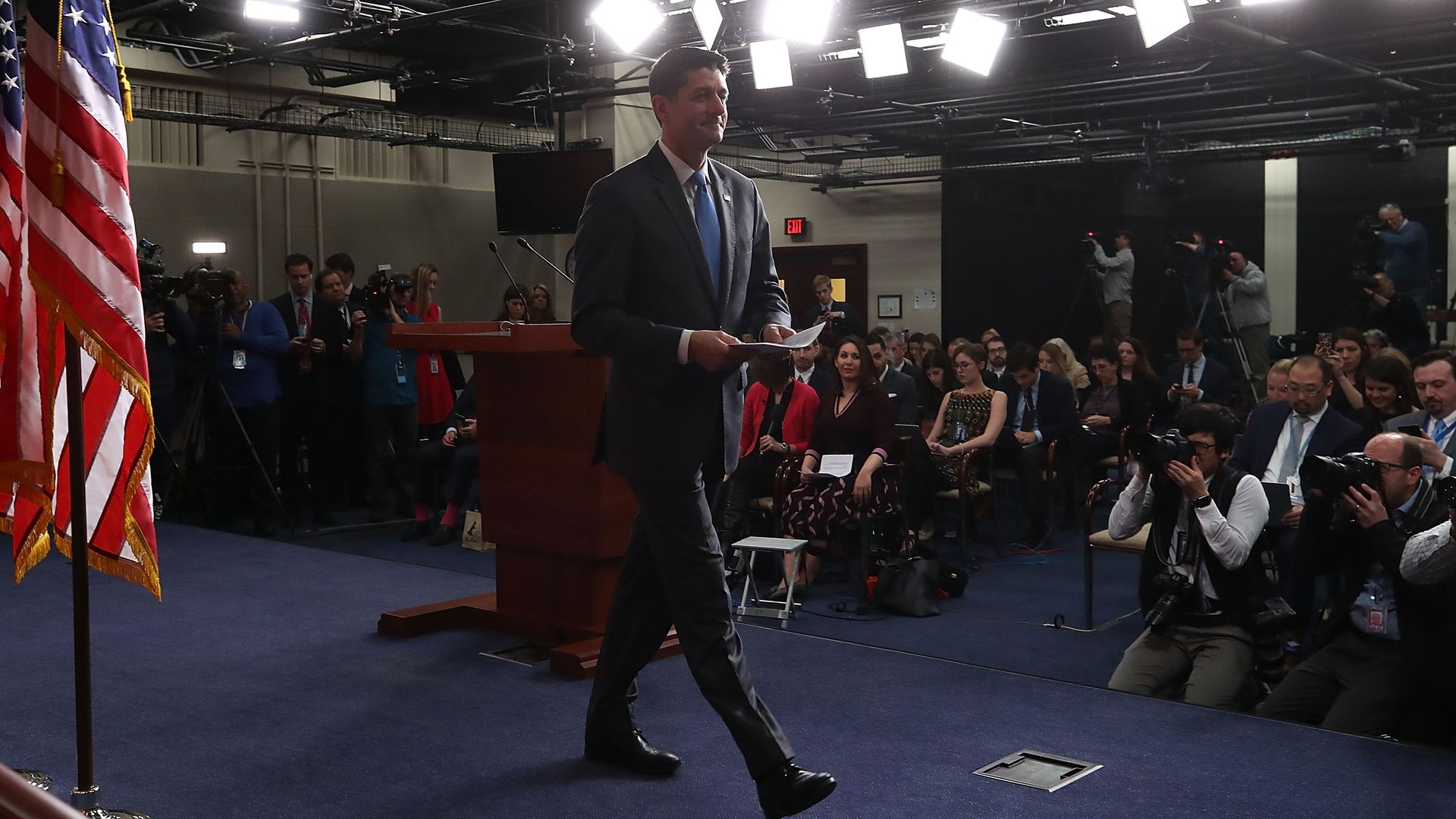 Paul Ryan said he plans to remain as speaker and not call an early leadership election, but well-wired Republicans tell Jonathan Swan and me that Ryan may be forced out sooner.
What we're hearing: One source close to leadership told us: "Scuttlebutt is that Paul will have to step down from speakership soon. Members won't follow a lame duck, he'll have no leverage to cut deals, and the last thing they need in this environment is 6 months of palace intrigue and everyone stabbing everyone else in the back."
A senior GOP House member predicted this about Ryan's future: "He will be gone by the end of July."
Some big donors, who have given millions to Ryan this cycle, may not want him to stay on as speaker if the entire party is taking on water.
This is not because he'll struggle to raise money. Enough donors from the old Romney-Ryan world will write checks to Ryan to try to save the majority.
It's more about certainty and stability. Members need certainty and they don't want to operate until November in a climate where every move from every member of leadership is viewed through the prism of jostling for the speakership.
Our sources say that could pull an already divided conference even further apart.
So we wouldn't be surprised if Ryan reverses himself before August, setting an early election for the next speaker:
The question then will be: Does Trump weigh in? Sources close to him say he'll instinctively want to back the current #2, House Majority Leader Kevin McCarthy.
Trump loves McCarthy, and consults him frequently for advice — but it's likely that some of Trump's advisers will caution him to stay out of the race. If he backs McCarthy, he owns him. And the conservative Freedom Caucus will hold that over Trump. 
At this point, at least, Trump would be happy with either McCarthy or the other likely option, the current #3, House Majority Whip Steve Scalise, according to a source familiar with his thinking.
Trump likes Scalise and thinks he's tough, and he loves McCarthy.
Remember: All paths to being Republican speaker run through the Freedom Caucus. To get the job, McCarthy or Scalise would have to vie to offer them the best deal, which would likely include chairmanships of top committees for Freedom Caucus members.
P.S. McCarthy feels he's in a very good place, after a day of talking to members and the White House. He's ready to go if/when Ryan steps aside. 
Get more stories like this by signing up for our daily morning newsletter, Axios AM. 
Go deeper