New members of Trump's White House have previously supported TPP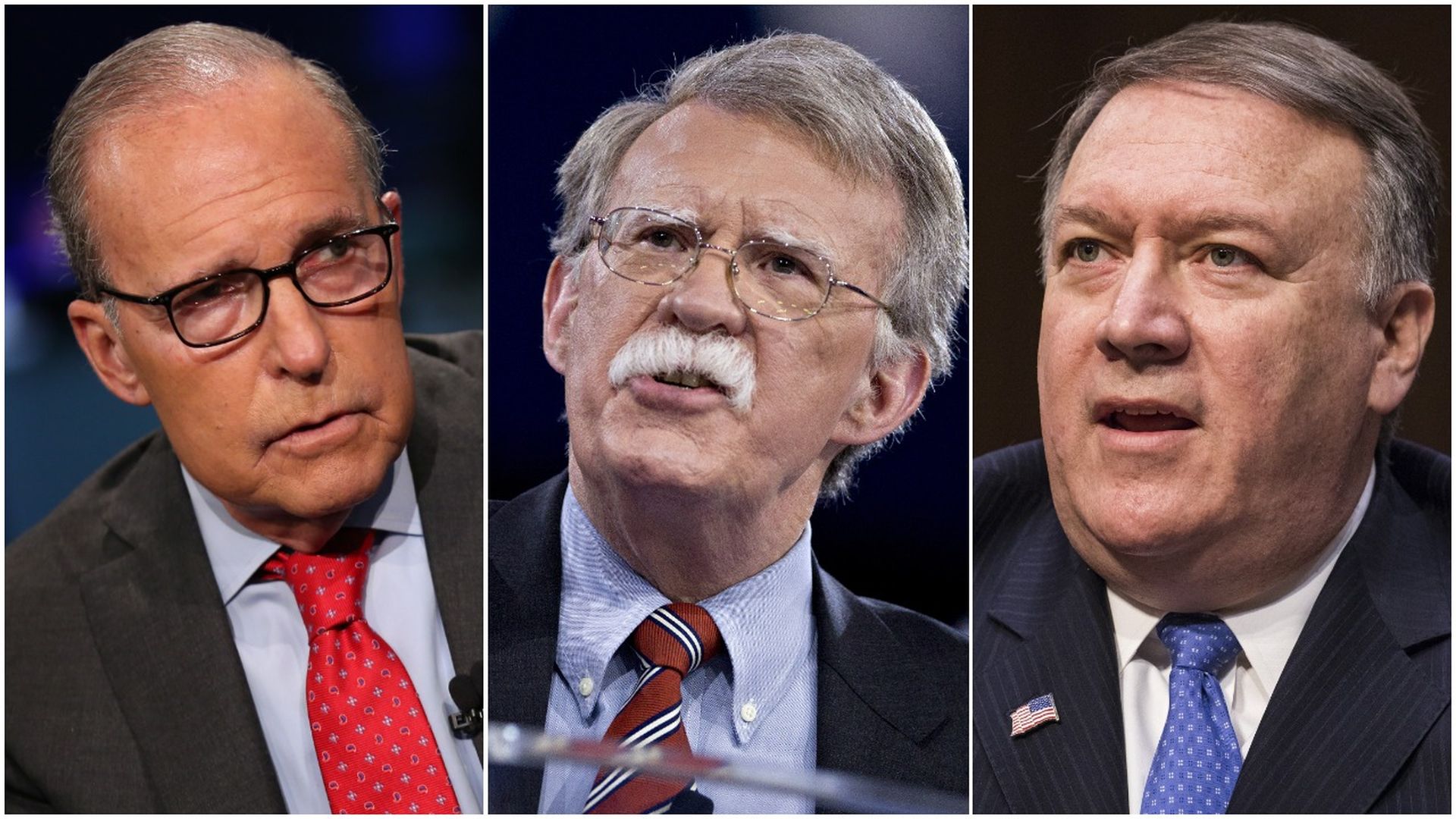 Three new members of President Trump's inner White House circle — chief economic adviser Larry Kudlow, national security adviser John Bolton, and Secretary of State-designate Mike Pompeo, have previously shown their support for the Trans-Pacific Partnership.
Timing: Pulling the U.S. out of TPP was one of Trump's first executive orders upon entering office. But earlier today, sources confirmed to Axios that President Trump is now considering reentering TPP negotiations, despite having called the Obama-era deal a "death blow for American manufacturing." Meanwhile, within the last 30 days, Kudlow, Bolton, and Pompeo all signed on for their new Trump administration roles.
Yes, but: It's easy to make too much of subordinates of the president whose own views don't align with Trump's agenda. There are plenty of historical free traders in the White House — including Vice President Mike Pence — but most of them have put aside their views to get behind the president's agenda.
Flashback:
In 2015, Kudlow wrote an op-ed in the National Review that said "Obama deserves credit" for "working with Republicans to persuade Democrats to come on board" with an Asia-Pacific free trade deal, adding that such a deal would lower tariffs and other barriers. "Lower tariffs are lower taxes," he wrote.
The same year, Bolton told Boston Herald Radio that the Obama administration actually "got it right" with TPP, and said Sen. Elizabeth Warren was "economically illiterate" for opposing the trade deal.
In 2016, then-Rep. Pompeo said: "TPP is not a perfect deal. But goodness gracious if America doesn't enter into a trade arrangement with those dozen…nations, the Chinese will...We need our nation to have the best deals with those countries so we can sell our products there," per the Kansas Wichita Eagle.
Go deeper