Paul Ryan won't run for re-election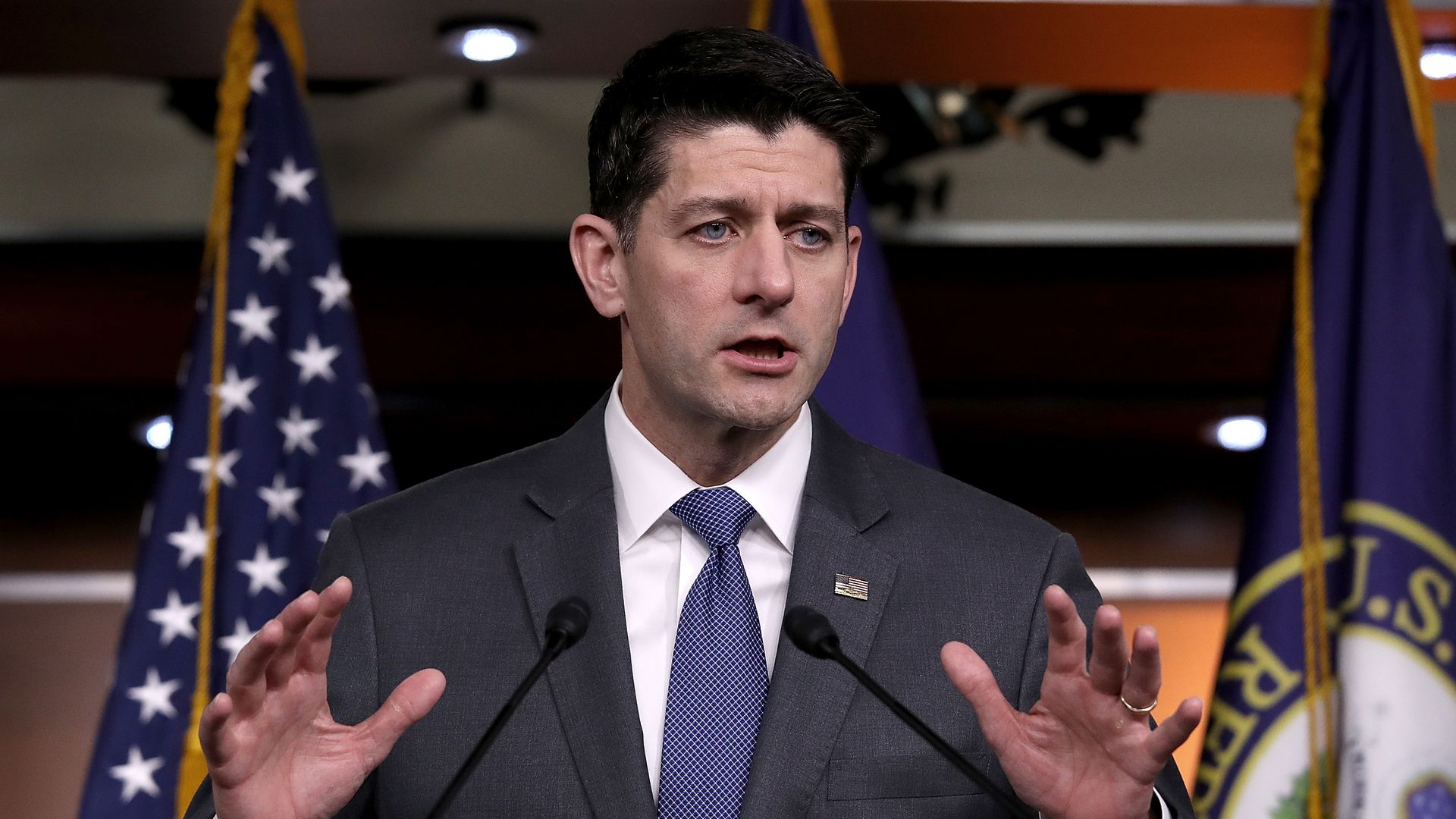 Speaker Paul Ryan told House Republicans this morning that he will not run for re-election in November.
Why it matters: House Republicans were already in a very tough spot for the midterms, with many endangered members and the good chance that Democrats could win the majority.
One of Washington's best-wired Republicans said:
"This is a Titanic, tectonic shift. … This is going to make every Republican donor believe the House can't be held." The announcement will help Senate Majority Leader Mitch McConnell (R-Ky.) in his fundraising because "the Senate becomes the last bastion," the Republican said.

Statement from Brendan Buck, counselor to Speaker Ryan:
"This morning Speaker Ryan shared with his colleagues that this will be his last year as a member of the House. He will serve out his full term, run through the tape, and then retire in January. After nearly twenty years in the House, the speaker is proud of all that has been accomplished and is ready to devote more of his time to being a husband and a father. While he did not seek the position, he told his colleagues that serving as speaker has been the professional honor of his life, and he thanked them for the trust they placed in him. He will discuss his decision at a press conference immediately following the member meeting."
Background:
This decision was foreshadowed when Politico's Tim Alberta and Rachel Bade wrote in December that he saw his "wild Washington journey coming to an end," but his final deliberations were held extremely closely.
Ryan, 48, was the Republican vice presidential nominee in 2012, and has long harbored presidential ambitions. Friends say he could make another run in the future.
Friends say that after Ryan passed tax reform, his longtime dream, he was ready to step out of a job that has become endlessly frustrating, in part because of President Trump.
Friends say Ryan was contemplating a minority or slim majority and decided that there was no good time to leave — it was time for at least a stint in private life.
What comes next: The two most likely to replace him are Kevin McCarthy and Steve Scalise, though Scalise has said he won't run against McCarthy, who appears to have first bite at the apple.
Get more stories like this by signing up for our weekly political lookahead newsletter, Axios Sneak Peek. 
Go deeper