Conservatives push censorship narrative during Zuck hearings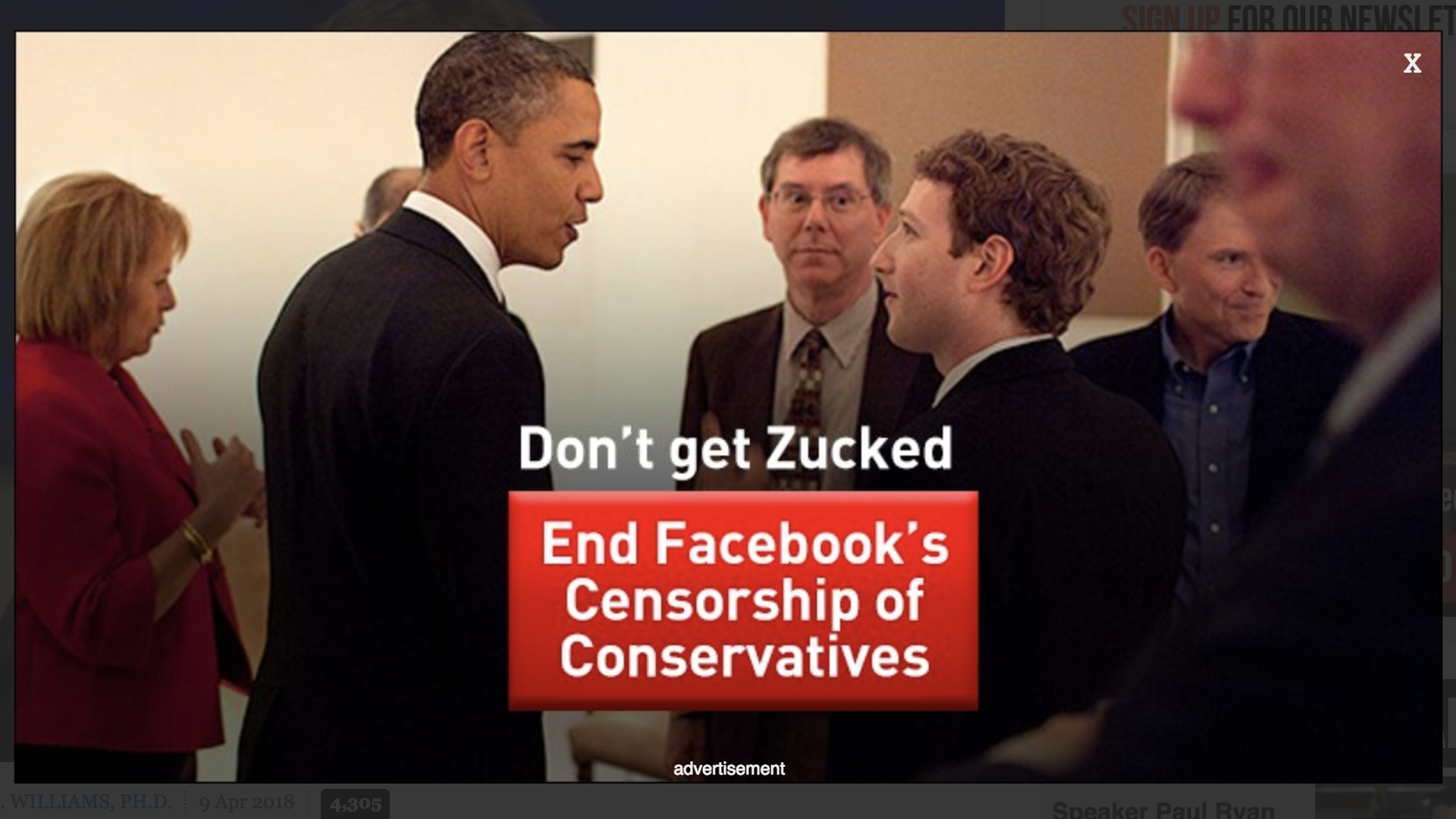 Conservative lawmakers and media figures have used Mark Zuckerberg's testimony to argue that Facebook uses its power and reach to censor conservative voices, such as the pro-Trump YouTube act Diamond and Silk.
Why it matters: With midterms around the corner, conservatives are using allegations of tech censorship as a rallying cry for voters who see Big Tech as part of the liberal establishment.
Fox News and Fox Business have been framing the Facebook hearing as more about censorship of conservative voices than about privacy. "Here you've got the biggest provider of news in the U.S., far more power than William Randolph Hearst ever had, with a long and proven track record of censorship in this country and other countries and with the power to change election results," Tucker Carlson said on his show Tuesday night.
Ben Shapiro, a conservative commentator who is reportedly one of the most engaging journalists on Facebook, tweeted, "Just one senator needs to ask Zuckerberg what makes his platform a platform rather than a publisher, given the amount of censorship in which Facebook is currently engaged."
Sen. Ted Cruz (R-TX) hounded Zuckerberg about the issue: "There are a great many Americans who I think are deeply concerned that Facebook and other tech companies are engaged in a pervasive pattern of bias and political censorship."
Rep Joe Barton (R-TX) asked Zuckerberg about the company's censorship of the Diamond and Silk video-blogging duo. Zuckerberg called the banning an "enforcement error."
A narrative has been brewing among conservative publishers that Facebook is intentionally targeting conservative news websites with content censorship and algorithm changes to downplay their content.
"Facebook has repeatedly punished a fast-growing news website for its conservative views on immigration and other topics — suspending its moderators, censoring content, and threatening to close the site down," Brietbart alleged in a Monday story.
Now, conservative groups are running ads on conservative sites like Breitbart with the rallying cry, "Don't get Zucked. End Facebook's censorship of conservatives." One such advertiser, Free Our Internet, asks viewers to sign a letter to Congress to "stand up to these out of control Silicon Valley monopolies that steal our information and censor our voices online."
This is not the first time Facebook has faced allegations of political bias. In May 2016, the company came under fire for reports that its human moderators were suppressing conservative content, leading to an inquiry by the Senate Commerce Committee.
The tech industry has become a target for conservatives because many internet companies are based in left-leaning Silicon Valley, with liberal leadership and employees, helping fuel complaints of internal bias.
Our thought bubble: Facebook prizes openness and has no economic interest in censoring political viewpoints. Conflicts around censorship bias have often developed around some far-right statements on hot-button issues like immigration and Islamist extremism, which moderators may find conflict with Facebook's prohibition against hate speech. The policy states, "Content that attacks people based on their actual or perceived race, ethnicity, national origin, religion, sex, gender or gender identity, sexual orientation, disability or disease is not allowed."
Any banning of content or accounts goes through a review process. Zuckerberg did, however, admit doing the hearing that the company doesn't always get that process right: "With the amount of content in our systems and the current systems we have in place to review, we have a small amount of mistakes, but that's too many...I get how people can look at that and build that [censorship] conclusion."
Go deeper