Inside the West Wing with Trump enraged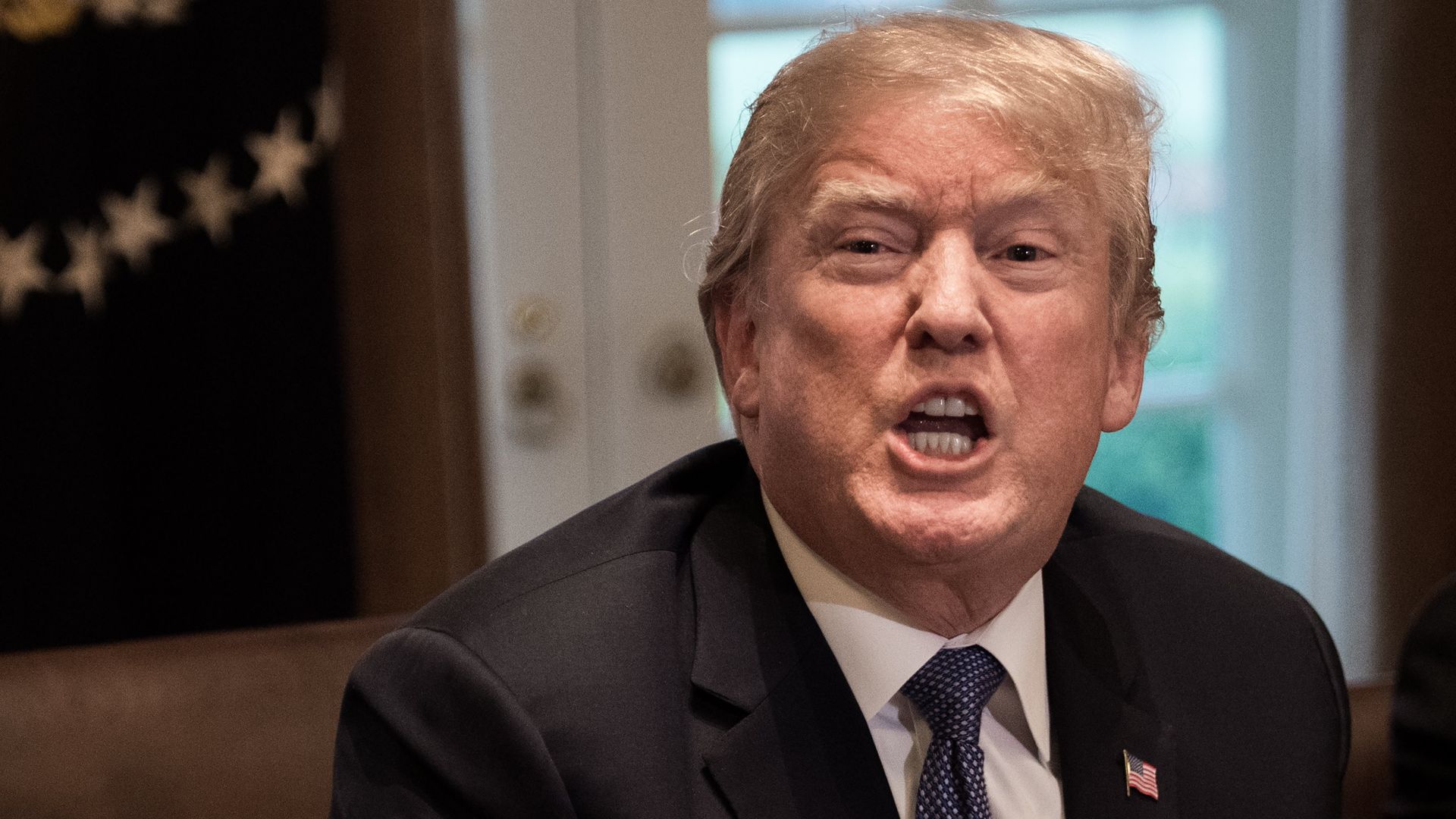 Sources close to the president say that a political dispute with special counsel Robert Mueller has turned visceral and personal after the feds' raid on the New York offices of Michael Cohen, Trump's personal lawyer and fixer.
What we're hearing: One of the sources said: "Mueller's investigation has been drip, drip. This was a giant leap forward ... a personal hit. ... They were moving in inches. Today, they moved a mile."
Until now, when storms hit, Trump could turn to Hope Hicks to explain things to him, suggest wording, simmer him down. With her departure from the White House, we saw the president working out his fury in real time.
The source continued: "This is the first crisis post-Hope Hicks. ... This was different: I've never seen him like this before. ... This is the president you're going to see more of from here on out: unvarnished, untethered."
Another source close to Trump said: "He takes the Russia stuff as a political hit job. This was a personal affront. This was the red line" of intrusion into personal financial matters.
The president — arms crossed defiantly — held a stunning on-camera venting session during an appearance with his senior military leadership where a potential strike on Syria took second billing to Michael Cohen ("With all of that being said, we are here to discuss Syria tonight").
The WashPost cites three sources as saying Cohen "is under federal investigation for possible bank fraud, wire fraud and campaign finance violations."
A statement from Cohen's lawyer, Stephen Ryan, said: "The US Attorney's Office for the Southern District of New York executed a series of search warrants and seized the privileged communications between my client, Michael Cohen, and his clients."
During the 10-minute rant, Trump ...
... used "disgrace" seven times and "disgraceful" twice.
... fumed about an action by agents of the government he heads: "I just heard that they broke into the office of one of my personal attorneys — a good man. ... It's a total witch hunt."
...accused those agents of his government of "an attack on our country, in a true sense. It's an attack on what we all stand for."
... said, repeating back a question: "Why don't I just fire Mueller? ... Well, I think it's a disgrace what's going on. We'll see what happens. But I think it's really a sad situation when you look at what happened. And many people have said, 'You should fire him."
... referred to the investigation as "the most conflicted group of people I've ever seen. The Attorney General made a terrible mistake ... when he recused himself.  ... [W]e would have ... put a different Attorney General in."
... quadrupled down on firing FBI Director James Comey: "One of the things they said: 'I fired Comey.'  Well, I turned out to do the right thing, because if you look at all of the things that he's done and the lies, and you look at what's gone on at the FBI with the insurance policy and all of the things that happened — turned out I did the right thing."
Be smart: Close aides are recommending against firing Mueller. But that means little these days.
The big, surreal picture: Take a minute to think about the history unfolding before our eyes. You have the president's top lawyer getting raided by the FBI, prompting the president to warn of an epic attack on government and signaling he might try to can the special counsel investigating him.
This is on the eve of the arguably most powerful and well known CEO of our generation getting grilled by Congress, in part because the Russians used his platform to try to elect the man at the center of it all.
History books will be written about this — and you were there to see it all unfold.
Go deeper