Congress isn't doing enough on opioid treatment, experts say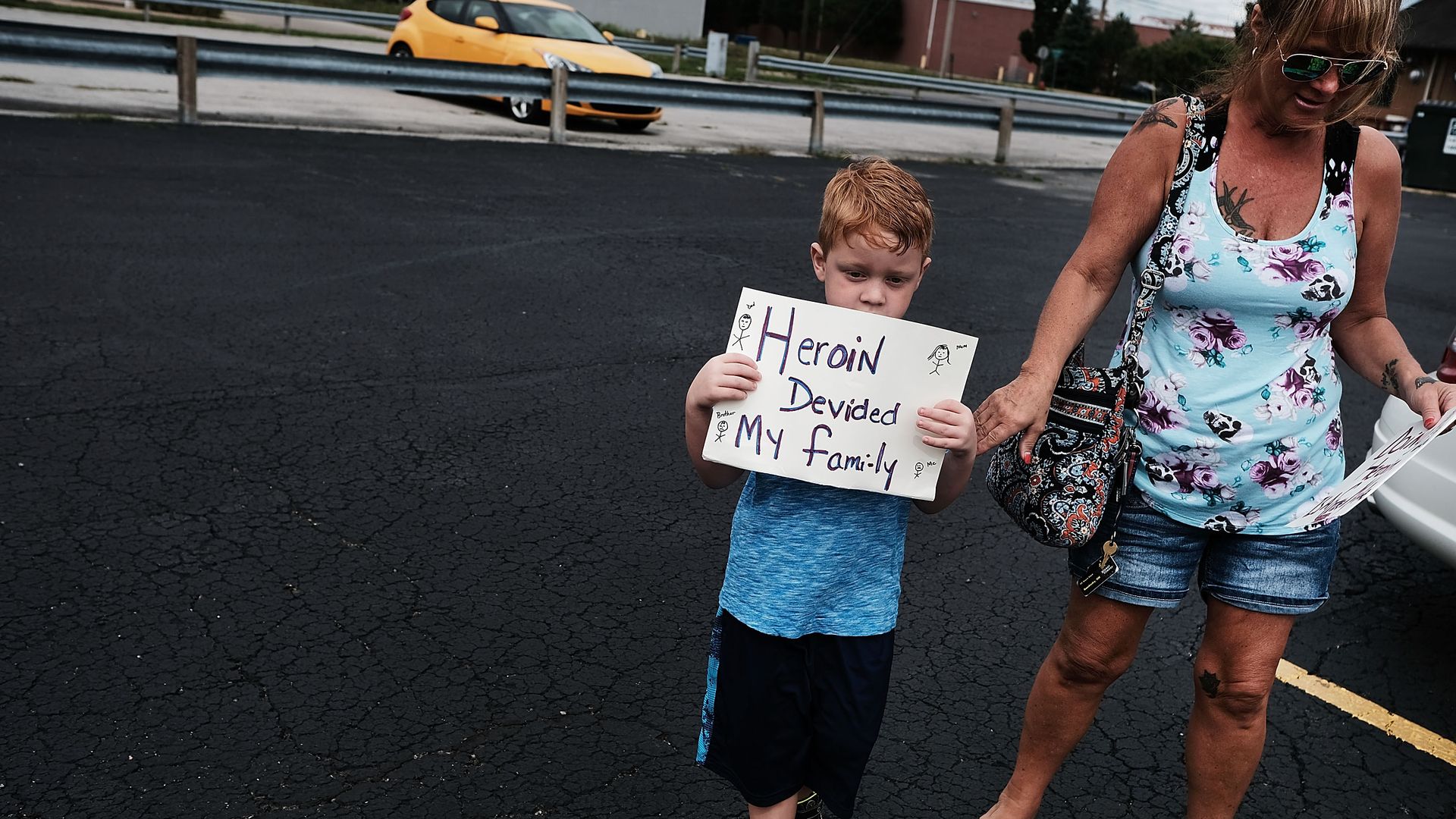 Congress is working on the next phase of its response to the opioid epidemic, but experts say the effort so far — particularly funding for treatment — is falling short, compared to the scope of the problem.
What they're saying: Experts say states need more money over a longer period, and that the country's overall treatment infrastructure needs a significant upgrade, as most of the country is ill-equipped to deal with the epidemic.
What's happened so far: Congress recently provided more than $4.5 billion to help combat the opioid epidemic — almost a 200% increase over 2017. It has addressed the issue several times, in spending bills as well as stand-alone measures, and is working on another legislative package now.
"A lot of money has gone to states to support treatment for opioid addiction ... These grants have provided valuable impetus to get health organizations and communities to buy into addiction treatment," aid Anna Lembke, an associate professor and medical director at Stanford's School of Medicine.
Yes, but: Experts say this response is still behind schedule, because the epidemic has been raging for years now and millions of Americans are addicted.
"It's an important start, but ultimately it's a fraction of what needed. This epidemic has been 20 years in the making."
— Caleb Alexander, co-director of John Hopkins Center for Drug Safety and Effectiveness
Federal funding needs to be sustained over several years, so states can hire more health care workers and build up their treatment infrastructure, experts said.
Andrew Kolodny, co-director of Opioid Policy Research at Brandeis University, told me he thinks that $60 billion is needed for opioid treatment over 10 years. "You can't give states one-time money and expect them to start building a new system," he said.
Between the lines: It's not clear how much of Congress' new funding will be set aside for treatment programs. Some is reserved for other priorities, including research into new, less addictive pain treatments.
Funding for treatment is sometimes seen as the equivalent of the emergency room — a way to get the problem under control while working on longer-term solutions. But treatment systems also need long-term repairs, experts said.
"All of the proposals with any traction on the Hill are short-term, when what is needed is to permanently enhance the funding of addiction treatment within Medicaid and Medicare so that the system provides high-quality care integrated with the rest of the health care system for the long-term," said Keith Humphreys, a professor at Stanford.
"The treatment infrastructure necessary to fight this epidemic also requires a work force of trained physicians and other health care providers who know how to treat addiction," Lembke said. "Currently medical training in addiction treatment is poor or nonexistent."
The bottom line: "Where we need to be spending the bulk of this money is to build out a new treatment system that doesn't really exist yet," Kolodny said.
Go deeper