The stakes for Taiwan in a U.S.–China trade war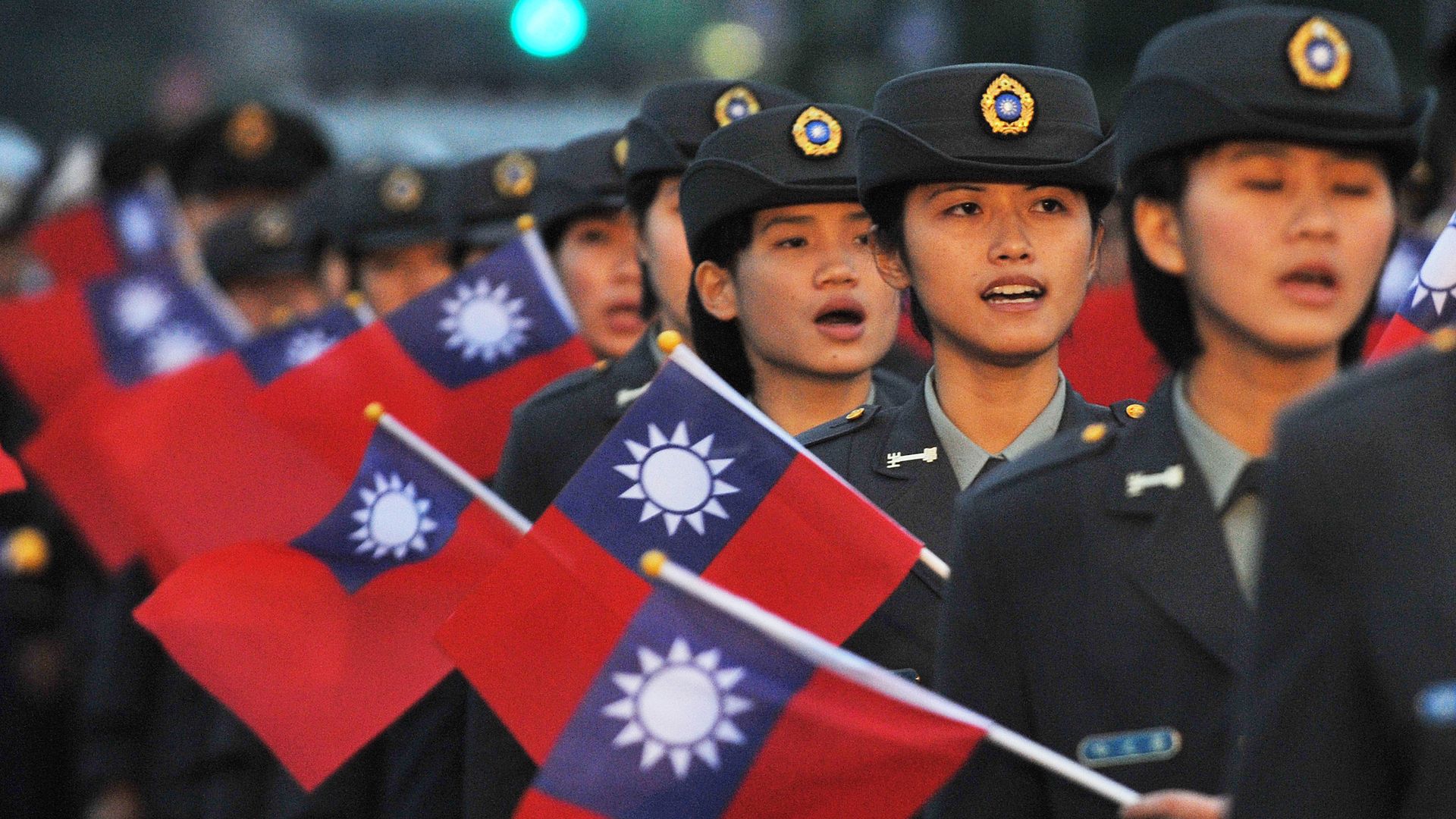 As the U.S. and China gear up for a trade war, Taiwan is stuck in the middle — and worried it'll become a bargaining chip.
The bottom line: The U.S. is stoking Beijing's ire by increasing its engagement with the self-governing island. Things could heat up quickly if the U.S. backs away from the One-China policy, which prevents Washington from recognizing Taiwan's independence. While he's unlikely to abandon the policy entirely, President Trump could raise the issue if China won't give in to his trade demands, according to Richard Bush, a Taiwan expert at Brookings.
New National Security Adviser John Bolton argued that Trump should "play the Taiwan card" against Beijing in a January op-ed in the Wall Street Journal, titled "Revisit the 'One-China Policy.' Mike Pompeo, the secretary of state designate, has also made pro-Taiwan comments.
Trump's State Department approved a measure granting American companies licenses to sell Taiwan technology that would allow it to build submarines, reports Reuters, citing Taiwan's Central News Agency.
The backdrop: A few weeks ago, Trump signed the Taiwan Travel Act, which Beijing viewed as "a signal that [he] may be reverting to his pre-inauguration inclination to reconsider the 'One China Policy,' one of the foundations of the U.S.-China relationship," writes Axios contributor Bill Bishop.
What to watch
For Taiwan: U.S. action against Chinese products could inadvertently hurt Taiwan, which is involved in the supply chain of many goods that are manufactured in China. And Taipei fears it could be the party that China punishes — instead of the U.S. — for what it considers transgressions against the 'One-China Policy,' Bush tells Axios.
For the U.S.: "It's looking like the U.S. is increasingly is going to move in a direction of treating Taiwan more like a normal country," says Chris Johnson, a China expert at the Center for Strategic and International Studies. Beijing could perceive that as a more holistic containment policy against China, and there's a risk China fires back with a response beyond trade actions, he says.
For China: Defense ministry spokesman Wu Qian said Monday, in response to the submarine reports, "China's military has the ability and determination to defeat all attempts to separate our country, and will adopt all necessary measures to resolutely defend national sovereignty, security and territorial integrity."
Go deeper