Updated Apr 10, 2018 -

World
As Trump weighs response to chemical attacks, U.S. future in Syria still unclear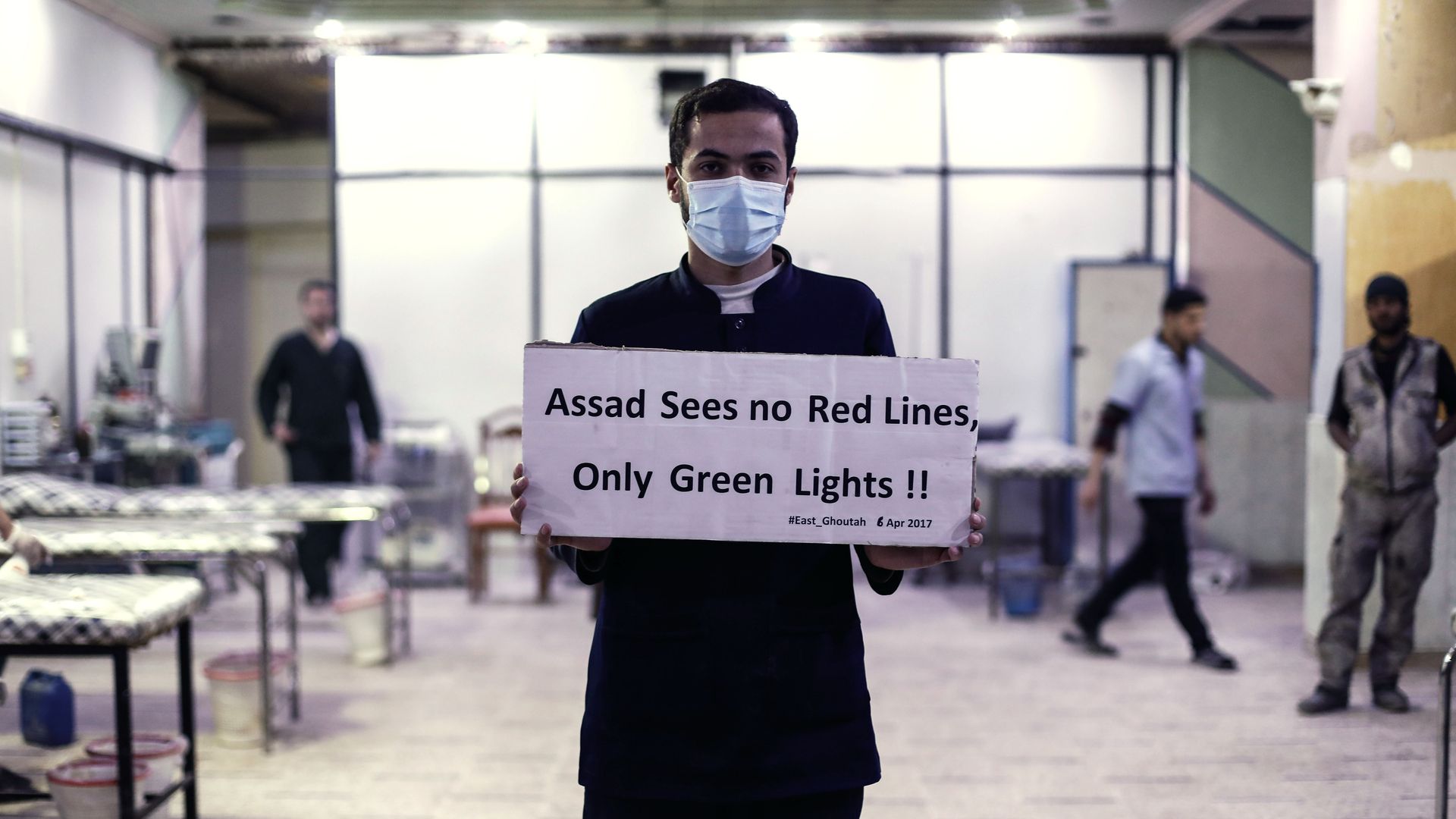 When the Assad regime deployed sarin gas against civilians in Khan Shaykhun last April, President Trump took only sixty hours to order missile strikes on a Syrian airfield. Since then, though, the U.S. has largely acquiesced to Assad's routine use of both conventional and chlorine-gas weapons on civilians. That cumulative carnage is far greater than this weekend's chemical attack in Douma.
Yes, but: A number of factors — including horrific images of victims, which reportedly spurred Trump's decision last April, Russia's warning against U.S. intervention and, ironically, Trump's recent call to withdraw — may have bolstered rather than diminished the odds of a forceful response. Trump's red-line tweets about Assad paying a big price and his mentioning Putin by name seem to presage military retaliation.
Before making a decision, the Trump administration is working to create an evidentiary standard based on the kinds of chemicals used and their source. In the meantime, the UN Security Council convened on Monday, though Russia holds veto power over its resolutions.
As the region responds to Israel's Sunday night strikes near Homs, which reportedly killed four Iranians, the likelihood and scope of U.S. action in Douma remain of greatest interest. That the city is only 12 miles from Damascus adds a further level of complexity to the U.S. calculus.
The big picture: Whatever the response, the question of U.S. involvement in Syria — beyond hammering the remnants of ISIS and supporting Syrian Kurds — will remain unresolved. As talk of withdrawal temporarily abates, it's a fair assumption that the U.S. isn't backing down or out.
Aaron David Miller is vice president for new initiatives and director of the Middle East Program at the Wilson Center.
Go deeper