Updated Apr 6, 2018 -

World
The roadblocks in Japan's plan to counter China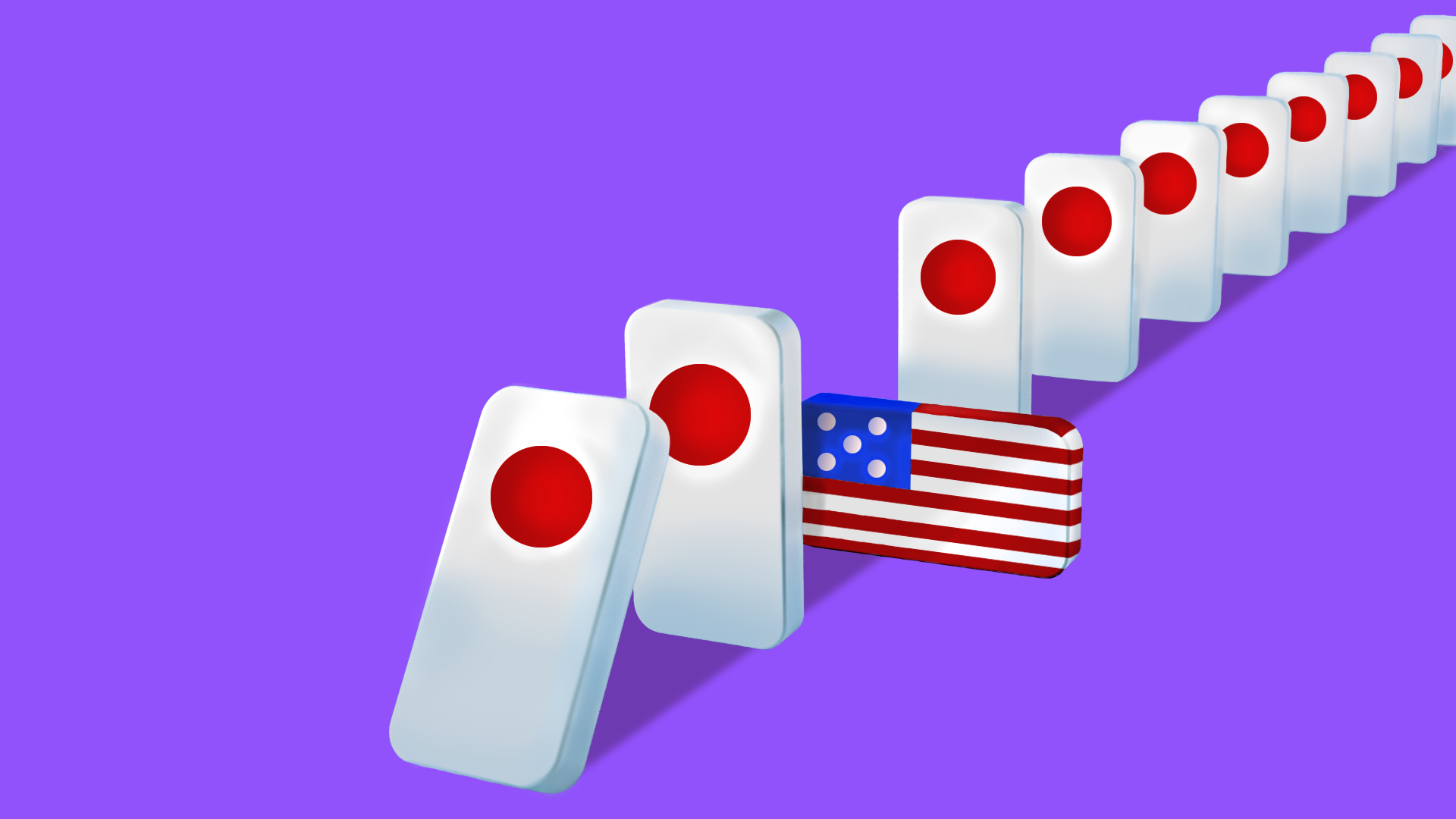 Donald Trump thought Japan was taking advantage of the U.S. in the 1980s, but now it's his closest partner in confronting a new rival: China.
The bottom line: The U.S. and Japan agree on the threat posed by an increasingly ambitious China. But Japan wants to counter China through international partnerships, while, under Trump, the U.S. is actively retreating from those alliances in favor of going after Beijing alone.
The backstory
Yuki Tatsumi, director of the Japan Program at the Stimson Center, says Japan "was the first to recognize China's disruption of the existing world order."
At the height of its economic bubble in the 1990s, Japan's economic capacity mirrored that of China today. And Tokyo can offer valuable lessons to Beijing on how to deal with an aging society. But the relationship between the countries is defined by their differences.
Values matter when it comes to dealing with China, because values are the major difference between Japan and China.
— A Japanese diplomat
Now the U.S., India and Australia have joined Japan in its apprehension about China's widening influence, in part because China is starting to infiltrate their own neighborhoods. Chinese cash has reached Latin America's shores, and its ships are appearing in the Indian Ocean.
Japan's plan
Here's how it wants to counter China:
Partner up: Japan sees the Trans-Pacific Partnership as its key tool, says Dan Sneider, a Stanford expert on the region.

The TPP's diplomatic and economic prowess was weakened when Trump pulled the U.S. out of it, but the remaining 11 countries have since reached a new deal.
And it's still a powerful tool for setting international trade standards, says Sneider. The TPP includes guidelines on intellectual property theft and state-run enterprises — two areas where China is bending the rules.

Be the alternative: The Japanese have been competing with Beijing for infrastructure projects in Indonesia, Burma and Vietnam, hoping to offer those countries a second option for development.
Use the private sector: This year, Japanese companies could beat their Chinese counterparts in securing overseas deals for the first time since 2012, per Bloomberg.
But these are the roadblocks:
Changes in leadership: Prime Minister Shinzo Abe, a conservative leader, has taken an especially strong stance against China, but it's not clear whether his successor — whenever power changes hands — will make countering Beijing a top priority.
Courting the U.S.: Japan can't afford to go head-to-head with Chinese foreign investment. Only the U.S. can do that. But, as the U.S. actively retreats from international trade deals under "America First," Washington isn't competing with Chinese dollars in the developing world.
The Trump factor
The big issue: Trump is complicating Japan's plan. "The Japanese say that Trump is kind of stuck in the 80s" in terms of his view of Tokyo, Sneider says. Japan was surprised when it wasn't exempted from Trump's steep tariffs on steel and aluminum.
But the U.S. is an irreplaceable partner for Japan, especially when it comes to protecting the East China Sea, and Japanese government officials know that whatever the president does, "they have to live with it," he says.
And Japan is also "banking on this administration's very suspicious, very hostile attitude toward China," says Tatsumi. It's in Tokyo's interest for Trump to keep doubting Chinese intentions.
Go deeper