A long disruption is ahead, with low-paying jobs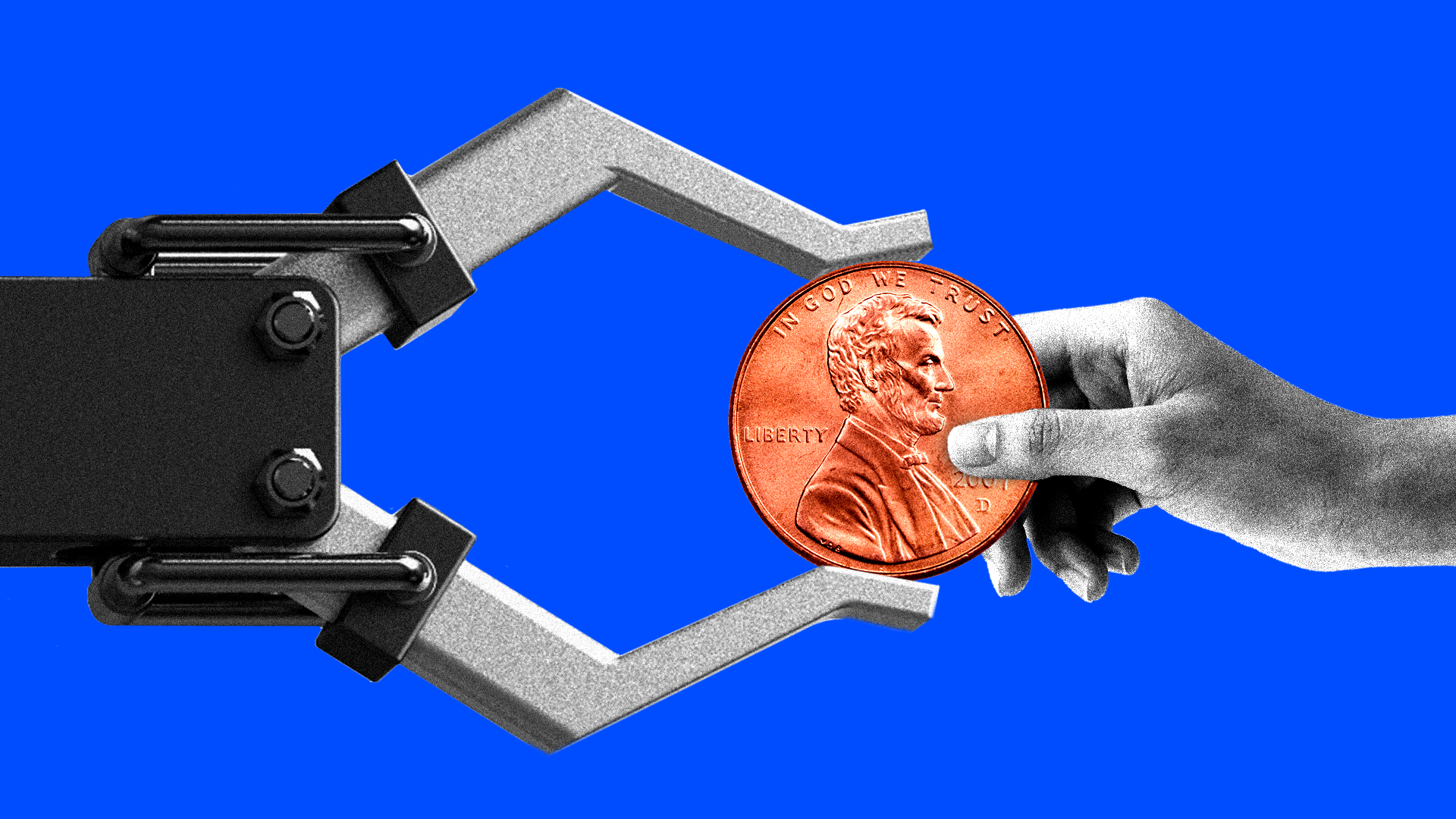 The last few months have seen a rash of studies on a coming automation apocalypse, and analysts are moving to a few targeted worries about the jobs future:
Their big picture: There may be a long, deep economic disruption lasting decades and taking millions of jobs. The economy will eventually come out of it. But wages for most jobs may be too low to sustain a middle-class lifestyle.
Important background: In the 19th century, it took about six decades for U.S. wages to recover after the first industrial age automation of the 1810s. And the agriculture-to-industrial shift of the 20th century lasted four decades.
Karen Harris, managing director of Bain's Macro Trends Group, forecasts that the new automation wave could displace 2.5 million workers a year. That compares with 1.2 million a year displaced in the agricultural upheaval from 1900 to 1940, after adjusting for population, and 800,000 a year in the onset of the information age from 1970 to 1990.
"The coming disruption may be most disruptive to the work force in a hundred years," Harris said. She sees that potentially leading to an upheaval rivaling the current populism. "We see the kindling accumulating. It's hard to know what the spark is that (starts the fire)," she said. "We expect it to build up over the next decade." Wages, and not jobs themselves, are the key issue, economists seem to agree.
MIT's Andrew McAfee, co-author of The Second Machine Age, tells Axios that companies are not creating the middle-class jobs that were the backbone of the economy for more than a half-century. "I'll start to calm down when old-fashioned middle class jobs come back. I'm just not seeing that," he said.
"We don't have a job quantity problem," McAfee said, "but a job quality problem."
Wage disparity is increasing, said Brookings' Mark Muro: "Automation will effect everyone, but will create more problems for different groups — young people perhaps, those less educated, groups that already receive less training and less education."
The bottom line: "We can stipulate that given human history and adaptability, we can have a phenomenal future," Harris said. "But transitions are always challenging. Given where we are starting today, given inequality, changes in geopolitics, it's hard to see a turbulent-free transition to this brighter future.
Go deeper