Updated Apr 4, 2018 -

World
2018: The year of the strongman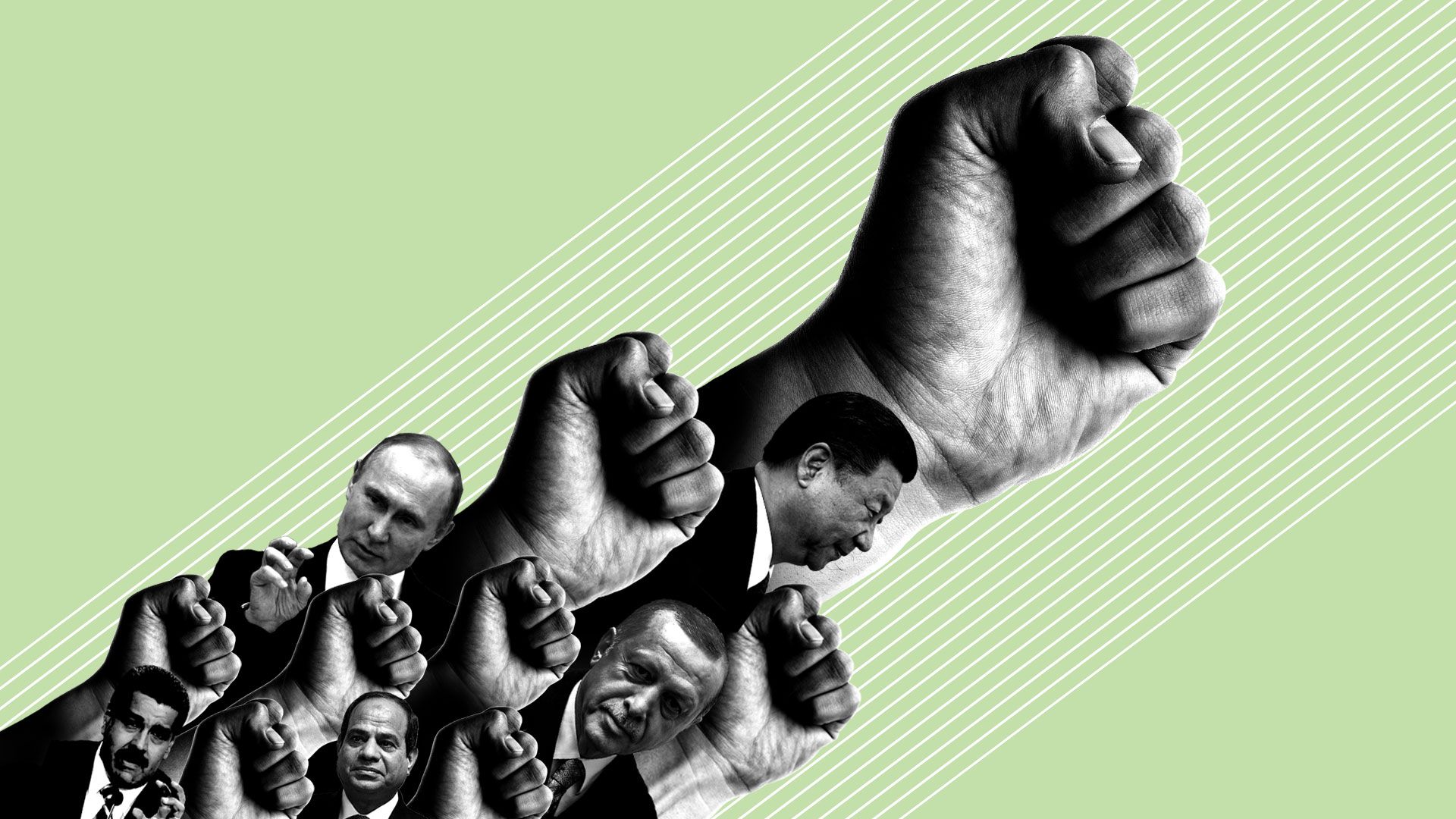 Russia's Vladimir Putin and Egypt's Abdul Fattah al-Sisi have extended their presidencies through sham elections, China has scrapped term limits to allow Xi Jinping to rule indefinitely, and Turkey's Recep Tayyip Erdoğan has bolstered his popularity with a military offensive in Syria. Even Nicolas Maduro, despite a crippling financial crisis, has maintained his grip on power in Venezuela.
The big picture: 2018 has been a good year to be a strongman. Will that luck run out?
Russia
Putin's new term begins with outrage at home over a shopping mall fire, and a showdown abroad over the nerve agent attack in the U.K.
The bottom line: Axios' Steve LeVine, who covered Russia for years, says neither event is likely to hurt Putin domestically because the West's reaction feeds the narrative that Russia is under siege, and outrage over the fire has been pointed more at local officials than the Kremlin.
Egypt
Sisi's popularity isn't as rock solid as it once was (while he received 97% of the vote against laughable "opposition," turnout slid to 41%), and Egypt is facing real security and economic challenges.
The bottom line: Sisi faces little pressure from within the state, the business elite, or foreign powers, as the Atlantic Council's H.A. Hellyer notes. But a young population paired with sky-high youth unemployment could be a combination worth worrying about in a country where protests toppled two leaders in the last seven years.
China
Xi is on a long winning streak, but two thorns have remained in his side: Kim Jong-un (more specifically, the prospect of a Kim-Trump summit with China sidelined), and a looming trade war with the U.S.
The bottom line: Chris Johnson, a senior adviser at CSIS and former CIA China analyst, says Kim's recent trip to Beijing has convinced China that "little brother is back onside," while the trade standoff also "seems to be moving toward an interim solution." Still, the Trump factor means neither of those concerns are permanently assuaged.
Turkey
After the success of his military offensive in Afrin, a Kurdish enclave across the border in north-western Syria, Erdogan faces two potential threats: a violent insurgency, and a confrontation with NATO allies. Turkish politics are also highly polarized, as his razor-thin victory in last year's constitutional referendum showed.
The bottom line: The economy is continuing to grow, and the offensive in Afrin has boosted Erdogan's nationalist credentials. Facing no strong, unified opposition, Erdogan may even call for snap elections this year, says Soner Cagaptay, a fellow at the Washington Institute for Near East Policy and author of The New Sultan.
Venezuela
The economy is in freefall, but Maduro and his allies are "pretty confident they can either win or steal" an election currently scheduled for May 20, Brookings fellow and Stanford senior research scholar Harold Trinkunas says. That's partially because the opposition is divided over whether to even take part.
The bottom line: Maduro has been successful at "coup-proofing" the military and undermining the courts and other institutions. But there are indications he can't last forever. Trinkunas says to keep an eye on the military for signs of movement against this "remarkably unpopular strongman."
The big picture
All strongmen aren't created equal — Maduro, for example, is on far less stable footing than Xi — but all five of these leaders have managed to systematically remove checks on their power. Despite the challenges they're facing, the year of the strongman looks likely to continue.
Sign up for Axios World, launching this week and keeping you up to date on the big stories around the globe.
Go deeper