A respite from the robots (but a retraining emergency)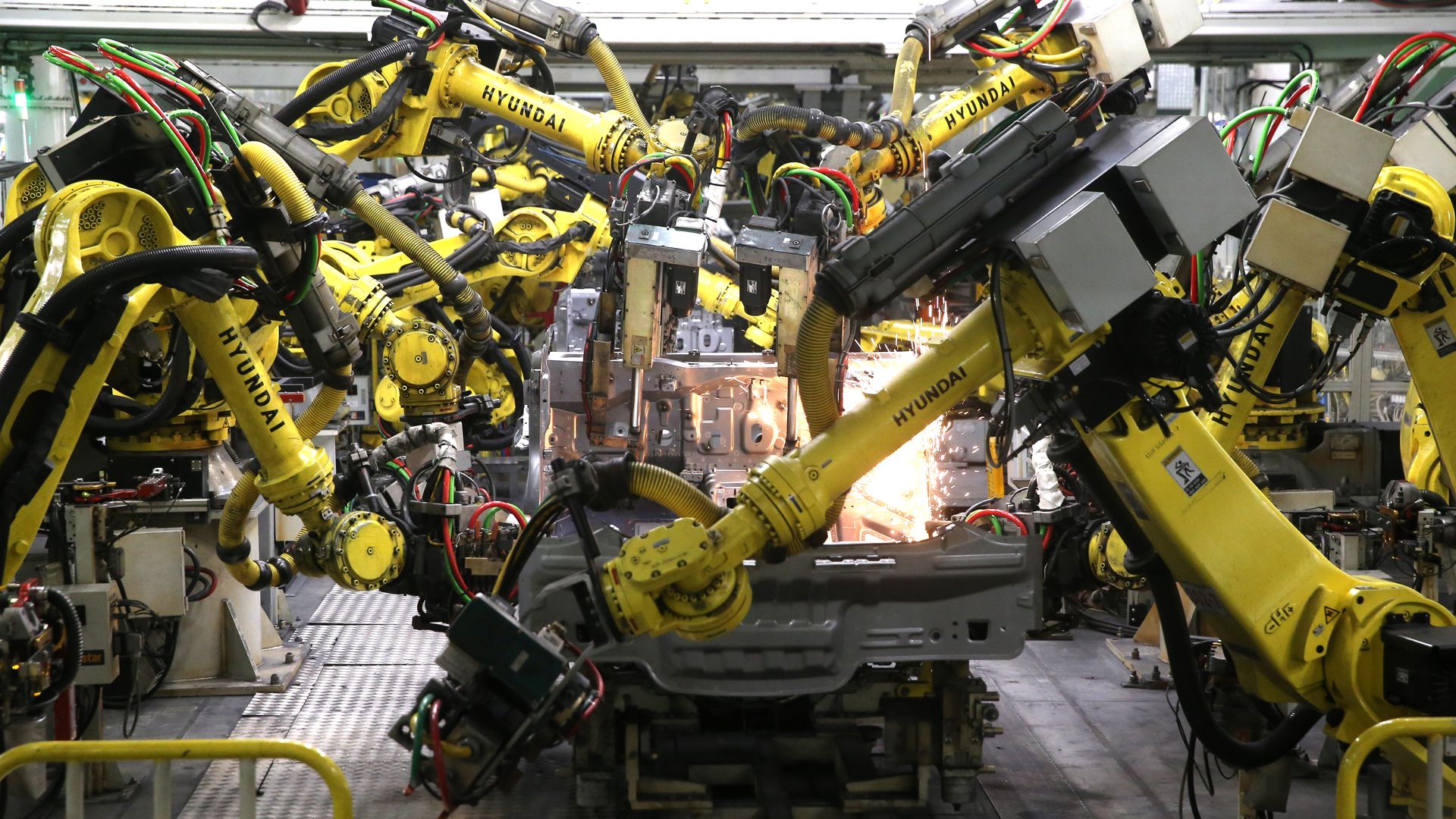 Leading economists are increasingly scaling back the most apocalyptic forecasts of job losses resulting from the new age of automation. In a major report, the Organization for Economic Cooperation and Development (OECD), the research and policy grouping of the world's richest nations, says 10% of U.S. jobs are at high risk of vanishing to automation — much lower than most prior forecasts.
Why it matters: The benchmark for such scholarship is a landmark 2013 study by two Oxford University economists, who said automation could wipe out 47% of American jobs. So, to the degree the new report is a better reflection of the future, it's good news for American workers. 
But there's still trouble ahead: The OECD economists arrive at a relatively high number of overall jobs at risk — about 38% of American jobs. They say that just 10% will be entirely vaporized, while about 28% will be transformed into new positions requiring a clutch of new skills. 
In order for that 28% of workers to keep those jobs, they will need to undergo retraining.
A paradox: Workers with the least-automatable jobs are far more willing to undergo training and new formal education than those whose jobs are at risk.
"Workers in fully automatable jobs are more than three times less likely to have participated in on-the-job training, over a 12-months period, than workers in non-automatable jobs," the study says.  
A front-page Financial Times article about the study today notes (subscription): "The report shows that worries about 'massive technological unemployment' are to some extent overblown ... Instead the risks are of 'further polarisation of the labour market' between highly paid workers and other jobs that may be 'relatively low paid and not particularly interesting.'"
That aligns with remarks last month by David Autor, an MIT economist, who told Axios that people ought to focus less on how many jobs will be wiped out, and more on how much current and future jobs will pay.
Another red flag: Such studies don't have a stellar record for accuracy, says Andrew McAfee, a leading MIT researcher and co-author of "The Second Machine Age," tells Axios: "I am not disparaging this report, but the track record of predicting job growth and job losses is poor."
The bottom line: "There will be lots of [job] destruction and lots of creation," McAfee said. "That's what we know from periods of technological change as profound as this one."
Go deeper