Strategy spoiler: April's two big confirmation fights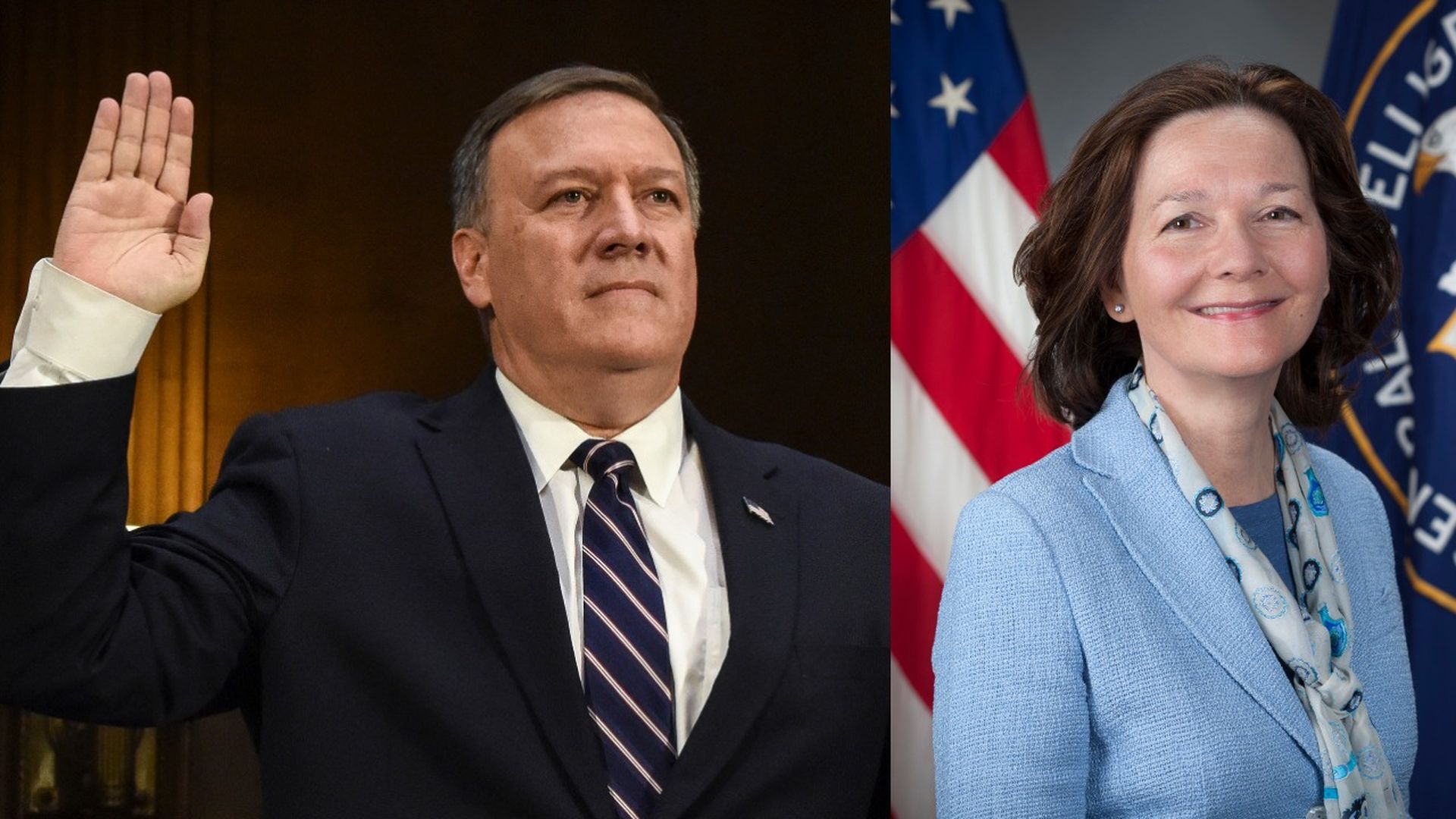 At his confirmation hearing for Secretary of State, CIA Director Mike Pompeo will vow to rebuild Foggy Bottom — implicitly conceding shortcomings by his predecessor, Rex Tillerson. In the other big spring fight that'll consume both ends of Pennsylvania Avenue, look for Democrats to aggressively challenge Deputy CIA Director Gina Haspel in her confirmation hearing to succeed Pompeo.
The big picture: Dems plan to use these hearings to uncork numerous frustrations with President Trump and his administration — including/especially questions about Russia, and objections to incoming national security adviser John Bolton, who isn't subject to confirmation.
Dems plan to push Haspel, who in 33 years with the agency has served as station chief in world danger spots, on her involvement in past interrogation programs denounced as torture.
Dems will also try to extract the declassification of new documents about "black sites."
J. Michael Allen, a Bush 43 national-security official who's now a Beacon Global Strategies managing director, told me: "She has a career of down range experience. She needs to draw upon that and come out forcefully and define herself."
Pompeo's hearing before the Senate Foreign Relations Committee hasn't been announced, but sources expect it April 12.
In several meetings Pompeo has attended at State, he started sending the message that he wants to rebuild the relationship between the secretary's seventh-floor office and the rank and file.
Remember: 15 Senate Dems supported Pompeo's nomination for CIA director, making it harder for them to turn on him now.
Haspel's hearing before the Senate Intelligence Committee will take longer to set because she's not currently in the cabinet, giving Pompeo a head start on disclosures and background checks. But the White House will push for a quick hearing.
One Republican, Sen. Rand Paul of Kentucky, has already announced he'll oppose both nominations: "President Trump sought to break with the foreign policy mistakes of the last two administrations. Yet now he picks ... people who embody them, defend them, and, I'm afraid, will repeat them."
Inside the strategies:
Pompeo can be expected to argue that he improved morale at the CIA, empowering officers to do their jobs, and will be supportive of the rank-and-file officials in "the building."
Look for Pompeo to emphasize the diplomatic elements of his current job, including intense, difficult conversations around the world.
A source said that on torture allegations, Haspel "will have to walk the line, show Dems that it will never happen again and maybe express her discomfort with it all — but not outright admit it was torture which hangs out to dry the CIA, her people."
The White House expects Haspel to be a strong witness, and think Dems could overplay their hands in attacking her.
Go deeper