Lawsuit filed over FDA's delay of e-cigarette review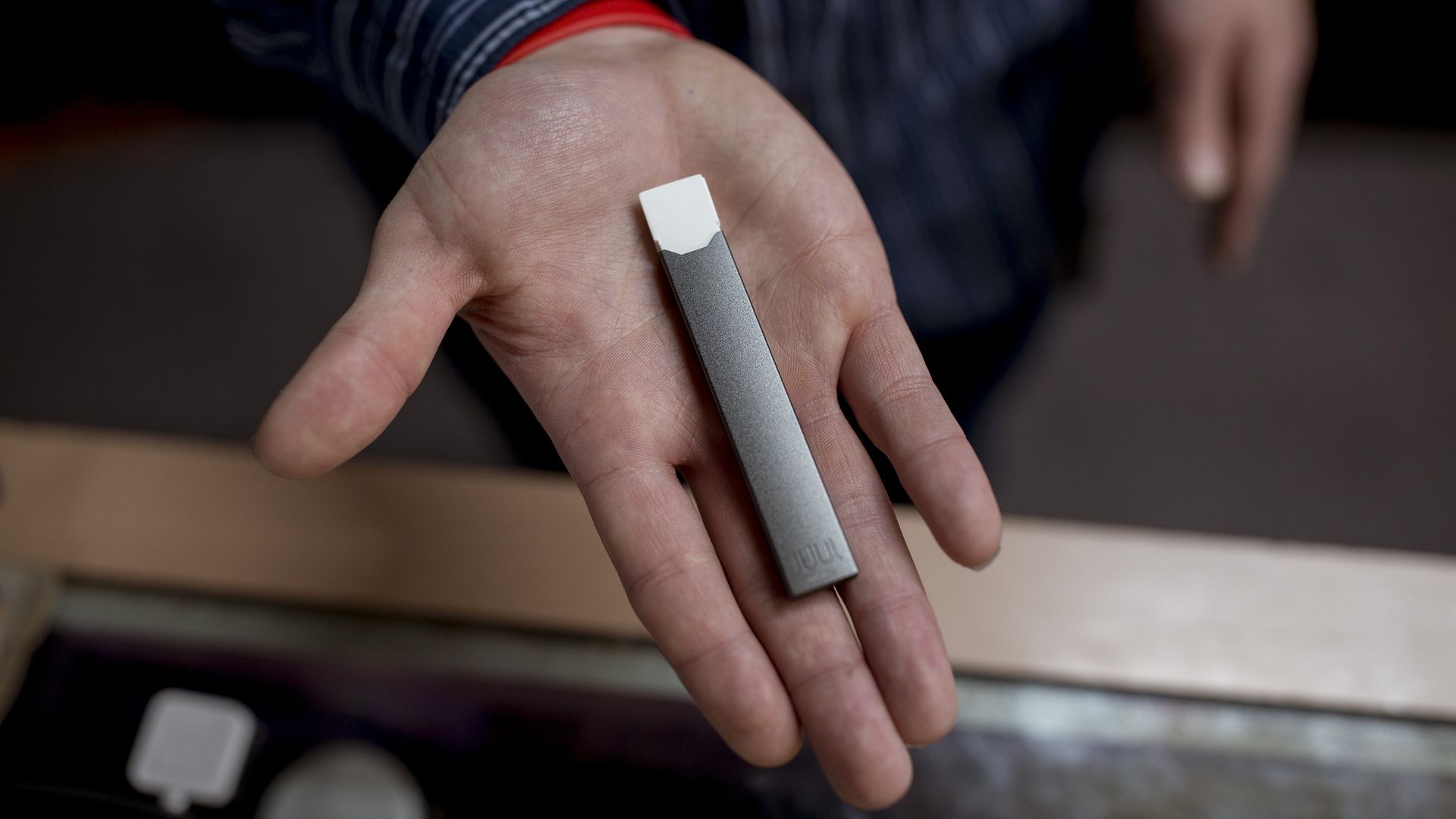 A group of public health organizations and doctors filed a lawsuit against the Food and Drug Administration Tuesday for delaying its review of e-cigarettes — a growing concern amongst parents and pediatricians due to increased reports of adolescents and teenagers picking up "vaping" or "juuling" (when using a popular brand, Juul).
Why it matters:
"Juul is an e-cigarette that looks like a USB flash drive, charges on your computer, and is sold in sweet flavors...Each pod contains as much nicotine as a pack of cigarettes. There are widespread reports it's being used in high schools and junior high schools...It's exactly the kind of product the FDA needs to be reviewing now and taking action to protect our kids."
— Vince Willmore, spokesperson for Campaign for Tobacco-Free Kids (CTFK), tells Axios
FDA response: FDA has been examining lowering nicotine levels in regular cigarettes and is looking at limiting flavors in cigarettes and e-cigarettes. While there was no official comment on the lawsuit, FDA commissioner Scott Gottlieb sent out several messages on Twitter Tuesday that said the agency will be "out soon" with new policies: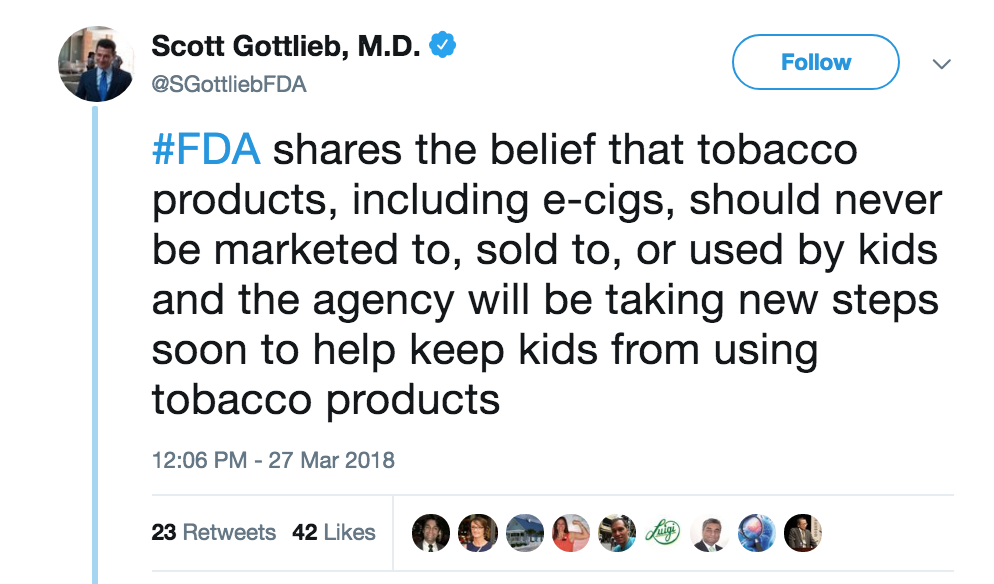 Industry response: A Juul Labs spokesperson tells Axios: "JUUL Labs' mission is to eliminate cigarette smoking by offering existing adult smokers a true alternative to cigarettes. JUUL is not intended for anyone else. We strongly condemn the use of our product by minors, and it is in fact illegal to sell our product to minors. No minor should be in possession of a JUUL product."
"This lawsuit is nothing more than another shameless attempt by supposed public health groups to demagogue e-cigarettes, fully knowing that FDA already has recognized e-cigarettes are a lower-risk alternative to combustible cigarettes. We have worked diligently with this administration on its approach to regulation of the e-cigarette industry and will continue to do so. We encourage these groups do to the same."
— Tony Abboud, executive director of Vapor Technology Association
Background: E-cigarettes are touted by some as a safe way for adults to quit smoking cigarettes. Wired writes a British study showed in 2017 that the practice has shown some success in helping adults quit. When vaping, the e-liquids are heated and inhaled with a reusable tool — and since it doesn't contain the tar in cigarettes, it's considered to be less carcinogenic.
Yes, but: A NAS study in January 2018 said that although they have less carcinogens, "E-cigarette smokers might have a higher risk than nonsmokers of developing lung and bladder cancers and heart diseases."
And, as pointed out by the New York Times, a growing concern is that the nicotine in e-cigarettes is creating young addicts who could eventually turn to smoking the more harmful cigarettes. A member of the American Academy of Pediatrics (AAP) Tobacco Consortium tells Axios this may be the case:
"E-cigarettes are now the most commonly used tobacco product among youth in the United States. They have dramatically expanded the total number of adolescents who use any tobacco product."
— Harvard Medical School's Jonathan P. Winickoff, a practicing pediatrician
Details of the lawsuit, via the accompanying press release:
The trigger: In August 2017, the FDA delayed until 2021/2022 a key provision of a rule requiring manufacturers to provide critical product info to the FDA and undergo an FDA review of impact on public health, including whether it appeals to kids. Meanwhile, the products remain on the market.
The lawsuit alleges this delay "exceeds the agency's authority" and "violates the Administrative Procedure Act because the FDA did not give the public an opportunity to comment on the change and did not articulate an adequate factual basis for this radical change from the deadlines the FDA itself established in the deeming rule."
The members of the lawsuit include AAP, AAP's Maryland Chapter, CTFK, American Cancer Society Cancer Action Network, American Heart Association, American Lung Association, Truth Initiative and four pediatricians.
Separately, recent science studies show nicotine is not the only ingredient to worry about in e-cigarettes.
1. The University of Rochester Medical Centre led a study in Frontiers in Physiology Jan. 30 that says e-cigarettes harm white blood cells, and that certain flavoring compounds — cinnamon, vanilla and butter — are particularly harmful. They also point out mixing flavors has a much worse effect than exposure to just one.
2. The University of North Carolina published a study Tuesday in PLOS Biology that says it confirms those three flavors in e-cigarettes are more toxic to humans than others.
Some of the harmful effects include immunosuppression, altered mucus secretion and protein changes in the cells from the lining of the lungs, according to study author Flori Sassano.
"We need regulatory measures to prevent chemicals like these to be used to make e-liquids or at least limit their concentration to safe levels to avoid toxic effects," Sassono tells Axios.
Go deeper