Updated Mar 28, 2018 -

World
U.S. ambassador to Israel: If Abbas won't negotiate, someone else will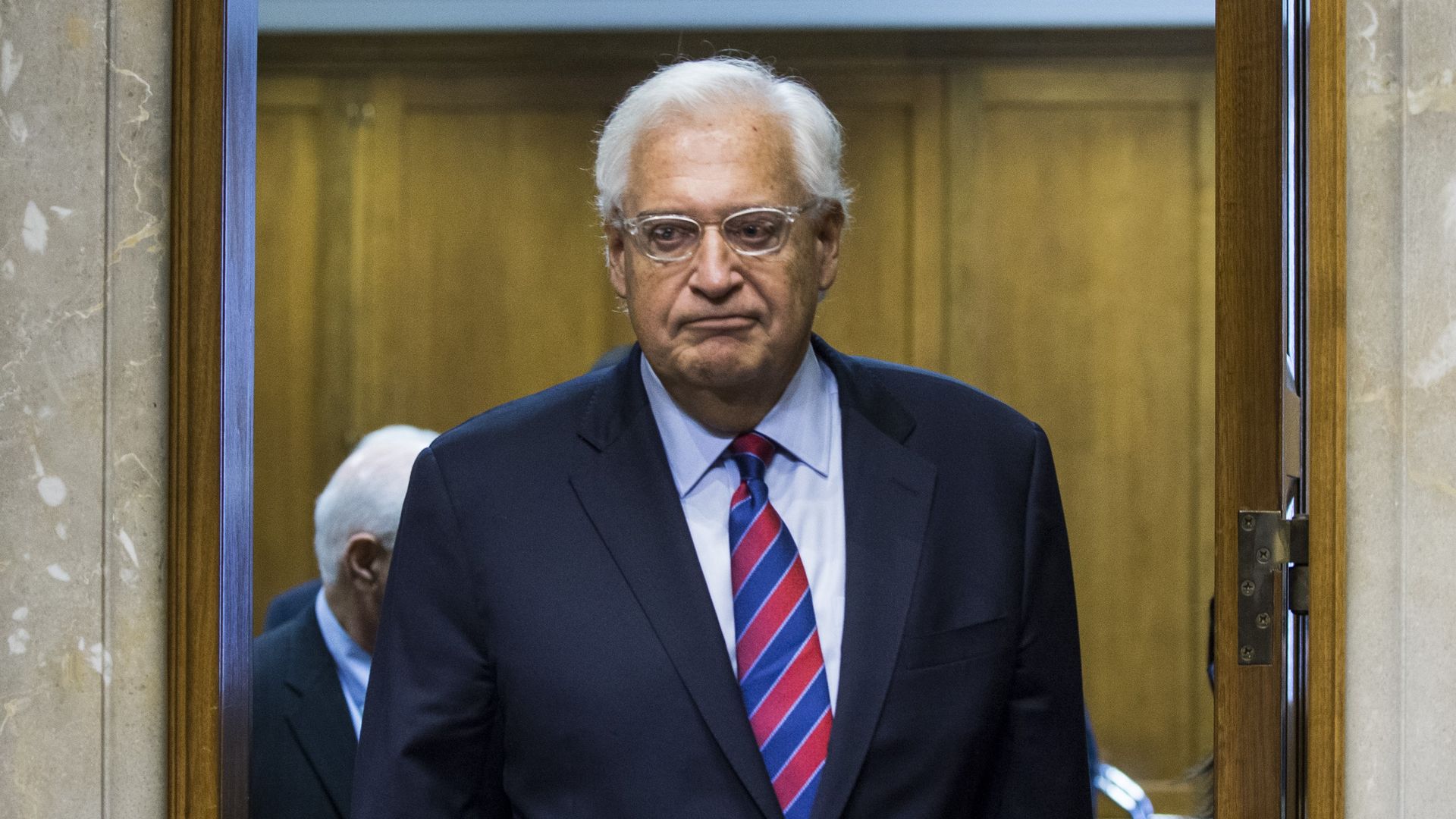 U.S. ambassador to Israel David Friedman has warned that if Palestinian President Mahmoud Abbas continues to refuse to engage with the Trump administration, the U.S. will find other players to talk to.
Why it matters: Friedman's comments were the first time a senior Trump administration official raised the possibility that the White House will decide that Abbas is irrelevant.
Friedman made his comments in an interview with a small media outlet — a newspaper called "Shviee" which is distributed in synagogues in Israel. The interview will be published this Friday, on Passover eve. On Abbas, he said:
"Time doesn't stand still…and if he is not interested is negotiating – I am sure somebody else will. Vacuums tend to be filled. If he creates a vacuum I am sure somebody will fill it. And we will move forward (on the peace process). The U.S. wants to help the Palestinian people – if the leadership is not on the same page then so be it, but we will not abandon the desire to improve the life of Palestinians."
The Ambassador's remarks are further proof of the serious crisis U.S.-Palestinian relations are in since Trump's decision to recognize Jerusalem as Israel's capital.
Since then, no official contacts have taken place between the Palestinian leadership and the White House.
That disconnect is similar to the crisis between the U.S. and the Palestinians during the 2nd intifada. At the height of the crisis, in June 2002, then President George Bush wanted Palestinian leader Yasser Arafat to go, and called on the Palestinians to elect new leadership.
In the interview Friedman spoke about Abbas's latest speech, in which he called the U.S. ambassador a "son of a dog." Friedman said he was not insulted personally by the derogatory remark. He added: "He did a disservice to his people…those types of comments are very undiplomatic and make it more difficult for the U.S. to have serious conversations about serious issues. Calling me names is not going to improve the situation of the Palestinians".
Friedman also spoke about the "Taylor Force" bill which passed in Congress last Friday. The bill says if the Palestinian Authority continues to pay allowances to prisoners in Israeli jails and to families of terrorists who attacked Israelis the U.S. would cut part of its funding to the Palestinians.
Friedman said: "The president has made it very clear how he views funding not only to the PA but to other countries who don't support U.S. positions. The signals from Washington are pretty clear. You can't be hostile to U.S. interests and still receive U.S. funding as if nothing happened".
Go deeper