Report: GOP gerrymandering could thwart Democrats' fight for House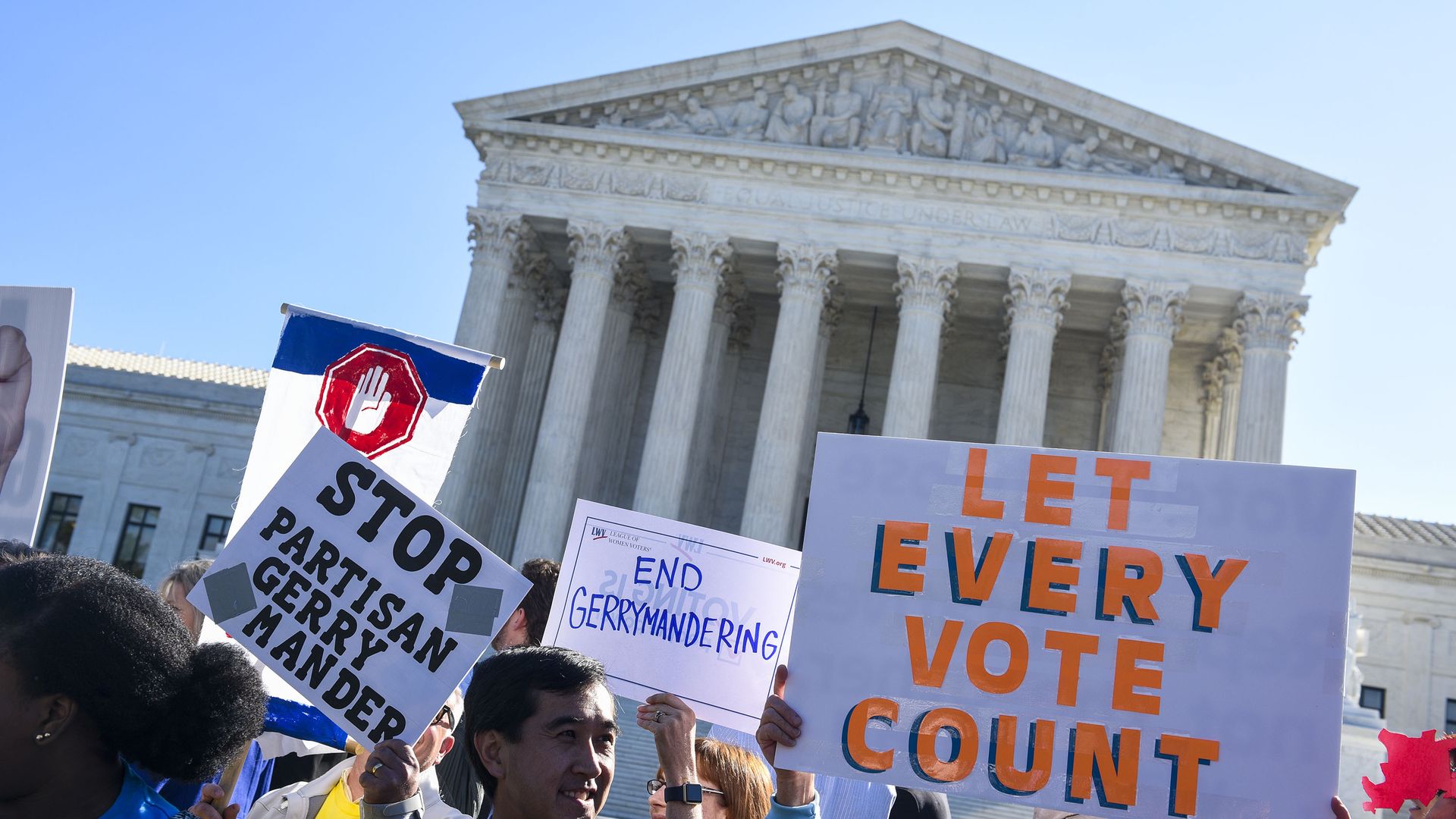 A new Brennan Center for Justice report projects the predicted Democratic takeover of the House of Representatives is nearly out of reach, blaming Republican gerrymandering. "Even a strong blue wave would crash against a wall of gerrymandered maps," the report says.
Our thought bubble: Democrats say that drawing districts is something Republicans do very well, but calling that advantage insurmountable is a bit hyperbolic.
"There is a built-in GOP advantage due to geographic sorting of voters and Republicans controlling more levers in the redistricting process. But the idea that it will take an 11-point national Dem wave to overcome these hurdles is, I believe, hyperbole."
— Zac McCrary, Democratic pollster and partner at ALG Research, said via email.
Dave Wasserman of the Cook Political Report feels similarly, tweeting: "GOP gerrymandering is clearly an obstacle to Dems retaking the House, but not as huge of one as commonly thought."
But some Democrats are taking more caution. Forward Majority Communications Director Ben Wexler-Waite released a statement on the Brennan Center's latest report, warning Republicans are "on the cusp of gerrymandering themselves into a majority in the U.S. House for another decade. ... [W]e must compete aggressively to break the GOP's stranglehold over state governments before it's too late."
By the numbers, from the report:
11 percentage points — the popular-vote margin Democrats would need to gain over Republicans across congressional districts in order to take back the House, the Brennan Center says.
28 House seats would be gained if they pulled off this margin. They need 24.
7 percentage points — the increase in Democrats' national vote share compared to their 2016 totals across 12 Republican states, like Ohio and Texas.
10 percentage points would help Democrats pick up 21 House seats.
1974, the last time Democrats gained this large of a margin over Republicans (it was 14 percentage points then) and they picked up 49 House seats.
The other side: Matt Walter, president of the Republican State Leadership Committee, told AP: "[T]his so-called study is another attempt by Democrats to undermine that [map-drawing] process and replace it with liberal courts, or cherry-picked experts from liberal faculty rooms to draw maps that rig the system for Democrats."
Go deeper