The push to get sports leagues to cut out junk food sponsors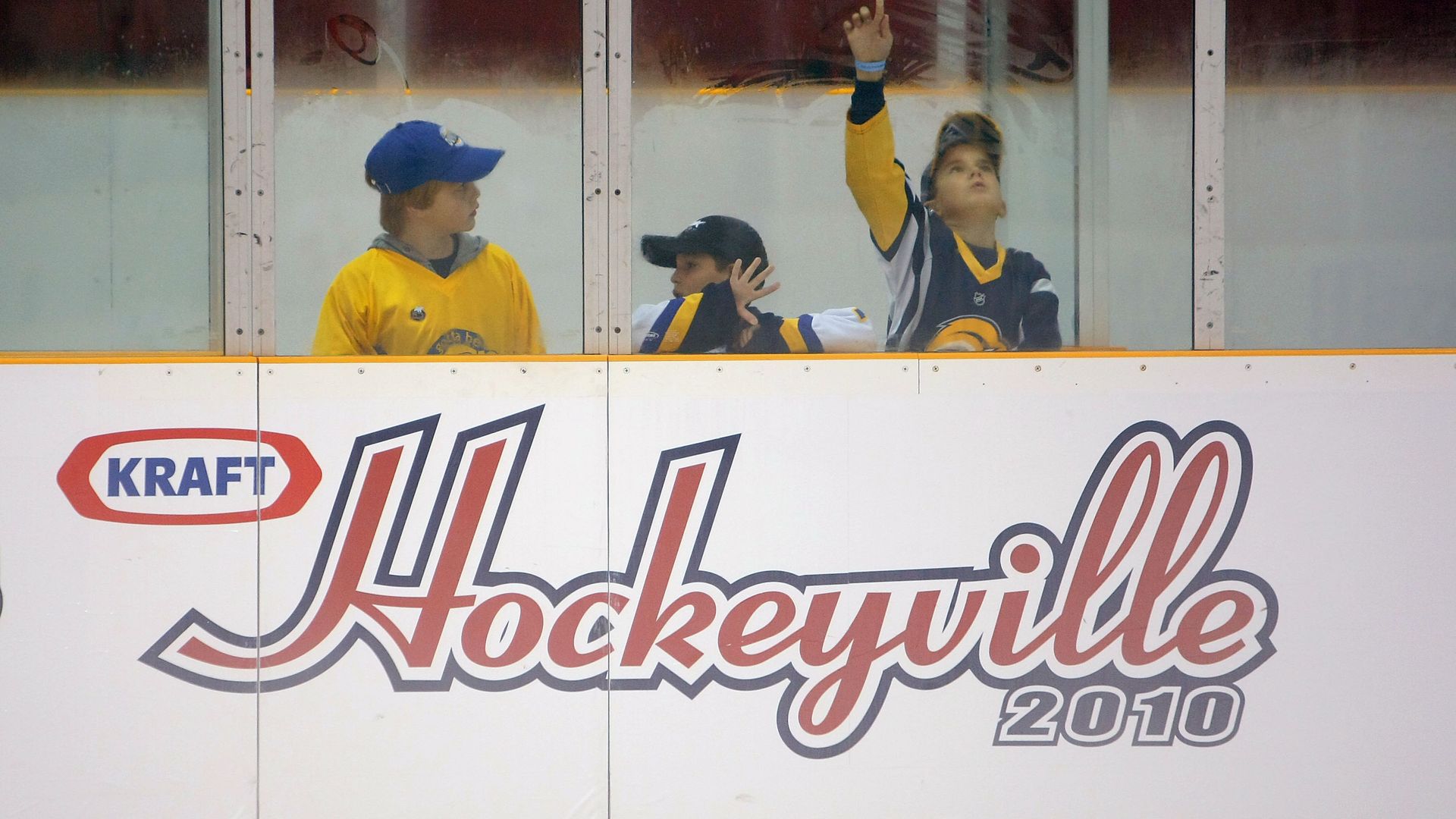 A team of scientists is calling upon sports organizations — including NFL and the Little League — to have healthier foods and drinks shown by their sponsors, in an effort to help cut childhood obesity. In a new study published in Pediatrics Monday, the team showed 76% of sports sponsors promoted food and drinks with a low nutrient amount and 52% showcased sugar-sweetened drinks.
Why it matters: Food and nonalcoholic beverage companies spend millions of dollars on professional sports sponsorships and strong associations have been made between food advertising and child obesity by other studies. The CDC says nearly 1 in 5 children in school (ages 6 to 19 years) in the U.S. has obesity and a separate recent study suggests children ages 2–5 have experienced a sharp increase in severe obesity.
"[I]f sports organizations can work with food companies to showcase healthier products, it would be an important part of the overall policy picture that includes soda taxes, calorie labels, etc."
— Marie Bragg, study author from NYU's School of Medicine, told Axios
What they did: The scientists used Nielsen TV viewership data to identify the 10 sports organizations with the most viewers ages 2–17 years, searched for all their sponsorships, and selected the food and beverage ones. They scored each food product using the Nutrient Profile Model used in the U.K. and Australia and sorted beverages into different types. They then calculated the number of YouTube views associated with the food and beverage sponsorship ads in their sample.
What they found: Youth watched telecasts associated with these sports organizations more than 412 million times. They found 273 ads that featured food and/or beverage products 328 times and product logos 83 times. The NFL had the most food and nonalcoholic beverage sponsors, followed by the NHL and Little League. YouTube sponsorship ads totaled 195.6 million views.
"I was surprised to see that Little League had so many food and beverage sponsors. With childhood obesity rates remaining high in this country, we need to be promoted healthy nutrition messages to kids. I was also shocked to see that these sports sponsorship food ads generated 195 million views on YouTube. We normally think of TV as the main source of ad exposure, and it still is, but social media is creeping up as well," Bragg said.
Why they focused on the sports industry: "We focused on the sports industry because they are inherently focused on health and physical fitness because of the very nature of sports. The irony that sports organizations are used as a vehicle to promote junk food also means that kids are getting mixed messages — why are sports organizations showing kids that exercise is important and a healthy diet isn't?" Bragg said.
"The marketing association with sports is especially insidious because it gives the product a 'health halo' distracting from its health harms. The most alarming finding in this study was that full-sugar soda and full-sugar sports drinks were the products most frequently featured in sports sponsorships. That's hundreds of millions of views, just on YouTube. And unlike a 30-second commercial, many of these ads are seen the entire time the field of play is shown when kids are very attentive to the screen."
— Lori Dorfman, Berkeley Media Group director who was not part of this study, told Axios
Industry response: According to CNN, Hershey and Pepsi-Cola (both mentioned in the study) and the American Beverage Association issued statements describing how their organization addresses the issues in this study, including participating in voluntary pledges to not market to children under the age of 12. However, sports events generally target an adult audience, so the companies may not be using those restrictions.
Caveat: Bragg says the study limitations include the fact they don't know the number of repeated views, or the age demographic of YouTube viewers.
Go deeper: Watch this explainer video from Bragg and colleagues.
Go deeper