Yesterday's global roar for gun control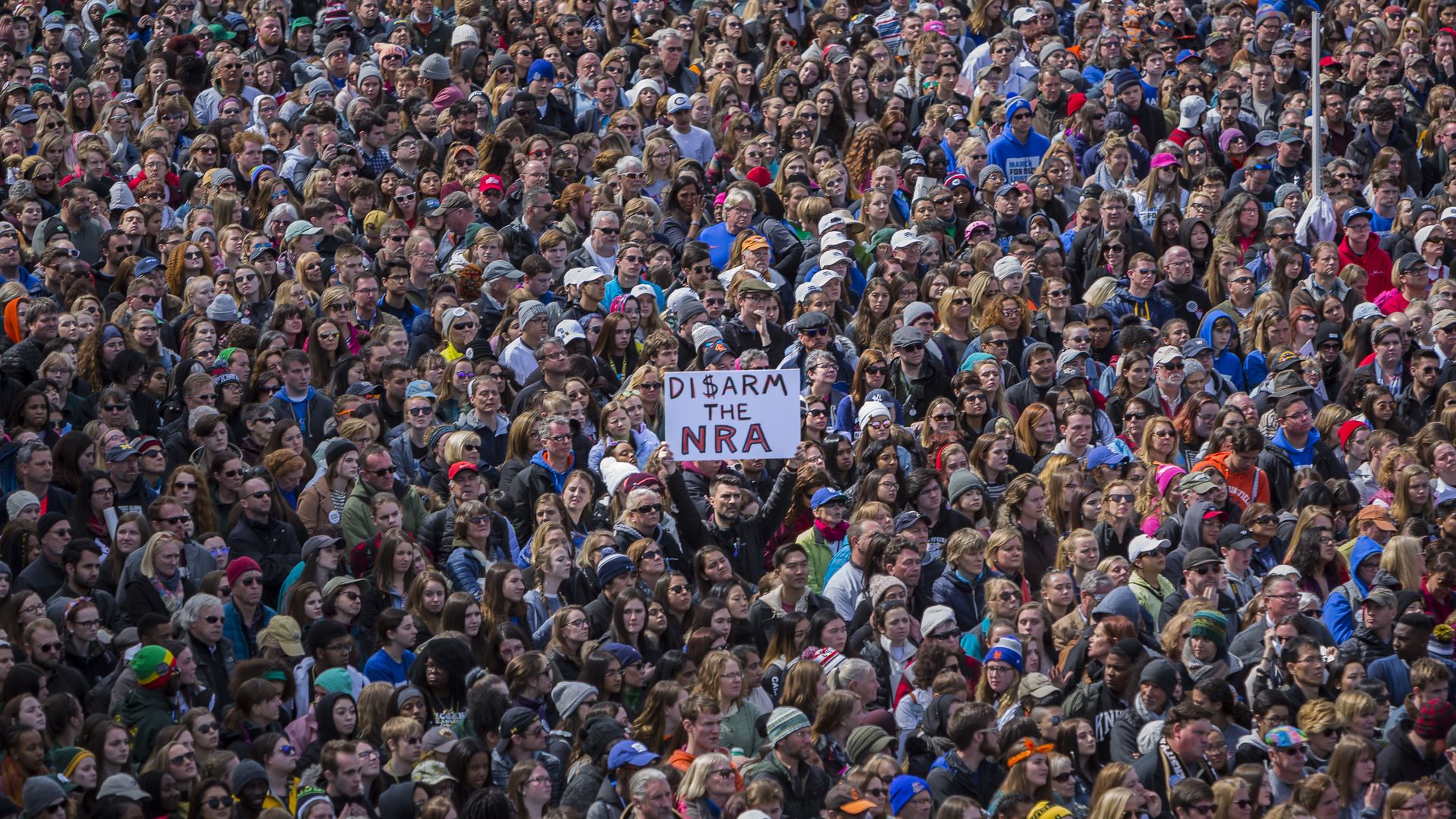 Yesterday's massive marches — with youthful faces but grown-up organizing muscle — transcended school shootings to a global roar for gun control, infusing energy and urgency into an issue where the sides have long been static.
On the ground: I talked to two "fighting grandmas" — sisters-in-law Nina Human, 57, of Atlanta, and Susan Knox, 62, of Norman, Oklahoma — who were toting the sign of our times: "THIS IS NOT NORMAL."
Democrats, who used the rallies as massive voter-registration drives, said they're hopeful that after several decades of apathy among young voters, there's now a new cohort of young, imaginative, digitally deft activists.
Chants that could be heard clearly during all-day cable news coverage included: "We want change" ... "Never again" ... "Vote them out" ... "This is what democracy looks like."
Axios reporter Stef Kight, spent four hours on Pennsylvania Avenue, and emailed me these observations after she had filed her photos and reporting:
Overall, people were friendly and earnest. I personally didn't have any really negative interactions ... maybe a few grumpy adults who weren't expecting how crowded it was.
There was a lot of focus on the screens projecting what was going on on stage — lots of reactions, encouragement, chants and cheers to the stories being shared. 
At one point, I climbed up on a statue and looked out in three different directions and couldn't see the end of the protesters, most carrying signs and wearing "March For Our Lives" and other gun-control T-shirts.
An hour before the march even officially began, I wasn't even close to seeing the stage and was being crushed from all sides by teenagers, children, people in wheelchairs, parents, grandparents of all races and backgrounds.
A teenager who had clambered up on top of a wall shouted: "Show me what democracy looks like." It was raw and emotional, but also was much more than a reaction.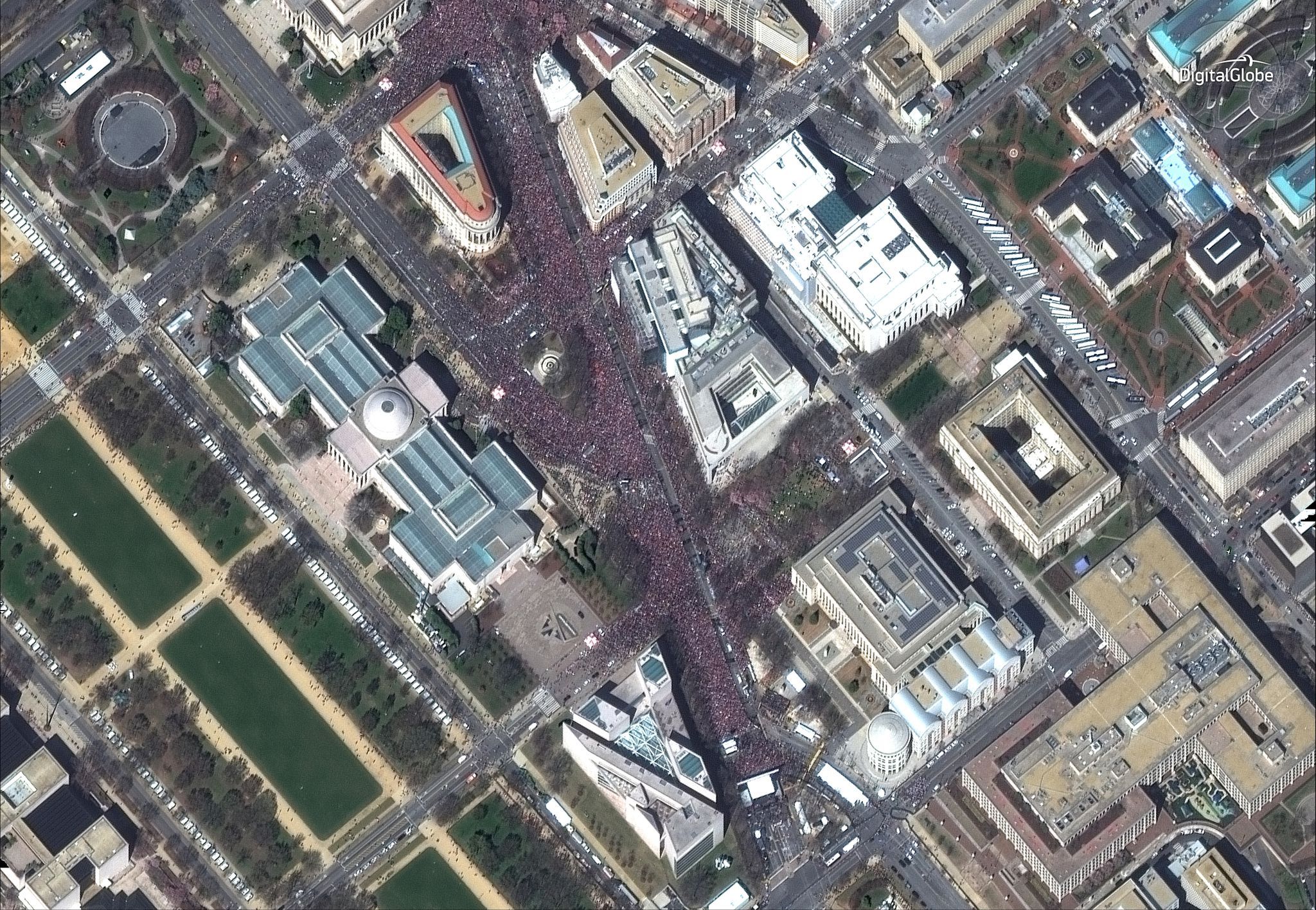 By the numbers:
3.3 million tweets were sent yesterday using the #MarchForOurLives hashtag, Twitter tells me.
AP: "By all appearances — there were no official numbers — Washington's March for Our Lives rally rivaled the women's march last year that drew far more than the predicted 300,000."
Outside of D.C., more than 1.7 million people marched in 752 sibling marches across the U.S., in all 50 states and in 387 congressional districts, according to the Bloomberg-backed Everytown for Gun Safety, which helped organize them.
So that's roughly 2 million across the U.S.
104 other marches were held outside the U.S., on every continent except Antarctica, for a total of 856.
N.Y. Times Quotation of the Day ... Delaney Tarr, a Marjory Stoneman Douglas High School student speaking to the crowd in D.C. (Twitter bio: "student. journalist. fighter. meddling kid. #neveragain")
"If they continue to ignore us, to only pretend to listen, then we will take action where it counts. We will take action every day in every way until they simply cannot ignore us any more."
Marching for their guns ... Some Second Amendment groups gathered at the same marches, per CNN:
In D.C., "Eric Ciabottonia, 19, and John Bolduc, 18, traveled with a group of students from Pennsylvania State University to march for gun rights. The freshman engineering majors said they are supporters of President Donald Trump and came to voice their beliefs about the Second Amendment and see what the opposing side thinks."
In Boston, "counter-protesters and marchers shouted at each other and police had to step in to keep the peace. It got to the point where police had to from a perimeter around the counter-protesters to prevent any potential clashes."
"Protesters and counter-protesters were separated by a fence during the March for Our Lives demonstration in Bentonville, Arkansas."
Go deeper