How Trump created a new era of high risk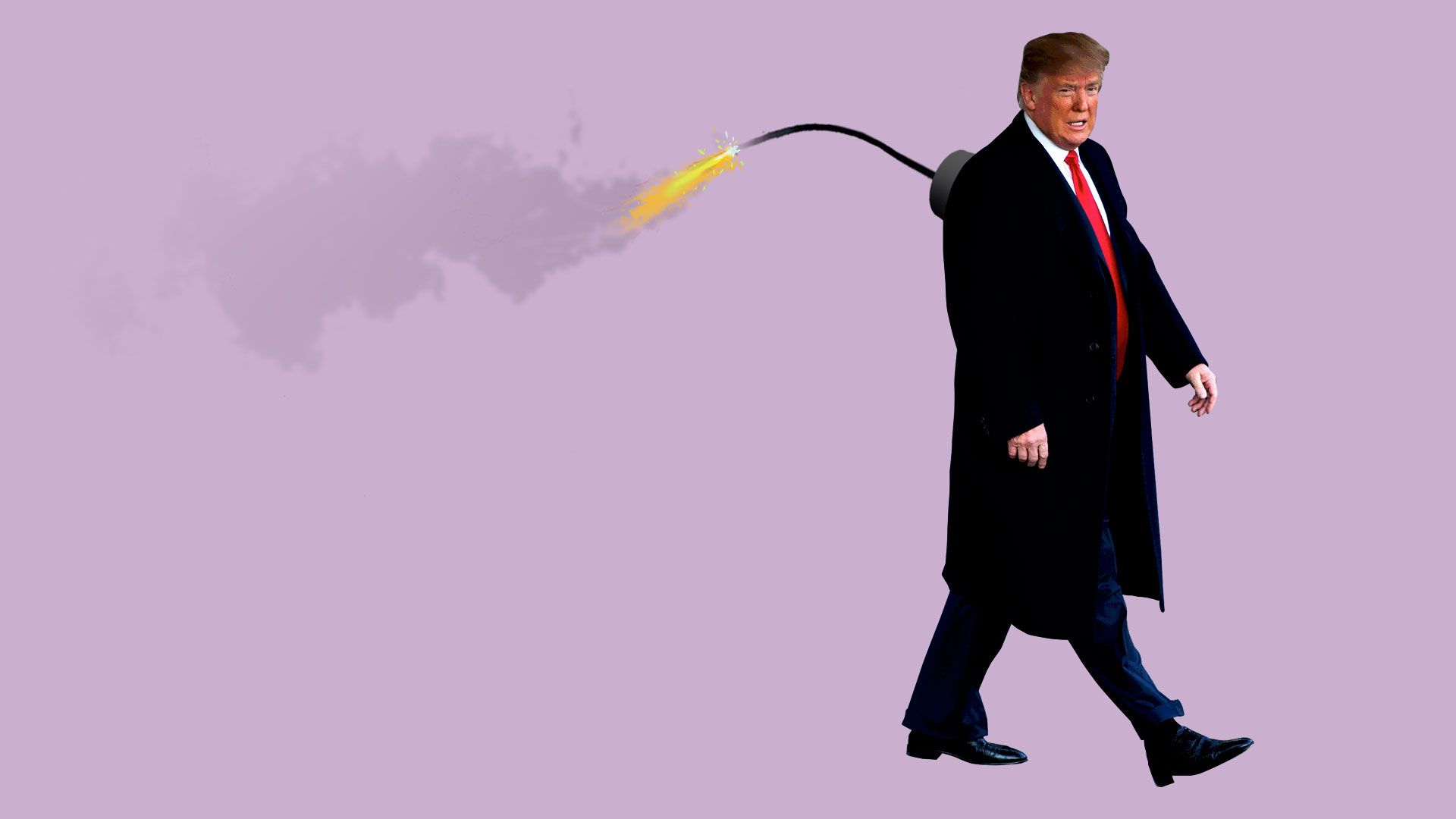 On Jan. 26, just over a year into his presidency, President Trump had a president's dream: peace and prosperity. The Dow Jones industrial average, S&P 500 and Nasdaq all hit record highs.
Where it stands: Since then, Trump has injected multiple new risks into the system.
Yesterday, "U.S. stocks suffered their worst week in more than two years, signaling mounting investor anxiety over whether factors from restrictive trade policies to rising interest rates could disrupt the nine-year bull market." (WSJ)
N.Y. Times: "Aides said there was no grand strategy to the president's actions, and that he got up each morning this week not knowing what he would do. "
So what's happened in the past two months?
Checks inside the White House are gone, and Chief of Staff John Kelly's controls have been circumvented.
Critics of China and trade have been empowered.
Hawks have been installed at NSC and State.
Trump is stirring for a Mueller fight.
The conversation:
CFR President Richard Haass tweets: "This is the most perilous moment in modern American history-and it has been largely brought about by ourselves, not by events."
Jeremy Bash, former CIA and Pentagon chief of staff, on "Morning Joe": "I think the president is assembling a War Cabinet. To take a war to Bob Mueller, he's got Joe diGenova. To take a trade war to China, he's got Larry Kudlow. And now, to actually have a real war, he's got John Bolton. And the only question is: Will we find ourselves in a military conflict vis-à-vis North Korea or Iran or both?"
N.Y. Times Quote of the Day ... Tong Zhao, a nuclear policy expert at the Carnegie-Tsinghua Center for Global Policy in Beijing, on the apprehension of American allies in Asia about the appointment of John Bolton as national security adviser: "People are trying to avoid appearing terrified, but people are deeply concerned."
The Trump view ... A source close to the president told me:
"I personally reject the premise that there is inherent 'risk' in Trump being more Trump."
"He's got 15 months under his belt, and is feeling more comfortable and confident in the job."
"The economy is booming ... ISIS is obliterated. He's got China to the table to help with NoKo in unprecedented ways."
"Now he's continuing to throw Kim off balance with a vocal NoKo hawk, reminding him he's serious."
"He's doing nothing on trade that he didn't openly campaign on."
"It's unorthodox. It's chaotic from a staff level. But I think folks need to relax."
Be smart: The markets can be prescient — they appear to be factoring in rising uncertainty and risk.
Bottom line: We have never seen so much wobbliness and apprehension, internally and externally. 
Go deeper