How Congress missed yet another chance for an immigration deal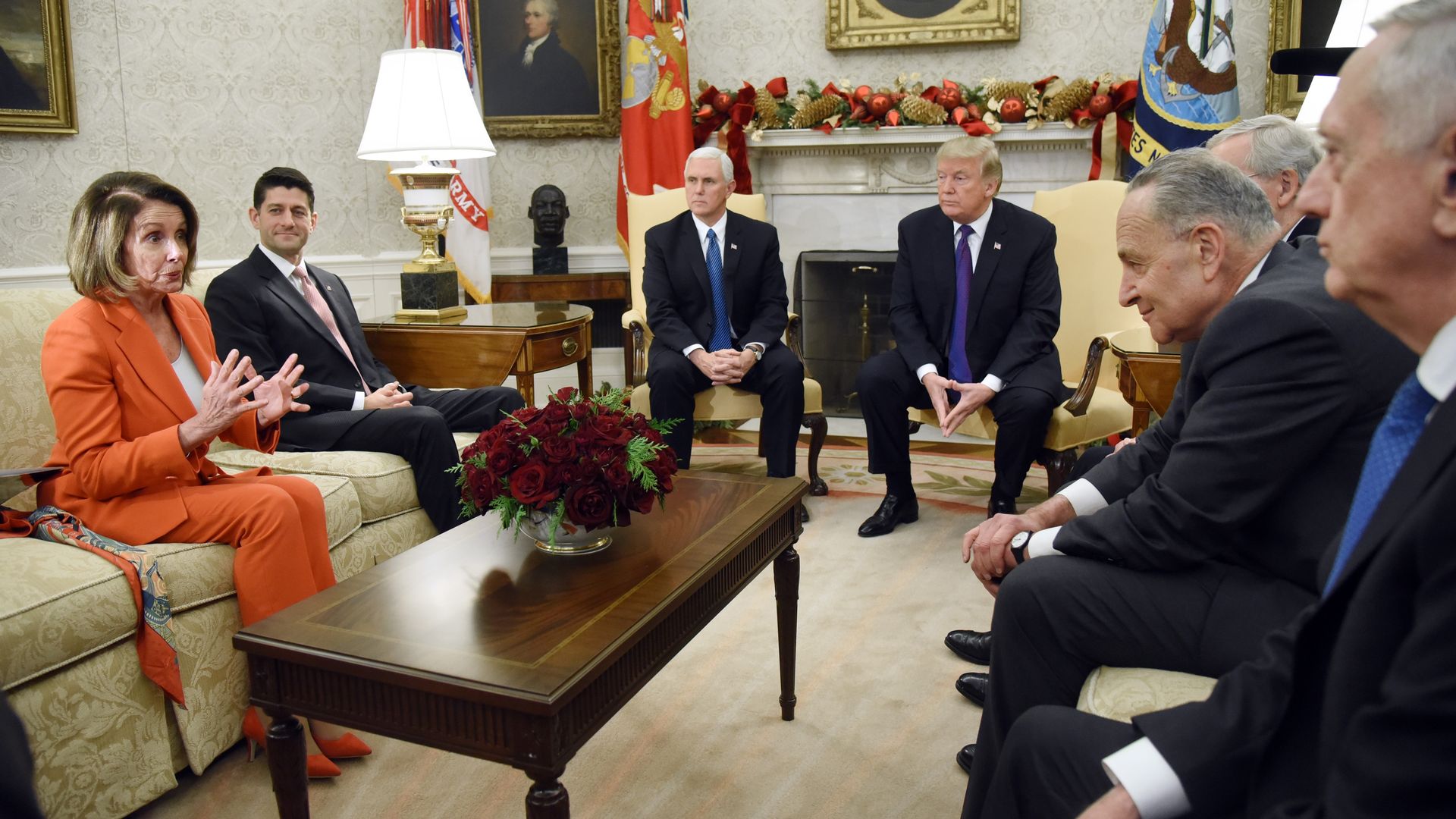 Congressional leaders and the White House failed to come to an agreement on temporary protections for Dreamers over the past week as part of the giant spending bill, leaving the issue unresolved.
Why it matters: After all of the fighting over President Trump's decision to end DACA — including a government shutdown over it — the White House and Congress ended up with nothing. The issue is currently tied up in the courts. And though both sides agree it's better to give Dreamers more certainty over their future, they just can't agree how to do it.
What happened, per congressional sources familiar with the negotiations:
Over the weekend, the White House offered to extend DACA for three years (Democrats say it was only 2.5 years) in exchange for $25 billion in wall funding.
Democrats rejected that, saying they needed a permanent path to citizenship for 1.8 million people as opposed to the 700,000-800,000 included in the GOP's offer. (Throughout the negotiations, Democrats say they didn't counter with a different amount of wall funding from what Republicans offered.)
Speaker Paul Ryan made another offer: Three years of wall funding for a three-year DACA extension for current enrollees, which is the 700,000-800,000 number. Democrats say there were also increases in deportation forces, detention beds and other policies that they consider non-starters included, so they rejected it.
Republicans say that they only asked for an "acceptable outcome" on beds and agents and that it was a separate conversation from the three-for-three offer.
Democrats said 1.8 million must be included in the DACA extension. They say Ryan kept offering the same slimmer DACA extension they'd said no to, but with less wall funding paired with the policies they considered non-starters.
Republicans say they made yet another offer: Three years of wall funding for a three year DACA extension that included an age-in proposal that would expand the number of people protected by DACA. Democrats say the bottom line is everything Republicans offered was still slimmed-down DACA with poison pills attached and no indication the White House was onboard. Republicans say that's not true – the president was on board and Ryan told Pelosi and Schumer that.
Democrats rejected the offers, and the negotiations ended Tuesday night.
Bottom line: This was probably the last chance this year to get something done legislatively on DACA.
Go deeper