How the Senate's bipartisan ACA effort went off the rails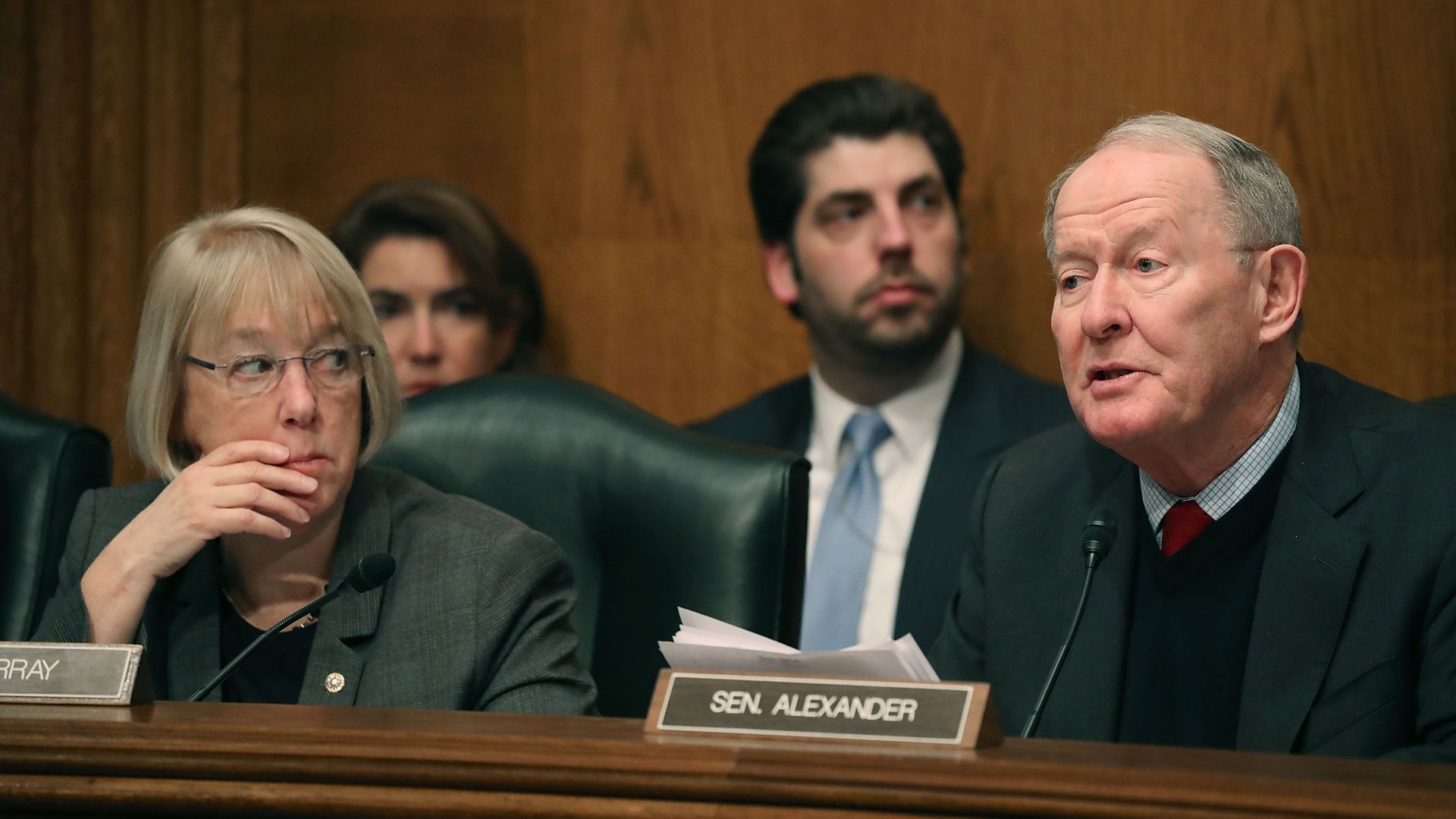 Six months ago, the Senate had a bipartisan health care deal with a good chance of becoming law. But now that deal appears to be dead — derailed by abortion politics, policy disagreements and months of lawmakers dragging their feet while the health care landscape shifted underneath them.
Why this matters: Premiums are almost certainly going up in October, and insurers will be deciding whether to keep participating in the marketplace.
Flashback: Sens. Lamar Alexander and Patty Murray began trying to reach a deal in September to stabilize the Affordable Care Act's insurance markets — and reached one in October.
Since then, congressional Republicans repealed the individual mandate and the Trump administration released new regulations that further chipped away the law. Those changes altered both the political and policy framework for the ACA bill, and paved the way for its ultimate failure.
What went wrong
Abortion:
The main tenet of the bipartisan ACA bill has always been to restore funding for the ACA's cost-sharing reductions. After the original deal was struck, Republicans wanted to add new language to prohibit insurance plans that receive those payments from offering abortion coverage. Democrats balked.
Similar restrictions apply to other health care programs, but had not previously applied to these payments.
Over the past few weeks, the stalemate became apparent to both negotiators and the public. Neither side wanted to cave, and never did.
Cost-sharing reductions: Democrats worried openly that restoring cost-sharing payments would raise premium costs for low-income people. They wanted to expand the law's premium subsidies to compensate — but that was a non-starter for Republicans.
"There is literally no reason why they can't accept this deal except for [abortion]. Except they want premiums to go up in October, November, to help their prospects for taking back the House," the GOP aide said.
Short-term plans: Democrats wanted to block the Trump administration's expansion of short-term health plans that don't comply with the ACA. Republicans couldn't do that, but included new disclosure requirements for those plans and affirmed states' rights to regulate them. Democrats say including this this codifies the new rule.
This dispute may be pointless.
"If a next administration repeals the short-term rule, those products would still exist and, under this legislation, would still have to offer a disclosure," Avalere's Chris Sloan said.
Reinsurance: The desire to include reinsurance funding in the package has only become more bipartisan since the fall, with House Republicans coming onboard. But disputes over its structure became a problem this week.
Democrats complained that the latest proposal allowed the HHS secretary to decide how reinsurance funds would be allocated — and they feared blue states wouldn't get any.
But that's pretty much the same as the ACA's previous reinsurance program, experts and a GOP aide said. "I'd say both bills give a lot of discretion to the secretary," says the Kaiser Family Foundation's Larry Levitt said.
Go deeper