Congress doesn't love the spending bill, but it passed anyway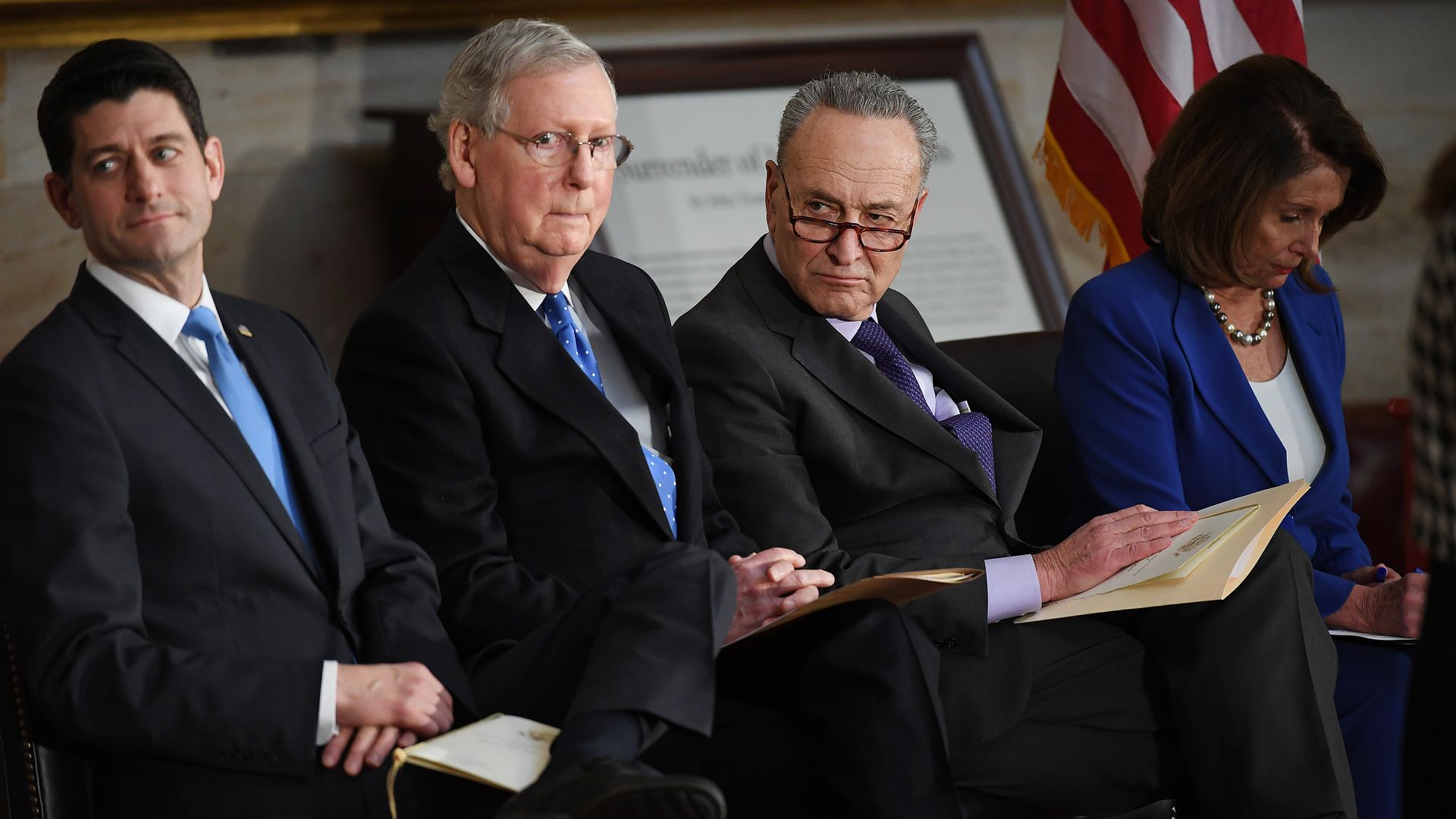 House Speaker Paul Ryan touted the defense spending increase, Sen. Rand Paul angrily tweeted about arcane government spending, and Democrats shook their head at the lack of gun control measures. But most members of Congress accepted the omnibus spending bill for what it is: A giant collection of what has to get done to keep the government functioning, while mustering enough votes to pass.
Why it matters: This is a $1.3 trillion dollar bill affecting every branch of government that passed mostly because it had to. Members voted on it without really reading it, as it was released Wednesday night and passed the Senate shortly after midnight Friday.
The big picture: Passing a spending bill has to be a bipartisan affair, since Republicans don't have the votes to push it through by themselves. Thus, both parties' priorities must be addressed, so few people are actually fully satisfied with the final product.
What Republicans are saying:
Conservatives are furious. Here's House Freedom Caucus Chairman Mark Meadows: "We are growing the size of government at a breakneck pace. And we are doing all of this through a 2,300 page spending bill, written privately by four leadership members, that became public only 24 hours ago."
Defense hawks are happy(ish). Here's Ryan: "With the biggest increase in defense funding in 15 years, this critical legislation begins to reverse the damage of the last decade and allows us to create a 21st-century fighting force."
Moderates accept it. Sen. Lisa Murkowski: "You know, it was the agreement that we reached ... There's an awful lot that we quote needed to be in this in order to pass, and it's kind of like the legislative cleanup list. Seems to me that we ought to have a better process for doing legislation other than waiting for one omnibus."
What Democrats are saying:
Leadership is happy(ish). House Minority Leader Nancy Pelosi said there was a "tremendous victory" on the domestic side, but denounced the process, including the failed attempt to add protections for Dreamers.
Moderates aren't complaining (much). "Everything is the art of compromise," said Sen. Doug Jones. He called a provision to strengthen gun background checks "an important step," adding that "no one should ever, ever think that because it doesn't have a whole list of things, that that's not important."
Most are disappointed but not shocked that they didn't get more wins on hot-button issues, like guns and immigration. "I'm very disappointed that no really meaningful or major step to prevent gun violence prevention is included," said Sen. Richard Blumenthal. "DACA is a major disappointment as well."
The bitterest fight: health care. Sens. Lamar Alexander, Patty Murray and Susan Collins failed to come to an agreement on an Affordable Care Act market stabilization deal, as they couldn't reach agreement on abortion language. The three went back and forth in a tense round of Senate floor speeches Thursday afternoon.
Those speeches aren't going to change the outcome: The bill will pass without any kind of stabilization for the ACA, and that was probably their last chance to prevent big premium increases before the 2019 insurance rates are released.
Go deeper