Updated Mar 23, 2018 -

World
How China became a global power of espionage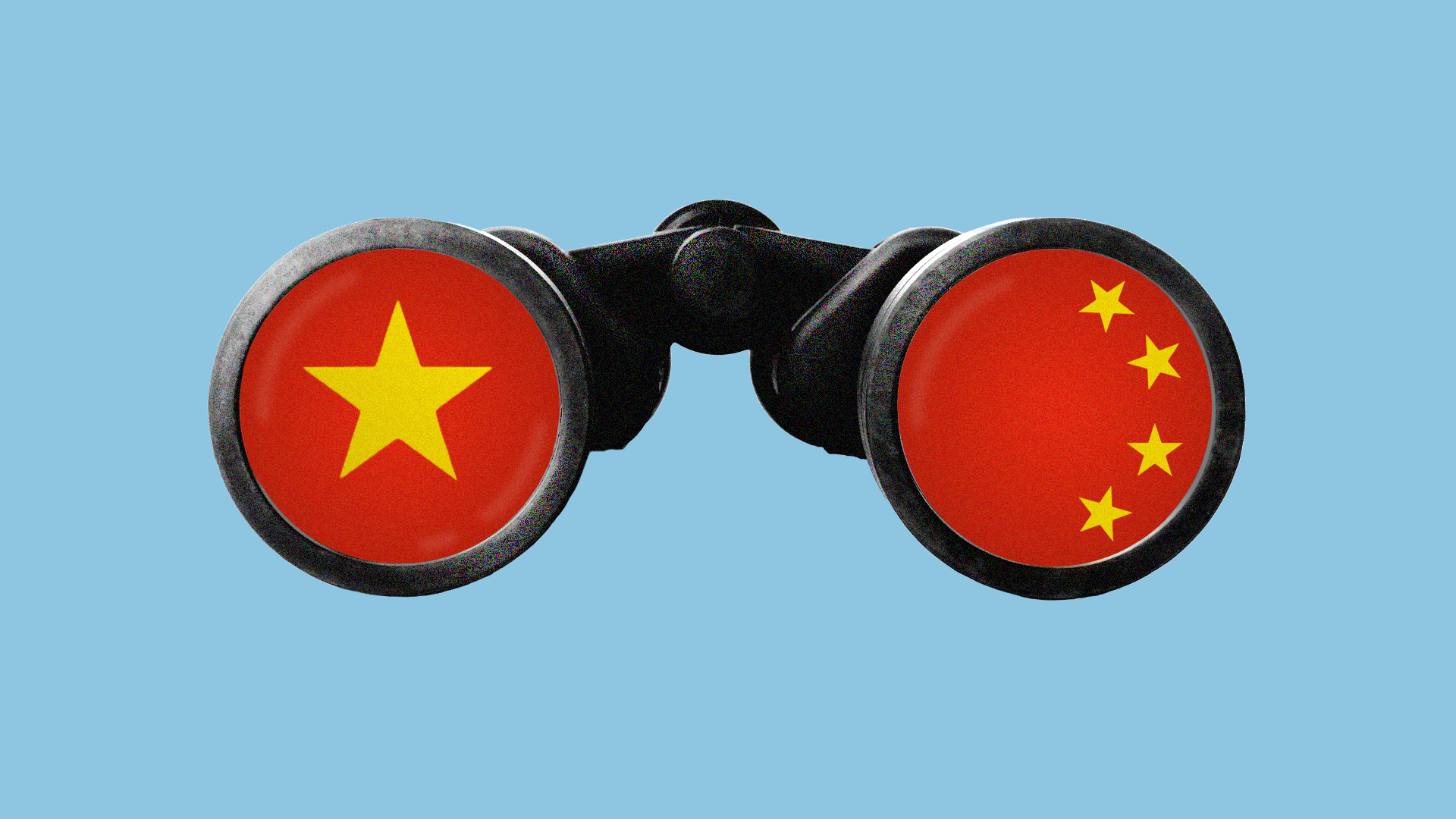 As China's influence spreads to every corner of the globe under President Xi Jinping, so do its spies.
Why it matters: China has the money and the ambition to build a vast foreign intelligence network, including inside the United States. Meanwhile, American intelligence-gathering on China is falling short, Chris Johnson, a former senior China analyst for the CIA who's now at the Center for Strategic and International Studies, tells Axios: "We have to at least live up to [China's] expectations. And we aren't doing that."
The playbook
Three quick things to know about China's intelligence efforts, per Johnson:
Their strategy is "looking more and more like the Russians."
"They're clearly becoming more aggressive."
"Unlike us, they'll actually devote the resources to it."
"China has greater [international] influence operations than we think about," Dennis Wilder, who was the National Security Council's Senior Director for East Asia under George W. Bush, tells Axios — and international influence is incomplete without intelligence.
The U.S. once engaged in broader foreign influence programs, but has shifted primarily to collecting intelligence. Meanwhile, Director of National Intelligence Dan Coats told lawmakers that China will spend $8 billion in 68 countries this year to undermine American influence and bolster its own reach.
Xi's reform of Chinese intelligence will likely "involve reconstituting the Ministry of State Security [China's spy agency] as a two-part body, one for monitoring spies in China and another for gathering intelligence overseas," reports the Nikkei Asian Review.
In terms of economic espionage, FBI Director Christopher Wray told NBC News, "there's no country that's even close" to China.
Now China's playbook is starting to mimic those of traditional intelligence powers like the U.S. and Russia, Johnson says. It's increasingly seeking intelligence for political purposes, rather than just economic applications.
Beijing is also trying to grow its presence in the Middle East — an intelligence-gathering hotspot where it hasn't traditionally been a significant player.
Beijing and Moscow
China resembles Russia in one big way: Both employ a united front strategy, says Wilder. In those countries, everyone — the government, the billionaires, the academics — works together for the good of the state, in part because the state has tight control over their lives, he says.
But there are key differences between the Chinese and Russian approaches to intelligence-gathering.
"When a Russian agent does an intrusion in Moscow, they'll defecate on the floor in the living room ... They'll slash your tires ... They want you to know they've been there, and they want to make you miserable. That's a Russian philosophy, not a Chinese philosophy.
"The Chinese think, 'If I'm good at this, you'll never know I was in your room. I want you to keep coming to Beijing and bringing your laptop and thinking you're safe.'"
— Wilder on China and Russia's philosophies
The recruits
In January, the FBI arrested Jerry Chun Shing Lee, a 53-year-old former CIA agent based in China who reportedly leaked information about American espionage to the Chinese, who then used that intelligence to systematically break the CIA's spy network in China.
The story is emblematic of China's skill in infiltrating U.S. intelligence, David Wise, a historian and China expert, writes in the New York Times. "The Chinese may take years to develop a source and plant one inside American intelligence organizations. But they have managed to do just that inside the FBI, the CIA, the Pentagon and the State Department," according to Wise.
And those recruitment efforts, which used to be limited to ethnically Chinese people living in foreign countries, have expanded to target white Americans, Johnson says.
One example is Glenn Shriver, a Virginian who studied in Shanghai and was recruited by Chinese operatives to try to land a job at the CIA to spy for Beijing. Shriver pleaded guilty to conspiring to leak U.S. defense information in 2010.
The bottom line
"One of the things we're trying to do is view the China threat as not just a whole-of-government threat, but a whole-of-society threat on their end. And I think it's going to take a whole-of-society response by us."
— FBI Director Christopher Wray to the Senate Intelligence Committee in February
Go deeper