Timeline: What went wrong at Tronc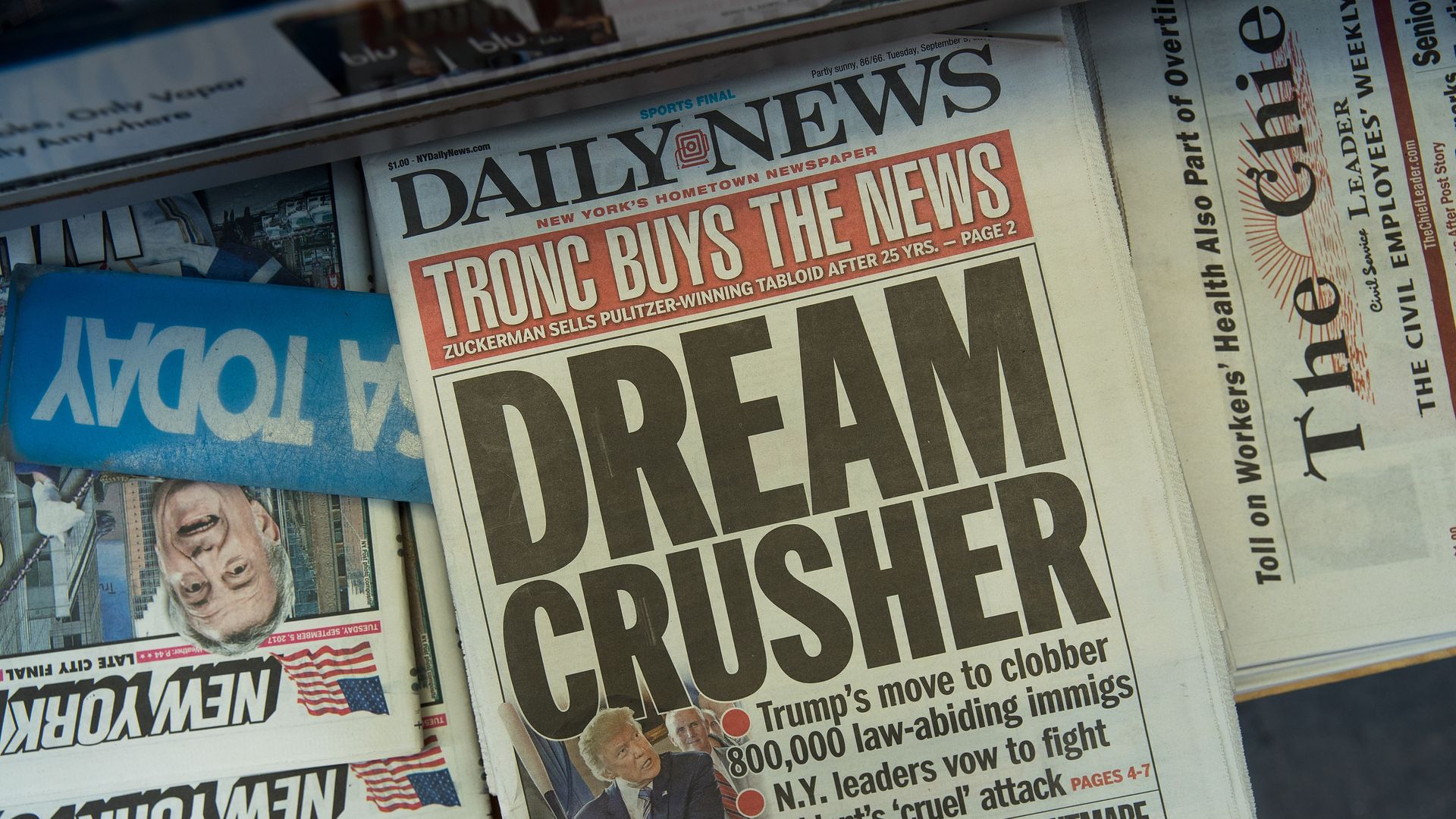 Newspaper publisher Tronc has had a rocky few months. Plagued by management shakeups, unionization battles, layoffs and accusations of sexual harassment, the media group formerly known as Tribune Publishing has struggled in its efforts to adapt to a digital landscape.
Why it matters: An underwhelming year-end earnings report further sounded the alarm for Tronc investors earlier this month, causing the company to lose almost a quarter of its market value in a single trading session.
June 20, 2016: Tribune Publishing officially rebrands as Tronc, short for "Tribune online content," and begins trading on the NASDAQ under the symbol TRNC. The rebranding effort is met with near-universal ridicule, capped off by a press release that WashPost's Erik Wemple called "perhaps the most concentrated mess of buzzwords that digital publishing has ever seen."
Jan 18, 2018: Los Angeles Times employees vote to unionize on the same day it announced that publisher Ross Levinsohn will be taking unpaid leave. An NPR report found that Levinsohn's inappropriate behavior had created a toxic, "frat house" work environment, prompting Tronc to launch its own internal investigation.
A second NPR report found that Levinsohn, who has since been cleared of wrongdoing by Tronc and named CEO of Tribune Interactive, has a history of convincing employers to invest in his own projects — raising questions about where his true interests lie.
Feb. 7, 2018: Tronc agrees to sell the Los Angeles Times and San Diego Union-Tribune to the world's richest doctor, Patrick Soon-Shiong. When the deal officially closes, Tronc will become a significantly smaller company, not to mention notably further from chairman Michael Ferro's strategic goal of 100 million digital readers.
March 7, 2018: Beyond just disappointing figures, Tronc's earnings call is sullied by an overall lack of transparency about the company's direction. Tronc CEO Justin Dearborn, for example, makes the surprising decision not to provide a financial outlook for 2018. "In other words," writes Nieman Lab, "we haven't yet figured out how Tronc will perform financially without the Times and San Diego Union-Tribune. Or alternatively: You wouldn't like what we'd have to tell you."
March 15, 2018: The Chicago Tribune lays off an unknown number of employees for the second time in five months.
March 19, 2018: Tronc chairman Michael Ferro steps down from the board of directors after two years of leading the company. Later that day, two women accuse Ferro of inappropriate advances in an article published by Fortune.
Go deeper