Woman's death pushes self-driving much further away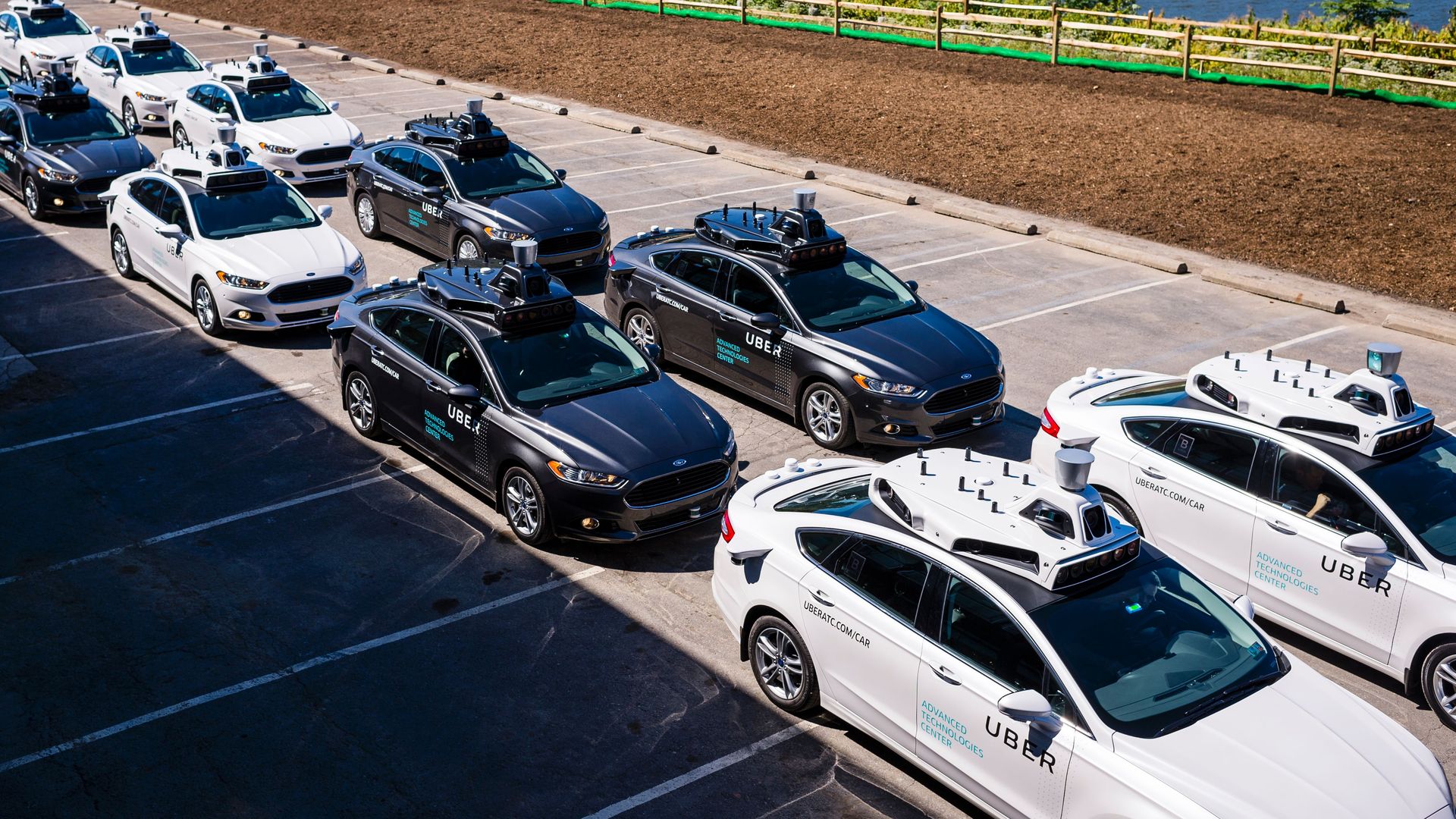 Carmakers and tech companies are likely to considerably delay their rollout of fuller autonomous driving after the death of a pedestrian who was run over by a self-driven Uber, said Barclays analyst Brian Johnson.
What they're saying: In a note to clients, Johnson said the late Sunday night accident in Arizona shows that, while carmakers may be 90% or even 95% of the way to optimizing autonomous technology, "it's the last 5-10% which is the toughest to achieve."
What may undergo a rethink: The industry has been in a self-driving development frenzy. A number of automakers already sell vehicles rated at "Level 2," which means hands-on autonomous functionality. And all of them are in a rush to get to Level 5, which makes steering wheels and pedals unnecessary:
Last week, GM said its self-driving Cruise AV, without a steering wheel or pedals, will go into production next year. It will not be for individual car-owners, but for ride-sharing, to be operated in fleets in states such as Arizona and California. (GM did not respond to a request for comment. Johnson thinks that the company may slow down this rollout.)
But generally speaking, 2021 is — at least as of the time of the Uber accident — the year of the self-driving car: Volvo has said it will have Level 4 autonomy by 2021. So did Ford. VW and Hyundai say they may even reach Level 5.
Waymo, Google's self-driving unit, has tested its technology by far the most of any company, and may at the same time be the most conservative about the decision to launch commercially. Last month, Waymo received approval to operate a self-driving ride-hailing service in Arizona, but it has not announced when that will begin.
Tesla's Elon Musk may be the most bullish maker of self-driving technology. In an earnings call last month, Musk said a Tesla would do a self-driven, cross-country U.S. run by July, and that he would make the capability available to customers at an unspecified later date.
Tesla did not respond to an email asking about any delay. But, again, Johnson suggested that, at the least, Musk's plans would face pushback. "The [Uber] news reinforces that conservatism may be the right approach — leading some to question Tesla," Johnson said.
Self-driving experts are urging renewed contemplation of when fully autonomous cars go on the road. Raj Rajkumar, head of the self-driving car lab at Carnegie Mellon University, suggested that success can make some autonomous teams complacent. "Just because the vehicle drove itself fine for the past 10 miles does not mean that it can deal with all the conditions it will encounter during the next 10 miles," he told Axios in an email. 
"Computers and humans are fundamentally different in how we learn and do things. If a human driver can handle a mix of situations on the road, one can imagine that person doing the reasonable/right thing in (almost) all other conditions.  This is how we license human drivers. Unfortunately, this is NOT true for computers which are programmed to do certain things. Situations that they are not programmed for will not be handled by computers. Hence, the need for human operators who must step in as needed for now."
— Raj Rajkumar
Go deeper