The new tech divide: social media vs. everyone else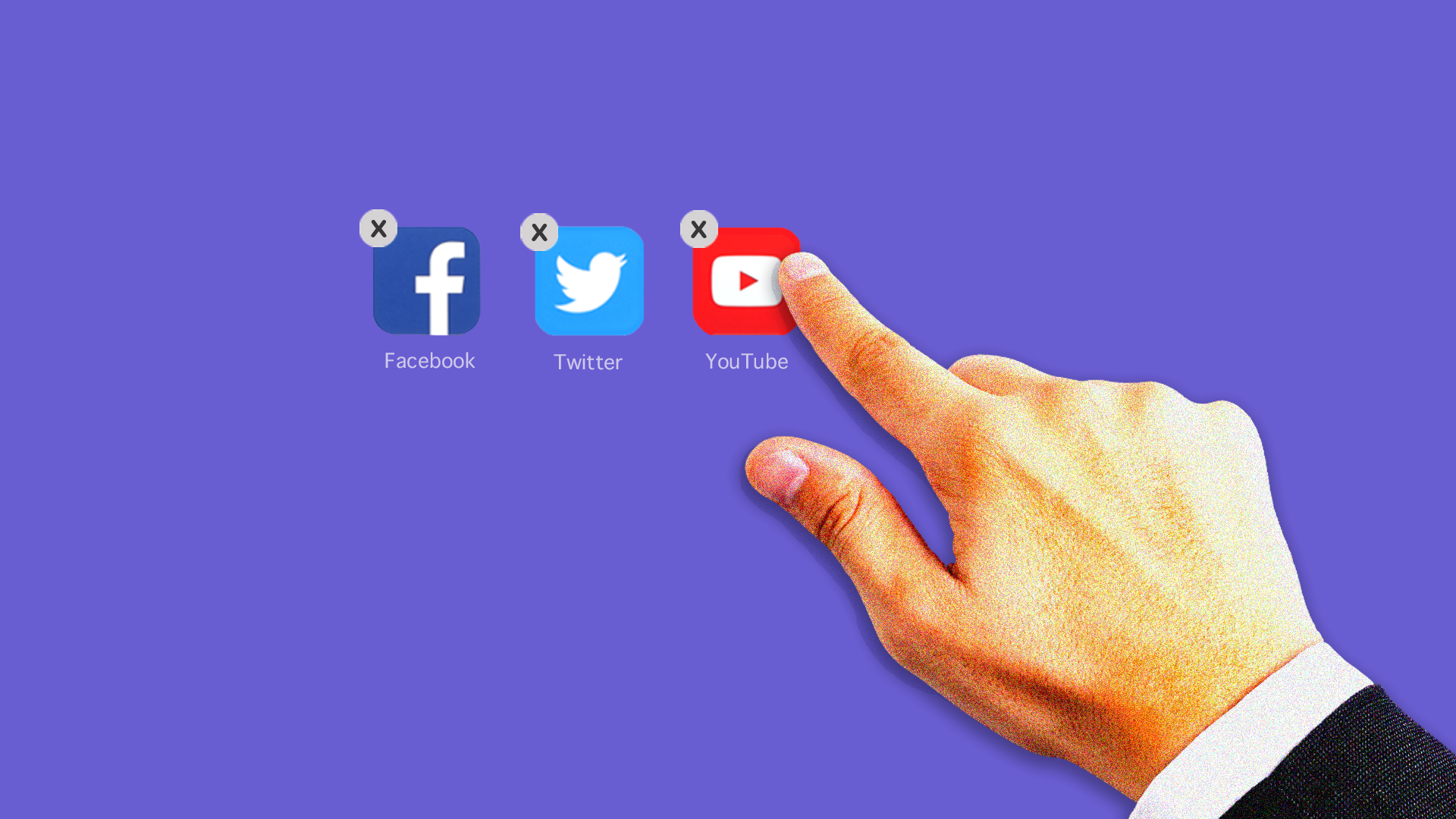 Not so long ago, social media companies were the poster children of the internet's power to connect. But now that they're being hammered over mischief on their platforms — which now includes Facebook's Cambridge Analytica scandal — other tech companies are parting ways with them on policy fights and dropping not-so-subtle hints about the need for greater social responsibility.
Why it matters: The tech industry is splintering in the wake of the controversies surrounding social platforms like Facebook, Twitter and Google's YouTube. A wide range of companies — from legacy Silicon Valley firms like IBM and Oracle to business-focused firms like Salesforce and Cisco — want to be seen as responsible players who can be trusted to make wise decisions when faced with tough calls.
"We don't want to be collateral damage. We're very nervous that the behavior of these companies is going to give the whole industry a black eye."
— Senior official at a major tech company
The big picture: For years, the tech industry has more or less traveled in a pack in Washington, joining forces to both push for and fight against specific policies. But as new skepticism — and new threats of regulation — come down on a few big names, their Bay Area brethren don't want to be painted with the same broad "Big Tech" brush.
What we're hearing:
IBM, Oracle and Hewlett Packard Enterprise broke with social media firms on big policy positions, such as supporting the anti-trafficking bills in Congress that Facebook and Google fought against.
IBM has also called for internet media companies to "embrace their responsibility to usher in new technology in ways that are transparent and readily explainable."

"People want to know how their data is being used, who owns it, where it is stored, and how the algorithms that give them information work," said Chris Padilla, IBM's VP of government and regulatory affairs, in a blog post this month.

Chip companies like Qualcomm and Intel and equipment makers like Cisco are pointing out that they make the gear that powers the internet, rather than the software that rides on top of it.
Box CEO Aaron Levie tweeted that we're starting to see a major shift. "As more of the world goes digital, the responsibility of tech companies grows exponentially. The days of arguing that (and acting like) tech companies are merely platforms and pipes are behind us."
Salesforce CEO Marc Benioff said regulators should be more aggressive in reining in big technology companies for creating addictive services, comparing it to the cigarette industry.

"CEOs and these companies have to take responsibility for the technology that they're building and look at: Is it addictive? Is this technology helping their customers or hurting their customers? Are they being manipulated?" he said in a recent CNBC interview.
Why it's happening: Companies of all stripes are trying to explain more clearly what they do, why they're different, and how they benefit society, one senior level official at a non-internet company said.
This segmentation has been brewing for some time, but negative headlines around social media have sharpened divisions. For example, a growing gap between firms that mainly sell to businesses and consumer-facing firms that make money on digital advertising.
It's also a sign of the maturation of the industry, one tech lobbyist said. Tech companies are now so diverse that it's no longer advantageous to be seen as a monolithic bloc.
"Everyone is fighting their own battles," the lobbyist said, adding that there's not a lot of industry cooperation right now as companies focus on shoring up their own identities.
Others frame it as competitive tension between pre-Internet-era tech firms and Silicon Valley's newer generation. "Legacy tech companies have been under pressure for some time for not keeping up on the innovation front," said a tech industry source. "It's not surprising entrenched players are trying to slow down insurgent competition."
Even other dominant tech companies are drawing some lines of distinction.
Apple SVP Eddy Cue distanced the Apple News platform (which prioritizes trusted publications over social features) from other social media platforms wrestling with how to monitor content.

"People draw lines, and you've got to decide where you draw the line," Cue said at SXSW in Austin this month. "Free speech is something we stand behind and it is important, but that doesn't mean it's everything."

Microsoft President Brad Smith told Axios in a February interview that one of the lessons Microsoft learned from its antitrust skirmish two decades ago is "the importance of reaching out more proactively to solve problems before they get too big to be solvable."

"The first principle is, you actually have to get better at looking in the mirror and seeing yourself not as you see yourself, but as others see you," he said.
The other side: Social media companies are maturing, the NYT wrote, as they come to terms with their reach and power. The companies also have taken steps to address concerns and have all stressed the importance of protecting their users' data and trust.
Facebook is has rejiggered its newsfeed algorithm to try to rein in fake news and suspended Cambridge Analytica from its platform.
YouTube put tighter controls on YouTube Kids content and said it would use Wikipedia information to debunk conspiracy theories on its site.
Twitter asked outside experts to help "hold ourselves publicly accountable toward progress" and to study how it effects users' well-being.
The companies also work together to share best practices on issues that affect them all, like safety and public health, a Facebook executive told Axios at an event earlier this month.
Go deeper