Scoop: Merkel warned Netanyahu collapse of Iran deal could lead to war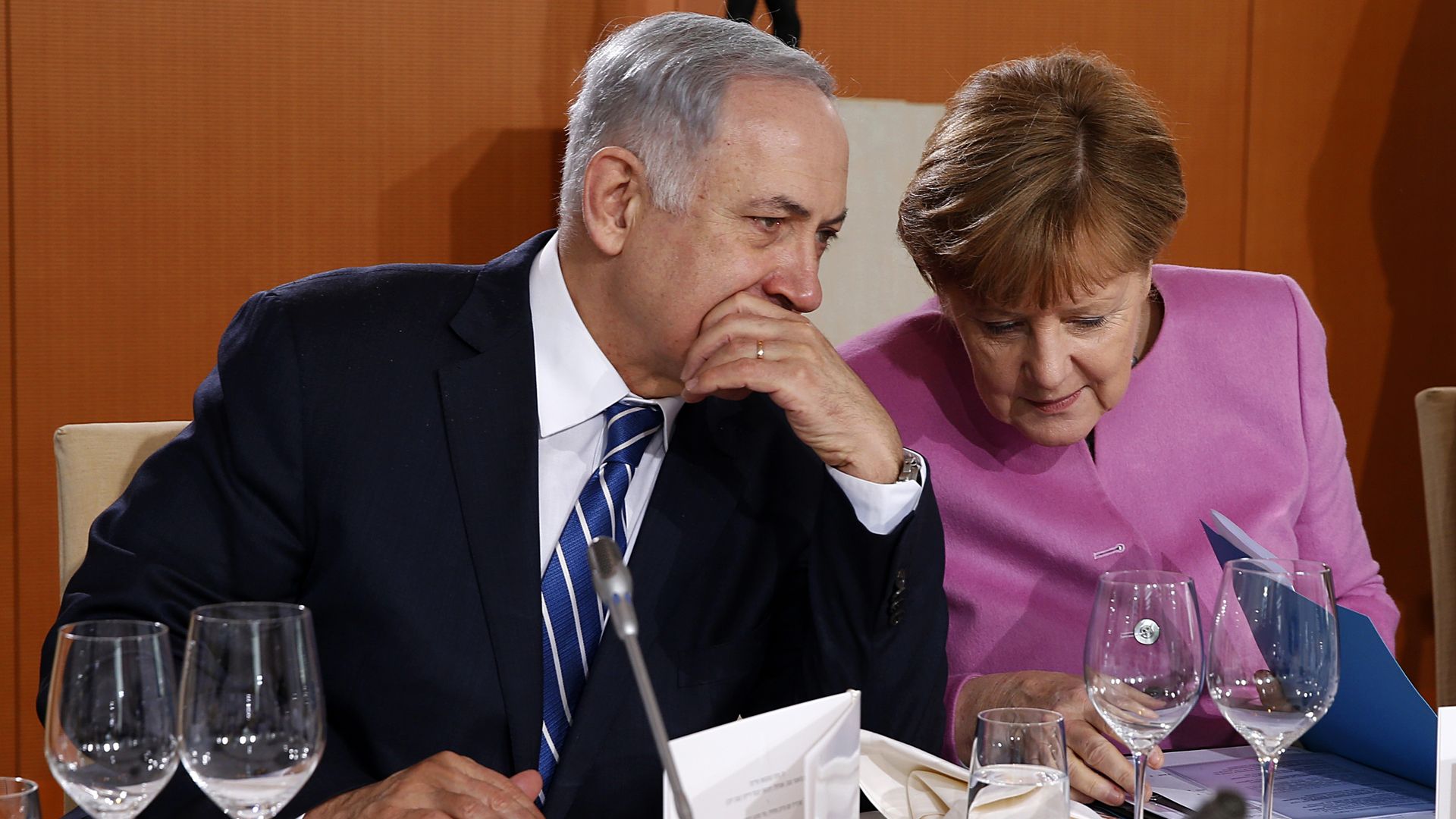 German Chancellor Angela Merkel warned Israeli Prime Minister Benjamin Netanyahu that a decision by President Trump to withdraw from the Iran nuclear deal might lead to the collapse of the agreement and, as a result, could lead to a regional war. German officials told me Merkel made this position clear when she met Netanyahu at the world economic forum in Davos Switzerland on January 24th.
Why it matters: The meeting between Merkel and Netanyahu took place two weeks after Trump announced he'd withdraw from the nuclear deal if Germany, France and the U.K. couldn't agree on significant changes to the deal by May 12th. Since then, senior diplomats have been engaged in intense negotiations to save the deal. The Europeans now believe the chances of finding a formula which will satisfy Trump are very slim.
A German official said Netanyahu presented all his arguments against the Iran deal to Merkel during the meeting.
Merkel listened and then told Netanyahu: "What is your alternative?" According to the official, she told Netanyahu that without the diplomatic solution, the military option would be back on the table.
Merkel stressed that a U.S. withdrawal would divide the west. According to the German official, Merkel said to Netanyahu: "It will put us, the Brits and the French on the same side with Russia, China and Iran when the U.S. and Israel will be on the other side. Is this what you want?"
The German chancellor also told Netanyahu that the European powers do not want do violate their international commitments and that U.S. withdrawal would harm the credibility of the West. That would make it harder to reach diplomatic solutions with problematic countries in the future because, "No one would take our word anymore," she added.
Netanyahu and Merkel spoke tonight on the phone. The purpose of the call was for Netanyahu to congratulate Merkel on forming a new government, but the two also discussed the Iran deal.
Netanyahu's office did not dispute the account of the meeting with Merkel in Davos, and said in a statement:
"Prime Minister Netanyahu emphasizes Israel's vital security interests at every meeting and he will continue to do so. The Prime Minister is convinced that the Iran deal should be fundamentally fixed or fundamentally nixed because this deal would lead for sure to Iran having an arsenal of nuclear bombs."
Go deeper