Airlines may not be the "germ incubator" you thought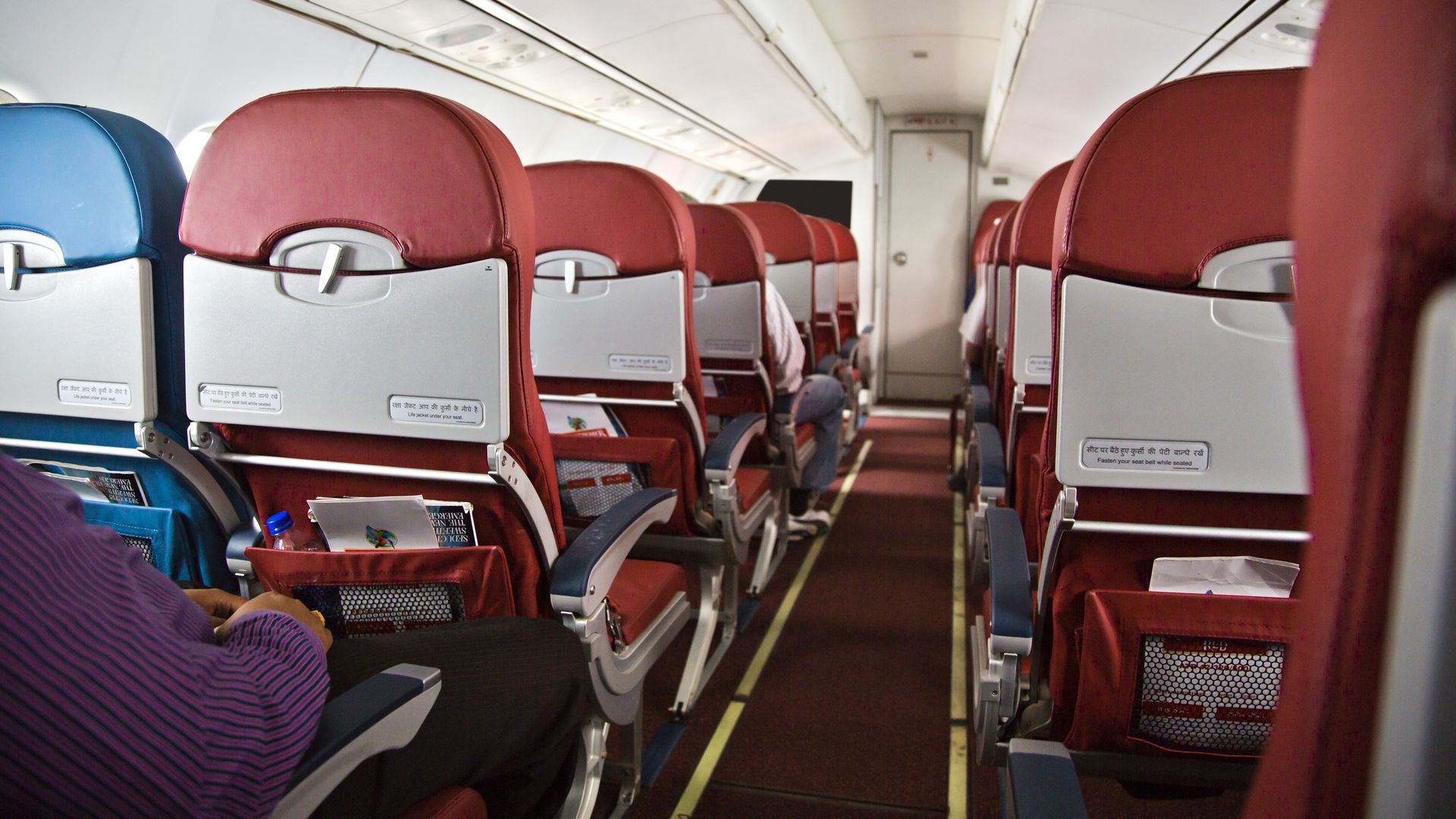 The chance of becoming infected with a common respiratory virus on an airplane may be smaller than originally thought — less than 3% unless you are sitting within one meter of an infected person, where your chances rise to 80%, according to a study published in PNAS Monday.
Why it matters: There are more than 3 billion airline passengers annually, and global health officials want to learn more how infectious diseases are transmitted, particularly after reported transmission of cases of flu pandemic and severe acute respiratory syndrome (SARS) via planes.
"Passengers should not be concerned about getting sick from somebody coughing, for instance, 5 rows behind them. You should observe good hand hygiene and keep your hands away from your face. If you are a sick passenger, observe cough-sneeze etiquette (cough or sneeze downward, into the crook of your elbow). As a courtesy to neighboring passengers, turn your air on...This is important from a public health standpoint."
— Emory University biostatician and study author Vicki Stover Hertzberg tells Axios
What they did: The team — which included researchers from Emory, Georgia Institute of Technology, and Boeing (the company also helped fund the research) — went on 10 transcontinental U.S. flights.
The researchers observed passengers' behavior by tracking their movements on the plane, including the time they spent in each zone. (Wired says nobody has done this before).
Environmental sampling, where they tested the air regularly during the flight and took samples from hard touch surfaces, like the top and bottom of the tray table, and some seat belt buckles and outside bathroom handles.
They simulated disease transmission on flights by making one passenger infectious and then went through various scenarios to see who would be in contact with the disease.
What they found:
38% of passengers never left their seats during flight, 38% left once, 13% left twice, and 11% left more than two times.
Passengers seated on the aisle were 5x more likely to come into contact with other passengers than those seated at the window.
The 11 closest people to the infected are most likely to get sick.
They took 229 environmental samples on all flights, and tested them for 18 common respiratory infections — and found all samples to be negative, which makes it "difficult to know whether their transmission model accurately reflects real life," Jason Burnham, an infectious diseases expert at Washington University School of Medicine in St. Louis, told Gizmodo.
Study limitations: Hertzberg says the study is limited with the type of selected flights, which were all 4–5 hours long in single-aisle planes. She adds that their model doesn't apply to diseases that can be transmitted by fine aerosols or via surfaces, which have sometimes been shown to retain bacteria for days.
"Nevertheless we feel that good hand hygiene and keeping your hands off of your face should obviate the risk from [surfaces]," she says.
What's next: Public health officials need to consider the entire travel experience when examining infectious transmissions, which makes it a real challenge, says Phyllis Kozarsky, Emory University's infectious disease expert who was not part of this study.
"For example, using busy public transportation to get to the airport, crowded airport spaces, check-in, TSA lines, escalator handles, crowded gates, crowded boarding passages, etc. In all of these environments, illnesses may be transmitted, so the transmission may not have occurred on the plane itself!" Kozarsky says.
Go deeper