Palestinian president calls U.S. ambassador "son of a dog"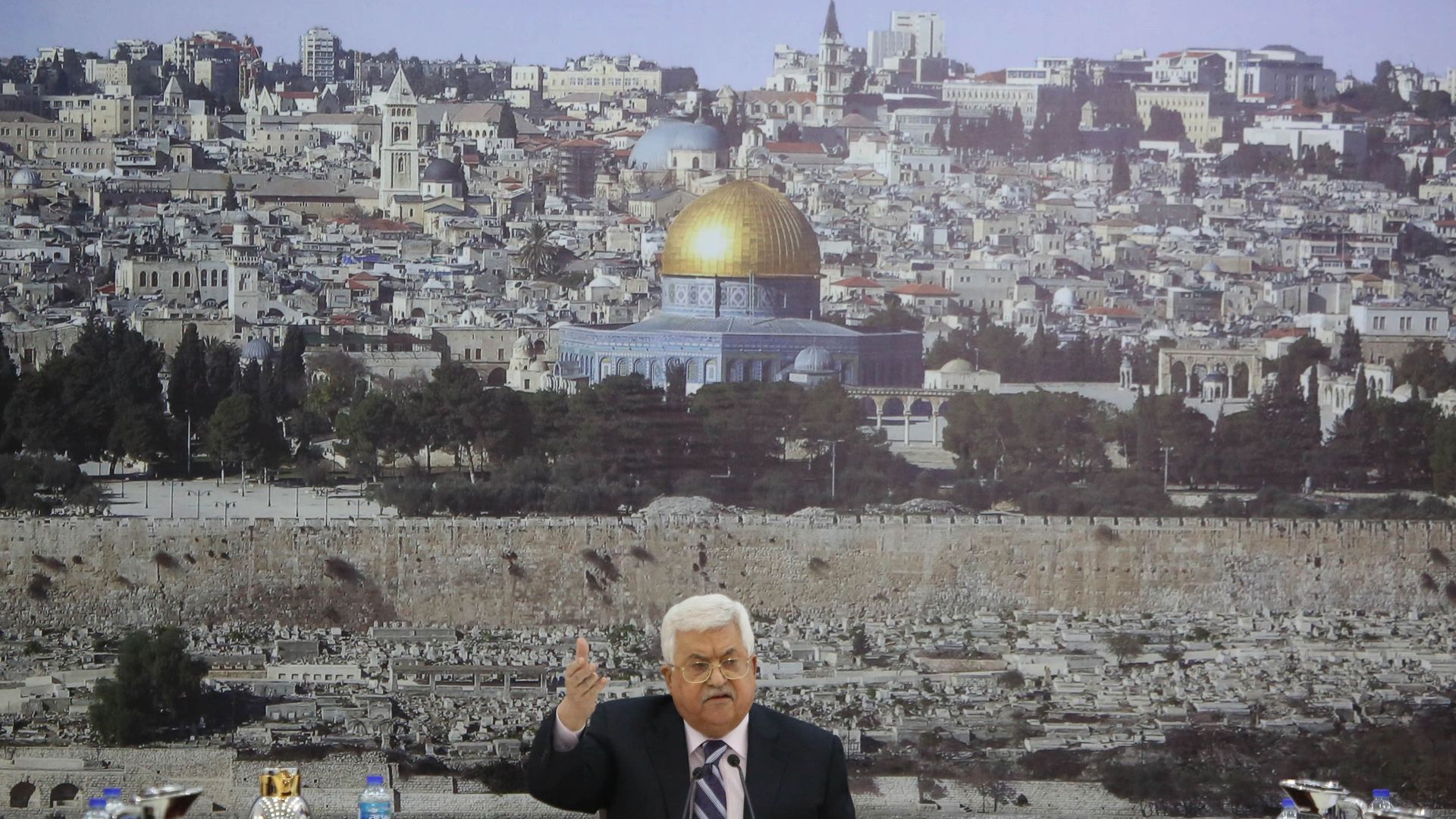 Palestinian President Mahmoud Abbas personally attacked U.S. ambassador to Israel David Friedman today, calling him a "son of a dog" during a speech at his Fatah party meeting. The U.S. State Department has condemned his rhetoric as "outrageous and unhelpful."
Why it matters: This is another escalation in Abbas's rhetoric against the U.S. since President Trump's Jerusalem announcement. In another speech two months ago, Abbas went on a personal attack against Trump himself and told him to "go to hell".
Abbas's attack came in response to statements by Friedman about Jewish settlements in the occupied West Bank. In his speech Abbas said Friedman and his family are "Settlers" themselves.
Abbas's rant against the Trump administration also shows that all efforts made by the White House through Egypt, Saudi Arabia, Jordan and other Arab countries to reduce tensions with Abbas and convince him to resume talks with the U.S. have failed.
It was also further proof that he has decided to set a collision course with the Trump administration and refuse to engage with Trump's peace plan.
Friedman, who is the most hard line member of the Trump "peace team", criticized the Palestinian leadership publicly several times in the last few months. Several hours before Abbas's attack, Friedman wrote on his twitter account that the Palestinian leadership has refrained from condemning the latest terror attacks against Israelis.
Friedman reacted to Abbas's attack in a speech in Jerusalem: "Anti-Semitism or political discourse, not for me to judge. I leave that to you".
Israeli Prime Minister Netanyahu defended Friedman in a statement: "Abu-Mazen's lashing against U.S. ambassador David Friedman says it all. For the 1st time in decades the U.S. government has stopped spoiling the Palestinian leadership and is telling them enough is enough. I guess the shock from hearing the truth make the Palestinians lose their senses".
State Department spokeswoman Heather Nauert: 
"President Abbas's comments were outrageous and unhelpful.  We urge the Palestinian Authority to focus its efforts on improving the lives of the Palestinian people and advancing the cause of peace.  The Administration remains fully committed to those goals."
U.S. special envoy Jason Greenblatt:
"The time has come for President Abbas to choose between hateful rhetoric and concrete and practical efforts to improve the quality of life of his people and lead them to peace and prosperity. Notwithstanding his highly inappropriate insults against members of the Trump administration, the latest iteration being his insult of my good friend and colleague Ambassador Friedman, we are committed to the Palestinian people and to the changes that must be implemented for peaceful coexistence. We are finalizing our plan for peace and we will advance it when circumstances are right."
Go deeper