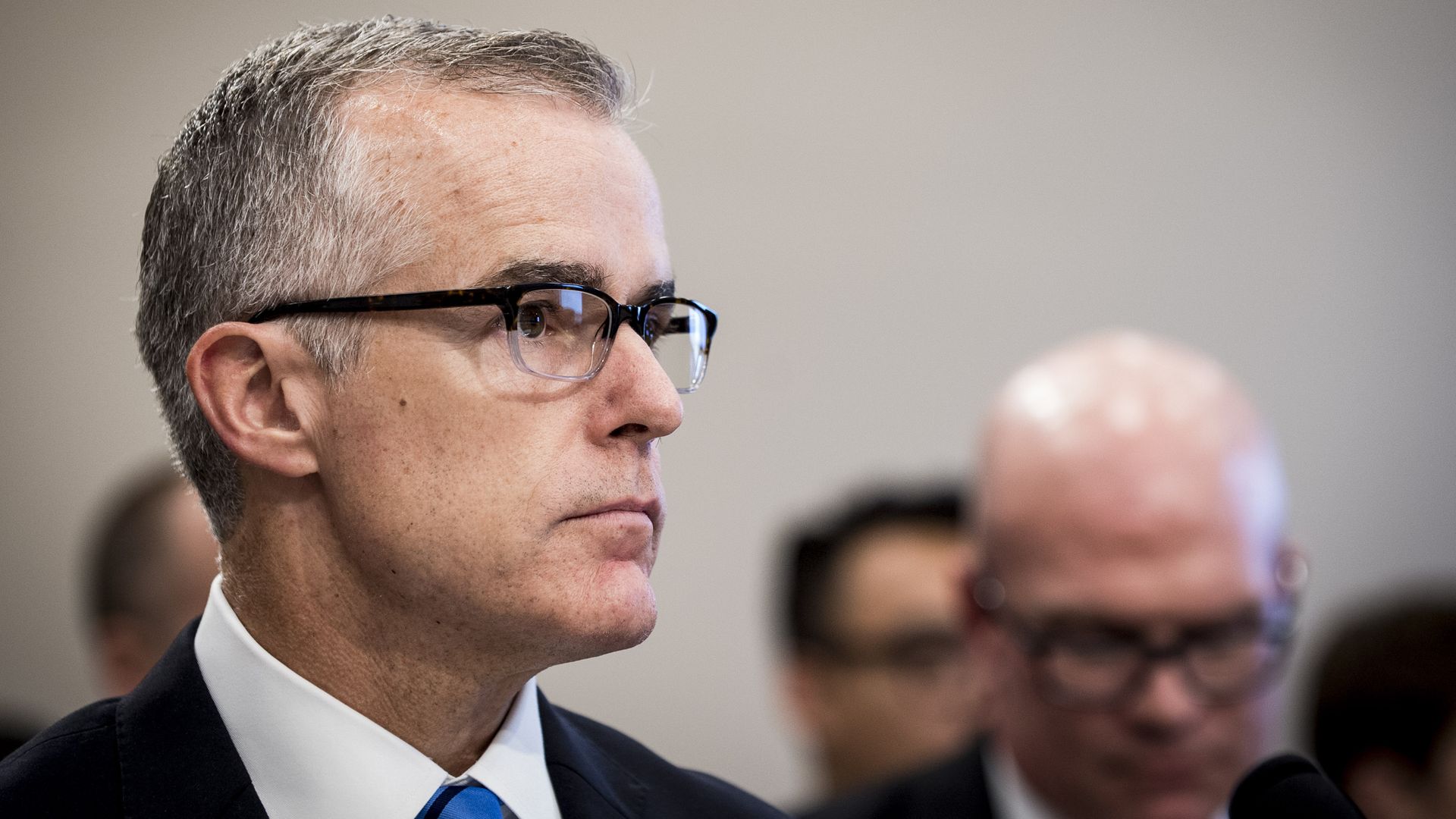 Andrew McCabe says President Trump asked him: "What was it like when your wife lost? ... So tell me, what was it like to lose?" McCabe — the former FBI deputy director who was fired Friday night, 26 hours short of being eligible for a full pension — says that in three or four interactions, President Trump was disparaging each time of his wife, Dr. Jill McCabe, a failed Virginia state Senate candidate in 2015. John Dowd, a Trump lawyer, told me: "I am told that the P never made that statement according to two others who were present."
The big picture: Axios has learned that McCabe has met with special counsel Robert Mueller, and has turned over Comey-style memos documenting his conversations with Trump. The memos include corroboration by McCabe of former FBI Director James Comey's account of his own firing by Trump.
The McCabe memos are helping fuel a possible constitutional crisis, with the White House turning up the heat on Mueller as Trump's exposure increases:
Dowd, the Trump lawyer, said in a statement first reported by The Daily Beast: "I pray that Acting [in this case] Attorney General Rosenstein will follow the brilliant and courageous example of the FBI Office of Professional Responsibility and Attorney General Jeff Sessions and bring an end to alleged Russia Collusion investigation manufactured by McCabe's boss James Comey based upon a fraudulent and corrupt Dossier."
Dowd added in an email to me: "Just end it on the merits in light of recent revelations."
Dowd tells me Trump called him after seeing reports about the statement: "He thought it was all right. He didn't have any problem."
Dowd told me in a phone conversation: "It's nothing against Bob [Mueller] — I get along with Bob very well. ... Bob knows my view that there's nothing there. ... On St. Patrick's Day, can't an old Marine make a prayer? No big deal."
In his email to The Daily Beast's Betsy Woodruff, Dowd wrote, in what she called "an annotated version of a line from a well-known 20th-century play": " What's that smell in this room[Bureau}? Didn't you notice it, Brick [Jim]? Didn't you notice a powerful and obnoxious odor of mendacity in this room[Bureau}?... There ain't nothin' more powerful than the odor of mendacity[corruption]... You can smell it. It smells like death. Tennessee Williams- Cat on a Hot Tin Roof."
Trump v. Comey ... Both sides are getting personal:
President Trump, this morning: "Wow, watch Comey lie under oath to Senator G when asked 'have you ever been an anonymous source...or known someone else to be an anonymous source...?' He said strongly 'never, no.' He lied as shown clearly on @foxandfriends."
Trump earlier: "Andrew McCabe FIRED, a great day for the hard working men and women of the FBI - A great day for Democracy. Sanctimonious James Comey was his boss and made McCabe look like a choirboy. He knew all about the lies and corruption going on at the highest levels of the FBI!"
James Comey, whose book, "A Higher Loyalty," is out in 30 days: "Mr. President, the American people will hear my story very soon. And they can judge for themselves who is honorable and who is not."
Be smart, from Jonathan Swan: On this issue, Trump is dug in and angry. He views the leadership of the FBI as arrayed against him. And that red line he drew in the interview with the N.Y. Times last year — where he said he wouldn't stand for Mueller prying into his family finances — still stands. 
One crucial variable in all this is Fox News. Trump feeds off the moods of his favorite hosts. If Sean Hannity and Judge Jeanine Pirro turn it up a notch, saying the deep state is out to get him and Mueller is out of control, there's no telling what Trump will do.
Breaking ... Sen. Marco Rubio (R-Fla.) tells Chuck Todd on NBC's "Meet the Press" that McCabe "should've been allowed to finish through the weekend."
Rep. Adam Schiff, top Democrat on House Intelligence, discussed McCabe's firing with George Stephanopoulos on ABC's "This Week": "His firing may be justified — there's no way for us to know at this point. But even though it may have been justified, it can also be tainted."
Editor's note: This story was updated to reflect the proper wording in the alleged quote from President Trump about Jill McCabe.
Go deeper