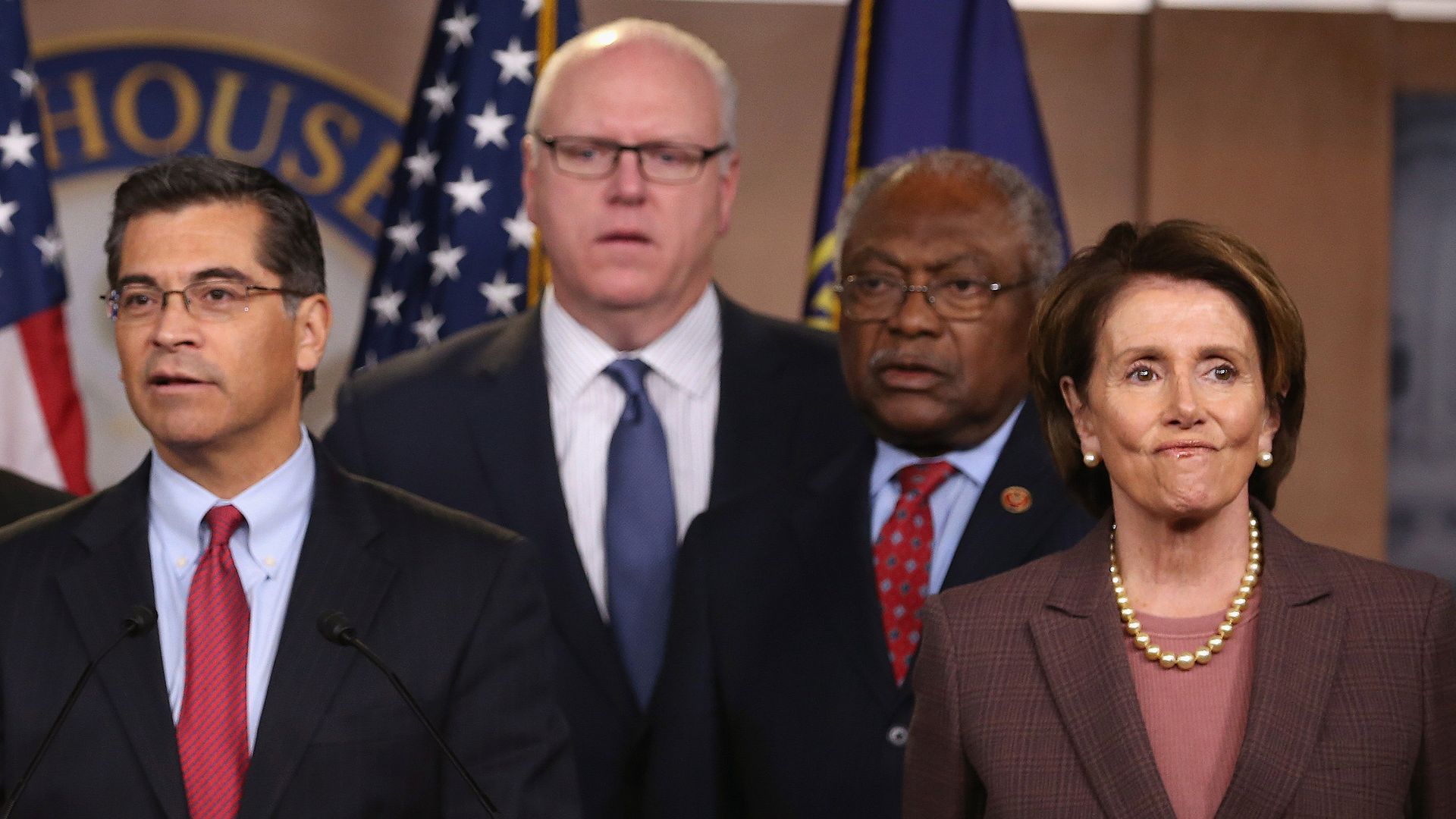 Top Democrats tell me that if they take back the House in November, a restoration of Speaker Nancy Pelosi is no longer guaranteed. In fact, some well-wired House Democrats predict she will be forced aside after the election and replaced by a younger, less divisive Dem.
The big picture: Conor Lamb, 33, won his U.S. House race in Pennsylvania this week after saying he wouldn't vote for her for leader — a new template for moderates. Pelosi has hung in through the minority, and remains the party's most consistent fundraiser. As for whether she'll return as Speaker, she has just said that it's up to the members. (Her allies note that she has never lost a leadership vote.)
But others have their eye on the gavel, and many members want a younger, newer face. Her No. 2 and longtime rival, House Democratic Whip Steny Hoyer, 78, covets the job but is three months older than she is.
Pelosi is more likely to be the bridge to a younger generation. A possible successor, who works the caucus behind the scenes, is Rep. Joe Crowley of Queens, N.Y., who turns 56 tomorrow.
Another possible candidate who's getting buzz: Rep. Adam Schiff, a fellow Californian who has a sky-high profile as the top Democrat on the House Intelligence Committee, investigating Russia's role in 2016.
Dems point out the members and candidates can distance themselves from their leader for political reasons, but then ultimately vote for her.
One Democratic source told me that Pelosi hears footsteps: "She used to be retributional. Now she's more inclusive."
Pelosi allies see some of the criticism as sexist, and say she has always been inclusive of all parts of the caucus' diversity, including newer members.
Pelosi told the Congressional Progressive Caucus at a retreat in Baltimore last week: "Every morning, I don a suit of armor, eat nails for breakfast, and go fight inequality."
President Trump plans to invoke her frequently in midterm speeches, and Republicans already use her image to raise funds. And in campaigns this fall, many Dems challengers will be put on the spot about whether they'd vote for her as Speaker.
One scenario, from a Pelosi ally:
"She could win the caucus vote [for Speaker] easily but lose the floor vote."
"[I]f Dems win the majority by, say, a 10-vote majority, and 15 newly elected Dems have committed not to vote for her [like Conor Lamb in Pennsylvania] for leader of the party, ... she could lose the floor vote for Speaker. That would give the House to the head of the Republicans."
"She would never let that happen, and she would bow out to someone else."
"[S]he's the best vote counter this generation has ever seen. So she'll know this scenario well in advance, and will figure out a way out that will preserve her legacy."
Be smart: If there's a post-election coup against Pelosi, Crowley is the likely winner because Schiff and the others would scramble the field and Joe is acceptable to all factions.
One knowing Dem says: "My guess is Crowley is the next Dem Speaker/Leader. He's the fresh face that the majority of the caucus yearns for ... He's a spring chicken by congressional standards, at 55 years old."
Go deeper