U.K. expels Russian diplomats over ex-spy attack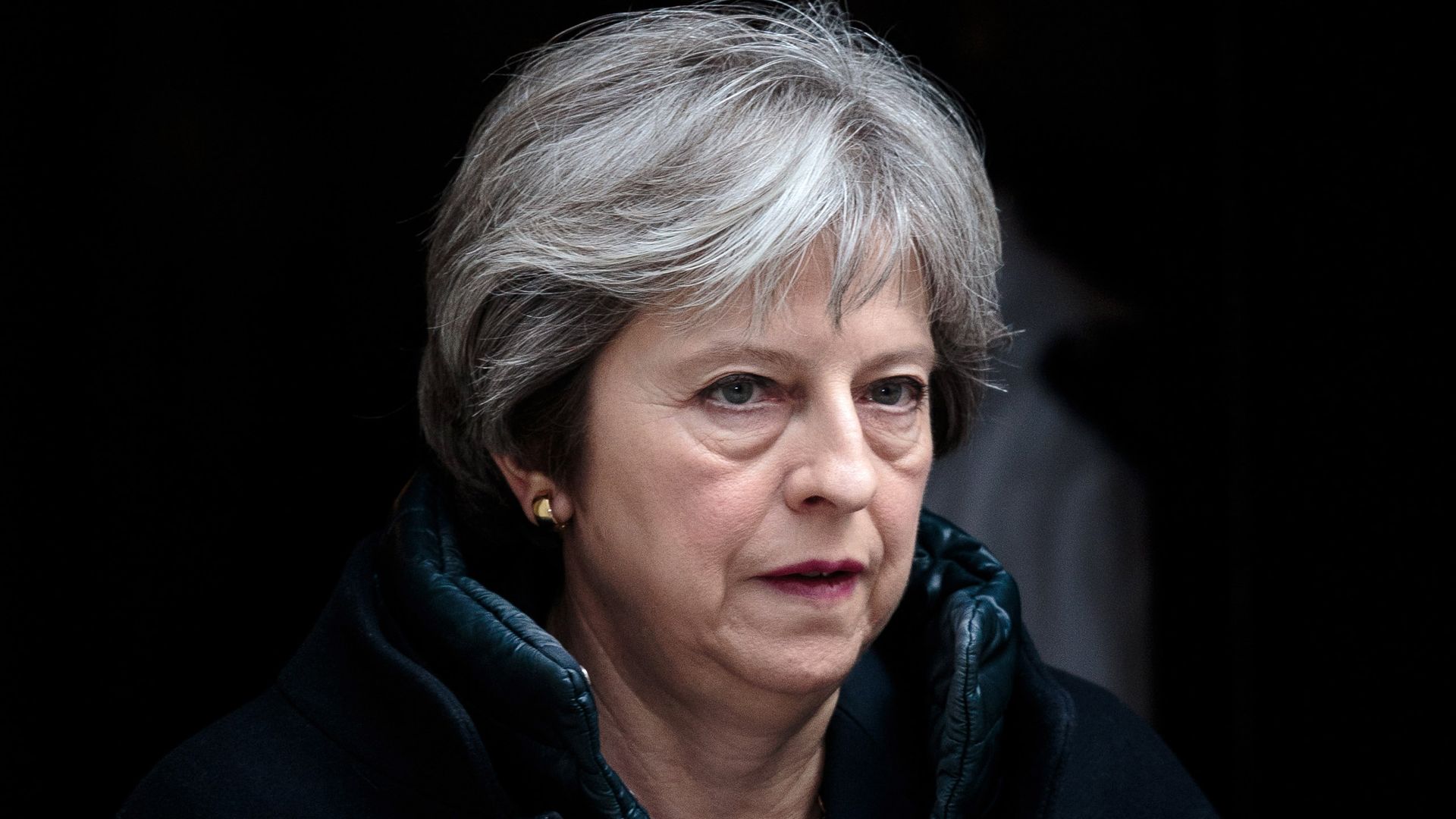 British Prime Minister Theresa May announced the expulsion of 23 Russian diplomats and other measures in response to the nerve agent attack on ex-spy Sergei Skripal and his daughter on British soil. She told the House of Commons today that "there is no alternative conclusion" other than Russia's culpability for the attack.
Why it matters: May's statement marks a huge escalation in tensions between the U.K. and Russia — especially as she chose to mention Russian President Vladimir Putin by name. She had notably harsh language for Russia's handling of the situation, saying that the Kremlin had "demonstrated complete disdain" for the attack and that Russia " treated the use of a military-grade nerve agent in Europe with contempt, sarcasm, and defiance."
Many of us looked at a post-Soviet Russia with hope. We wanted a better relationship, and it is tragic that President Putin has chosen to act in this way.
— Prime Minister Theresa May
What the U.K. will do now, per May's statement:
Expel 23 Russian diplomats who have been identified as undeclared intelligence officers, the single biggest expulsion in 30 years.
Suspend all high-level bilateral contacts, including planned visits by royals and government ministers to this summer's World Cup in Russia.
Freeze Russian state assets where used to threaten property of U.K. nationals or residents.
Enhance powers to monitor and track those who could be engaged in activity that threatens U.K. security, including increased checks on private flights, cargo, and freight.
Develop proposals for new legislative powers against hostile state activity, including the ability detain those suspected of hostile state activity at the U.K. border, a power currently available only against terrorism suspects.
Table a government amendment to strengthen powers to impose sanctions.
Russia's embassy in the U.K. issued a caustic response to May's statement:
"On 14 of March Russian Ambassador Alexander Yakovenko was summoned to the Foreign and Commonwealth Office where he was informed that 23 diplomats were declared personae non gratae.
We consider this hostile action as totally unacceptable, unjustified and shortsighted.
All the responsibility for the deterioration of the Russia-UK relationship lies with the current political leadership of Britain."
What comes next: Both the U.K. — over the 2006 poisoning of Alexander Litvinenko — and the U.S. —over 2016 election meddling — have expelled Russian diplomats in the recent past. Putin has responded with tit-for-tat counter-measures.
The U.K. has called an urgent meeting of the U.N. Security Council this afternoon to present their findings on the Skripal attack.
Who is Sergei Skripal?
A former intelligence officer in the GRU, Russia's foreign intelligence agency, Skripal was convicted in 2006 of betraying the identities of Russian intelligence agents working undercover in Europe to MI6, Britain's foreign military intelligence service. He is thought to have blown the cover of 300 Russian agents, per the FT.
The incident: Skripal had been living in the U.K. since being freed in a U.S.-Russia prisoner swap in 2010. He and his daughter were both found unconscious on a bench in downtown Salisbury. They remain in critical condition after being exposed to Novichok, a military-grade Russian-manufactured nerve agent.
Go deeper