What the brutal Rexit tells us about Trump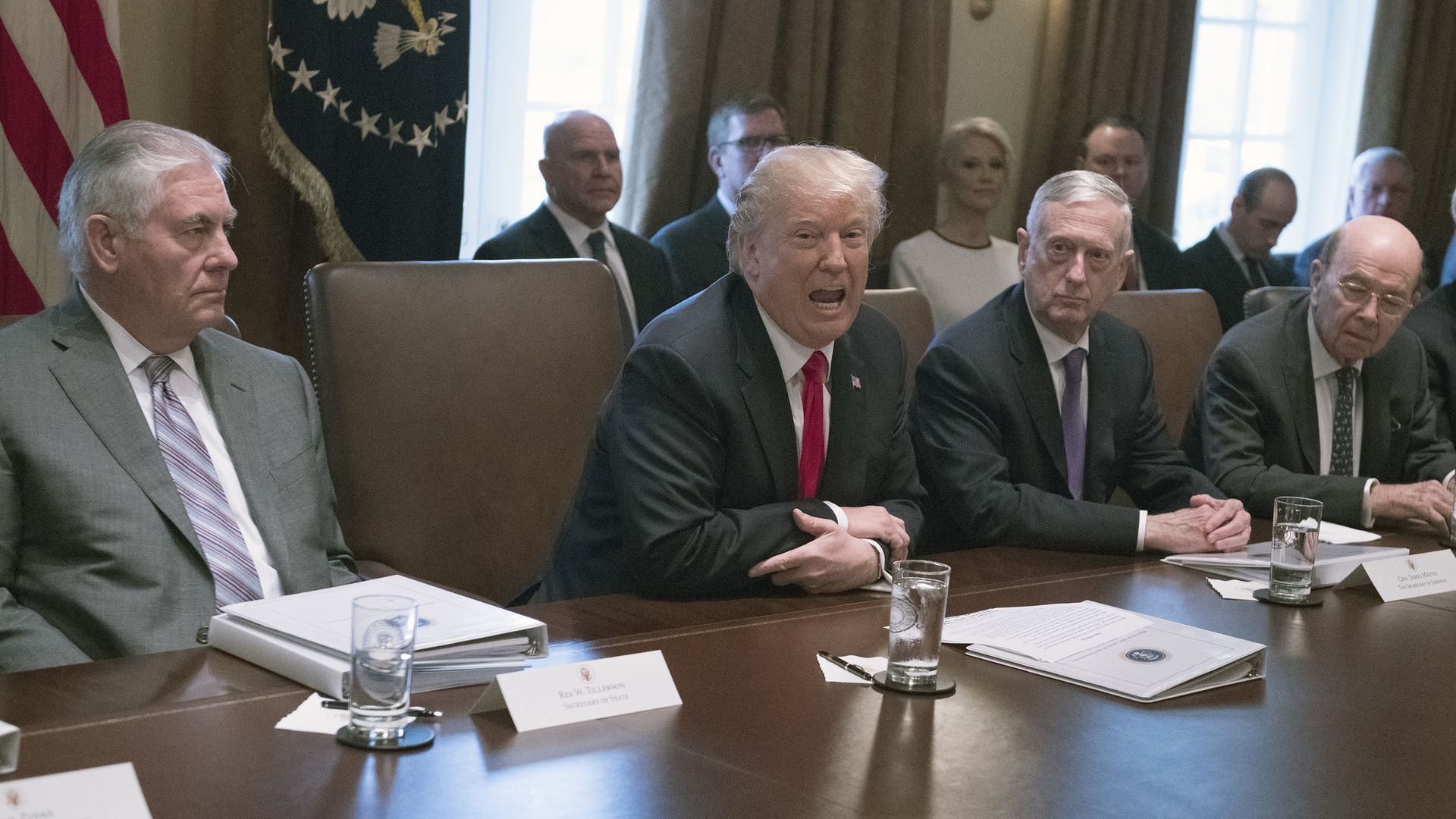 President Trump's firing-via-tweet of Secretary of State Rex Tillerson, following his sudden imposition of tariffs, reflects the president's increasing comfort with solo use of his awesome power over policy, personnel and politics.
Why it matters: White House officials tell us that it's getting ever more difficult for aides to disagree with Trump, or stand up to him about the consequences of decisions great and small.
One of the many breaking points in the relationship was when NBC reported that Tillerson called Trump a "moron." While the president was publicly calling it "fake news," privately he told confidants he believed Tillerson probably said it.
Trump told a source at the time: "I can't believe he didn't say he didn't call me that. He probably did." 
Trump told another source that he made Tillerson famous and had never shown proper gratitude after Trump gave him this "prestigious" job. "He can't bring himself to defend me," Trump told the source. "There's no loyalty. He thought he was somebody [as CEO of Exxon], but I made him Secretary of State. There's no more prestigious position than that and this is how he repays me."
We're told Trump trusts his own instincts and counsel more than he did a year ago. So it's getting harder to talk him out of acting on whims and grievances.
And with the departure announcements by aides who have had a moderating or restraining influence, he has ever fewer restraints and guardrails.
What's next: The big question inside the West Wing is whether Trump keeps going and pushes through a complete overhaul.
The big picture, from N.Y. Times: "Tillerson's dismissal, on the heels of Gary D. Cohn's resignation, pulls the Trump administration further out of the economic and foreign policy mainstream and closer to the nationalist ideas that animated Mr. Trump's 2016 presidential campaign."
"As the White House absorbed the news about Mr. Tillerson, rumors swirled that the national security adviser, Lt. Gen. H. R. McMaster, and the secretary of Veterans Affairs, David J. Shulkin, would soon follow him out the door."
"The sense of disarray was deepened by ... the sudden dismissal of a personal aide to Mr. Trump."
N.Y. Times Quote of the Day ... White House Chief of Staff John Kelly, calling Tillerson on Friday to tell him that change was afoot, and to cut short a trip to Africa:
"You may get a tweet."
How it's playing ... Bloomberg: "Trump Moves Closer to Presidency of One With Tillerson Firing."
Go deeper