The bad blood between Trump and Tillerson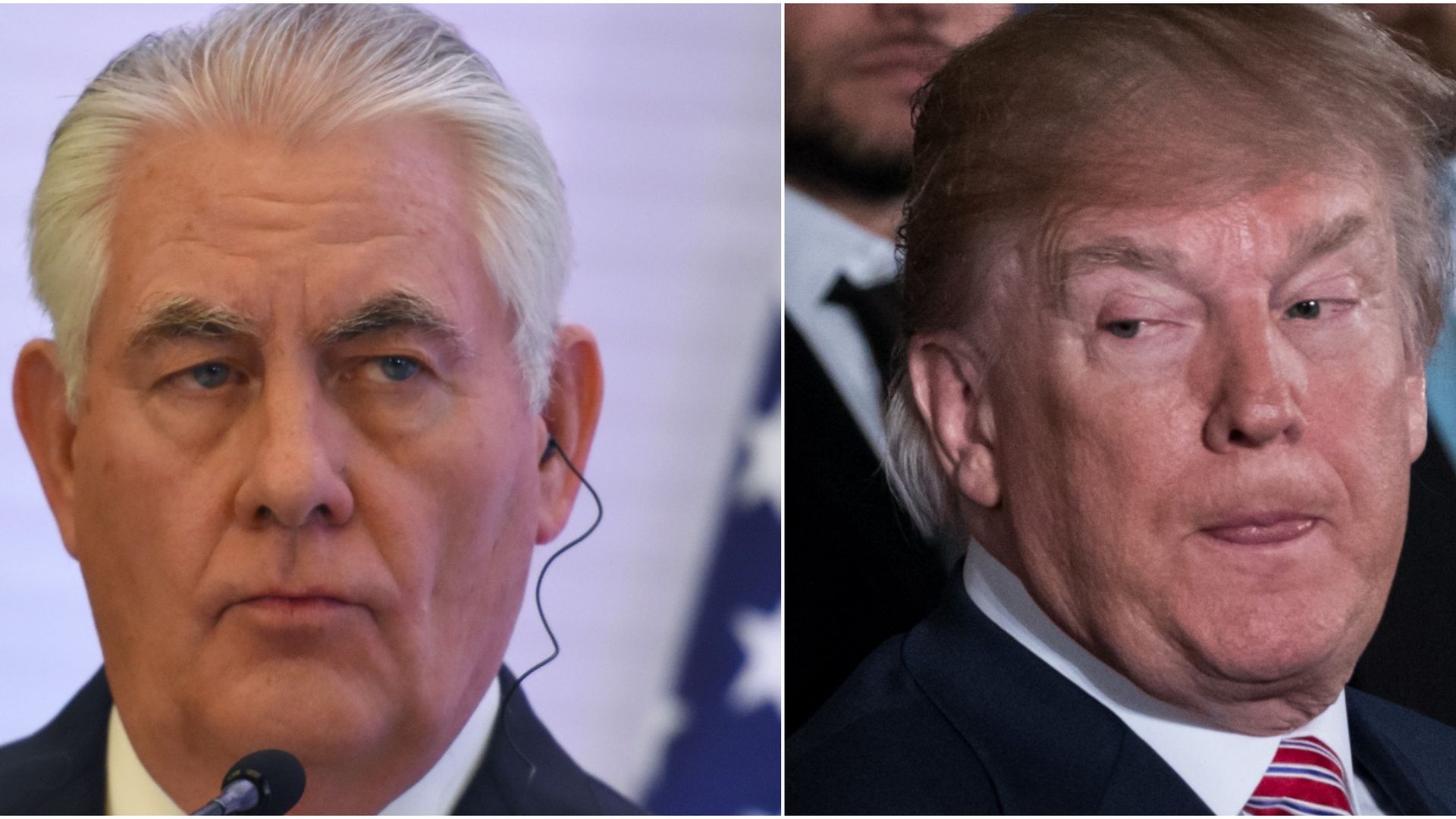 Today, President Trump brought an end to the Rex Tillerson era, removing him as Secretary of State after months of disagreements over everything from Charlottesville to Russia.
Why it matters: The relationship between the President and Rex Tillerson hasn't been good for months. Tillerson has broken with Trump on several important international issues and there were even reports that he had called Trump a "f****ing moron."
Iran nuclear deal
After Tillerson's firing, Trump brought up their differences over the Iran Nuclear deal. Tillerson has recommended that Trump re-certify Iran's compliance with the nuclear deal; while Trump has said the U.S. will pull out of the deal if big changes are not made.
North Korea
Trump and Tillerson's differences on this issue were laid bare in October when Trump tweeted, "I told Rex Tillerson, our wonderful Secretary of State, that he is wasting his time trying to negotiate with Little Rocket Man... Save your energy Rex, we'll do what has to be done!"
Tillerson recently said several steps needed to be taken before talks with North Korea — before Trump abruptly agreed to a face-to-face meeting.
Charlottesville
Following the racist rallies in Charlottesville, Tillerson told Fox News' Chris Wallace: "I don't believe anyone doubts the American people's values or the commitment of the American government, or the government's agencies to advancing those values and defending those values."
When Wallace asked about Trump's values, Tillerson replied: "The president speaks for himself."
Russia
In September, when Trump was still calling Russia's interference in the U.S. presidential election a "hoax", Tillerson was spreading a message of vigilance:
"When countries like Russia threaten their democratic neighbors by attacking the very foundation of our democracies, by meddling in our free and fair elections, we stand with our democratic partners. We call for greater vigilance and we work together to safeguard our democracies from interference in the future," he said.
Qatar
When Tump attacked Qatar for funding terrorism and supported the Saudi-led blockade, Tillerson muddied Trump's message, urging Qatar's neighbors to ease up on the blockade and engage in "calm and thoughtful dialogue."
Venezuela
Tillerson urged the White House last summer not to sanction Venezuela, but Trump considered it anyways, sources told Axios' Jonathan Swan.
Go deeper