Trump previews the next 3 years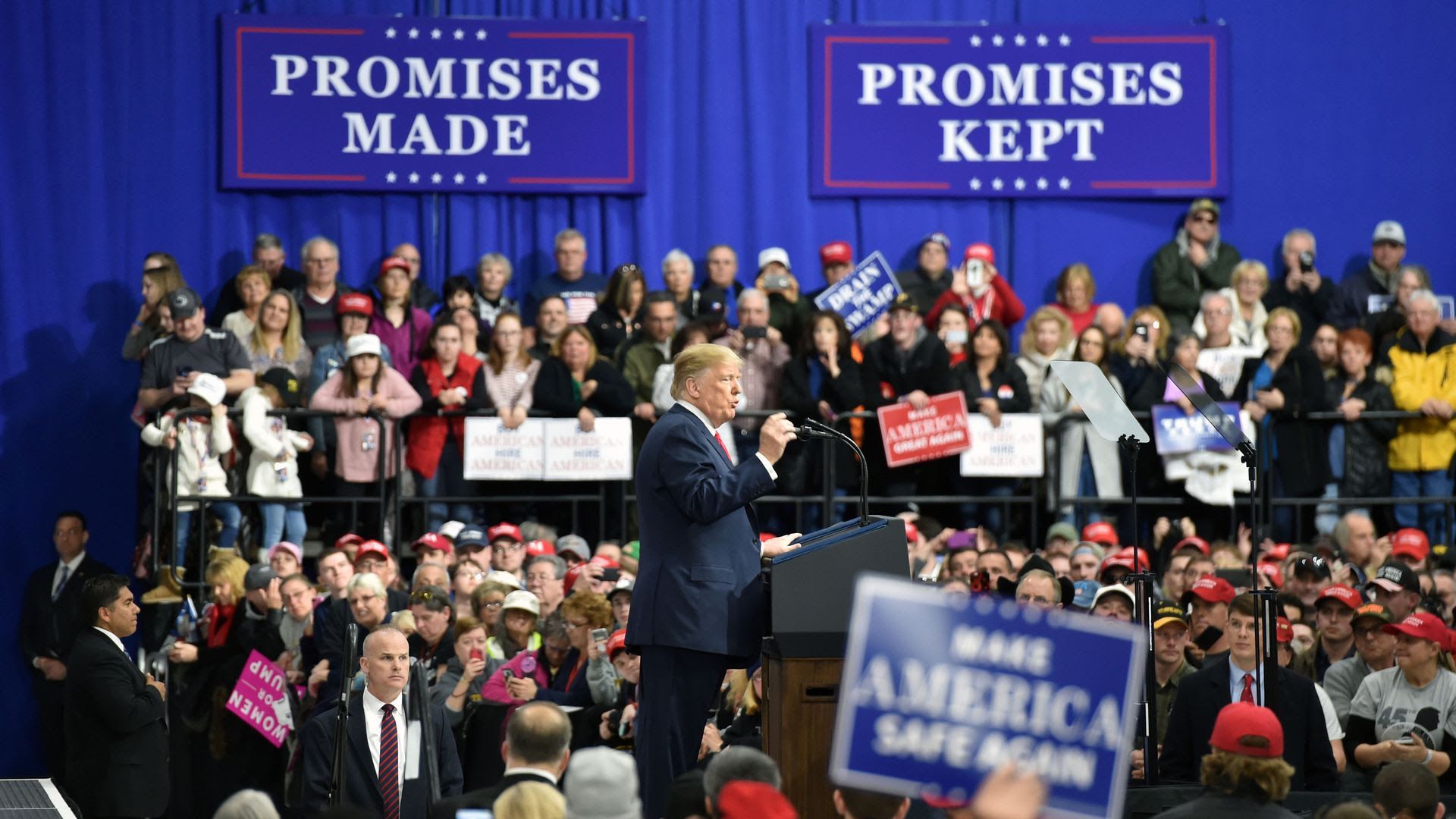 The coverage called him unleashed, unplugged and unscripted.
During last night's 73-minute rally in Moon Township, Pa. — campaigning for Republican Rick Saccone ahead of Tuesday's Pittsburgh-area special election for the U.S. House — President Trump tipped his hand on his three years of campaign speeches to come:
The tone: "'Meet the Press,' a show now headed by 'Sleepy Eyes' Chuck Todd. He's a sleeping son of a bitch, I'll tell ya." (Applause)
The targets: "[W]e have to defeat Nancy Pelosi [boos] and Maxine Waters, a very low IQ individual. You ever see her? ... 'We will impeach him.' She's a low IQ individual. You can't help it. She really is."
The taunts: "Fake as hell CNN. The worst. So fake! Fake news. ... Their ratings are lousy, by the way. Compared to Fox ... "
The tales: "The president of Mexico ... called up. He goes, 'Mr. President, we would like you to make a statement that Mexico will not pay for the wall.' I said: 'Are you crazy?' ... I said: 'Bye-bye. We're not making a deal.'"
The tariffs: "My baby."
The boasts: "Look, North Korea's tough. ... This should have been handled, by the way, over the last 30 years — not now. ... This should have been handled, and everybody will say it, too. But that's OK. Because that's what we do: We handle things."
The opposition: "I'd love to beat Oprah. I know her weakness."
The issues ... Death penalty for drug dealers: "You can kill thousands of people and go to jail for 30 days. ... I don't think we should play games. ... Probably, you'll have some people that say, 'Oh, that's not nice.' ... I think it's a discussion we have to start thinking about."
The "Did he really say that?" moments: "Women! We love you! We love you. Hey, didn't we surprise them with women during the election? Remember? 'Women won't like Donald Trump.' I said, have I really had that kind of a problem? I don't think so."
The exaggerations: Trump said he got 52% of the women's vote. An AP fact check notes that exit polls found he got 41% of women (52% of white women, 25% of Hispanic women and 4% of black women).
The family: "You take Melania ... great first lady. ... You think her life is so easy, folks? Not so easy."
The 2020 slogan: "Our new slogan is going to be: 'Keep America Great' — exclamation point."
Be smart, from Axios' Jonathan Swan: One problem the White House faces is that Trump wants to be out there, raw and uncensored, barnstorming the country for 2018 candidates. But, a lot of vulnerable Republican House members want Trump nowhere near their districts.
Watch for the White House to send Pence to some of the places where Trump isn't wanted, and to save Trump for larger rallies in the states where he's still quite popular.
Go deeper