Trump's highest-stakes improvisation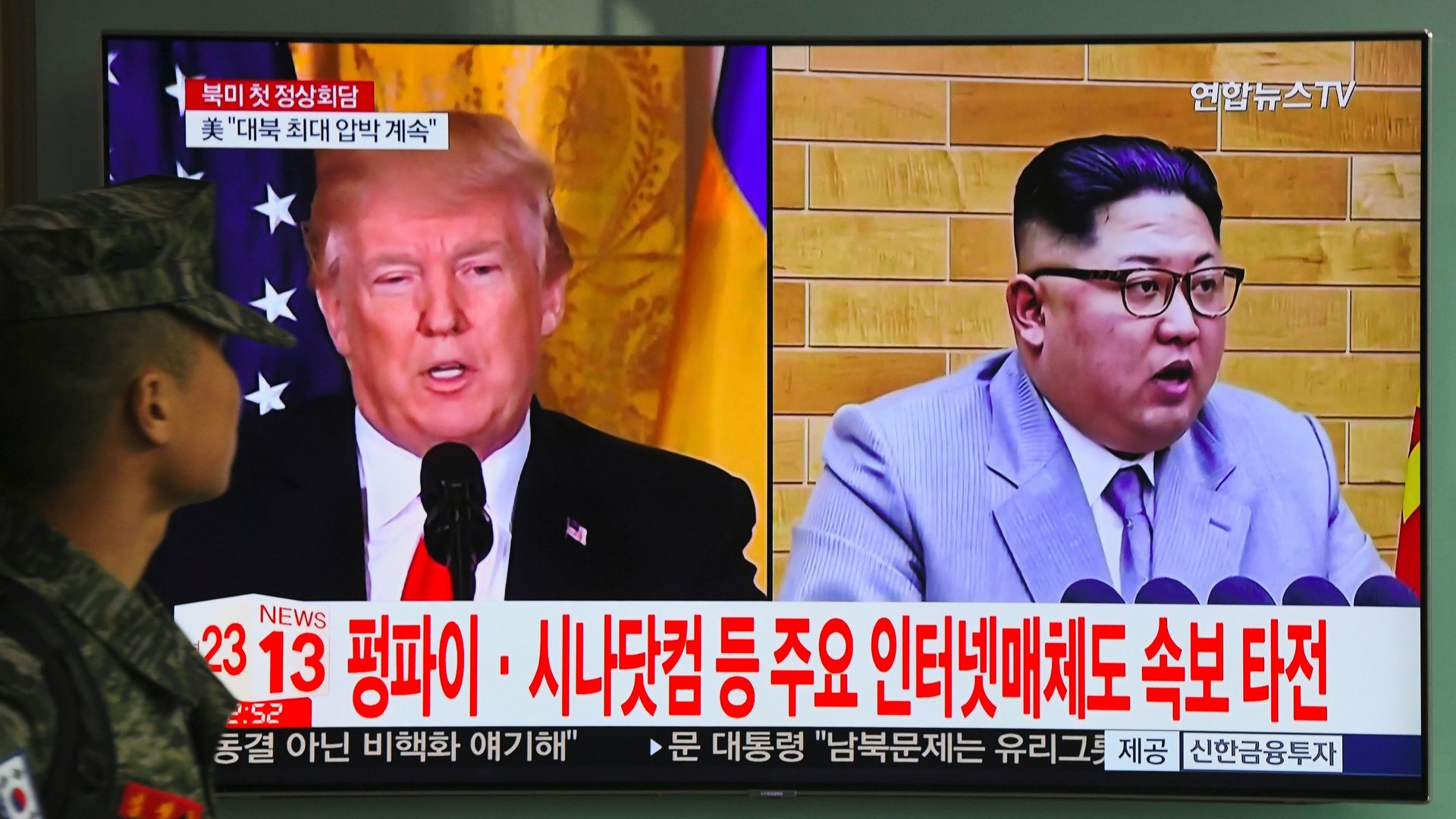 President Trump's "breathtaking gamble" (as the N.Y. Times calls it) in agreeing to meet with North Korean dictator Kim Jong-un reflects the winging-it approach he has always taken to life, business and politics:
The big picture: Trump is totally improvisational. He spent his days at Trump Tower with effectively no calendar and no agenda. He'd sit at his desk taking and making phone calls, open to any offer, any idea.
Why it matters: Trump has an eye for the grand, cinematic moment, and surely sees this as the ultimate made-for-TV moment. Perhaps more than any modern president — even more than Bill Clinton — he believes in the Great Man theory of history: He believes to his core that his singular charisma and "talent" (a word he uses so often) can solve the world's most intractable problems. 
A senior White House official once told Axios there are three ways to get Trump to do something, all of which we're seeing this week (with his tariffs announcement as well):
Tell him it's never been done before.
Tell him the lawyers would never allow it.
Tell him the establishment would go crazy.
The skeptics ... Tommy Vietor — former Obama national-security spokesman, and now co-founder of Crooked Media, co-host of Pod Save America and host of Pod Save the World— tweeted:
Some prominent Democrats praised the North Korean engagement, while warning of pitfalls that could await Trump:
Leon Panetta — former CIA director, Secretary of Defense and White House Chief of Staff — told CNN's Anderson Cooper that Trump will love the attention: "His primary problem is sticking to talking points and really laying the kind of groundwork that has to be laid."
More Panetta: "I think this is a positive step. I think the world is breathing a sigh of relief as a result of having these kind of negotiations ... But in order for the United States not to repeat the mistakes of the past, in terms of how we deal with North Korea, ... a lot of preparation has to be done."
But, but, but ... A senior GOP foreign policy official (whose cynicism is built on a couple of decades of watching North Korea lie and cheat every step of the way), articulated the risks in a series of emails to Swan:
"Kim Jong-un remains a murderous dictator ruling over brutal regime with death camps. Not someone who's looking  for peace."
"Trump will probably fall victim to the same conceit that most American presidents do in the sense that they [think they] personally, in their interactions with foreign leaders, can work their magic, away from the plodding diplomats."
"Thus, Roosevelt and Stalin, Carter and Mideast peace, Bush with Putin, Obama with whomever.  It's incredibly naive, it doesn't work."
"Trump's ego may lead him to believe that he can succeed where no one else can because of who he is and who he has out-negotiated in the past."
"[T]here is such a desperate desire for a magic solution to this otherwise insoluble problem that people lose touch with reality."
Go deeper