New GOP push: bill that would split individual market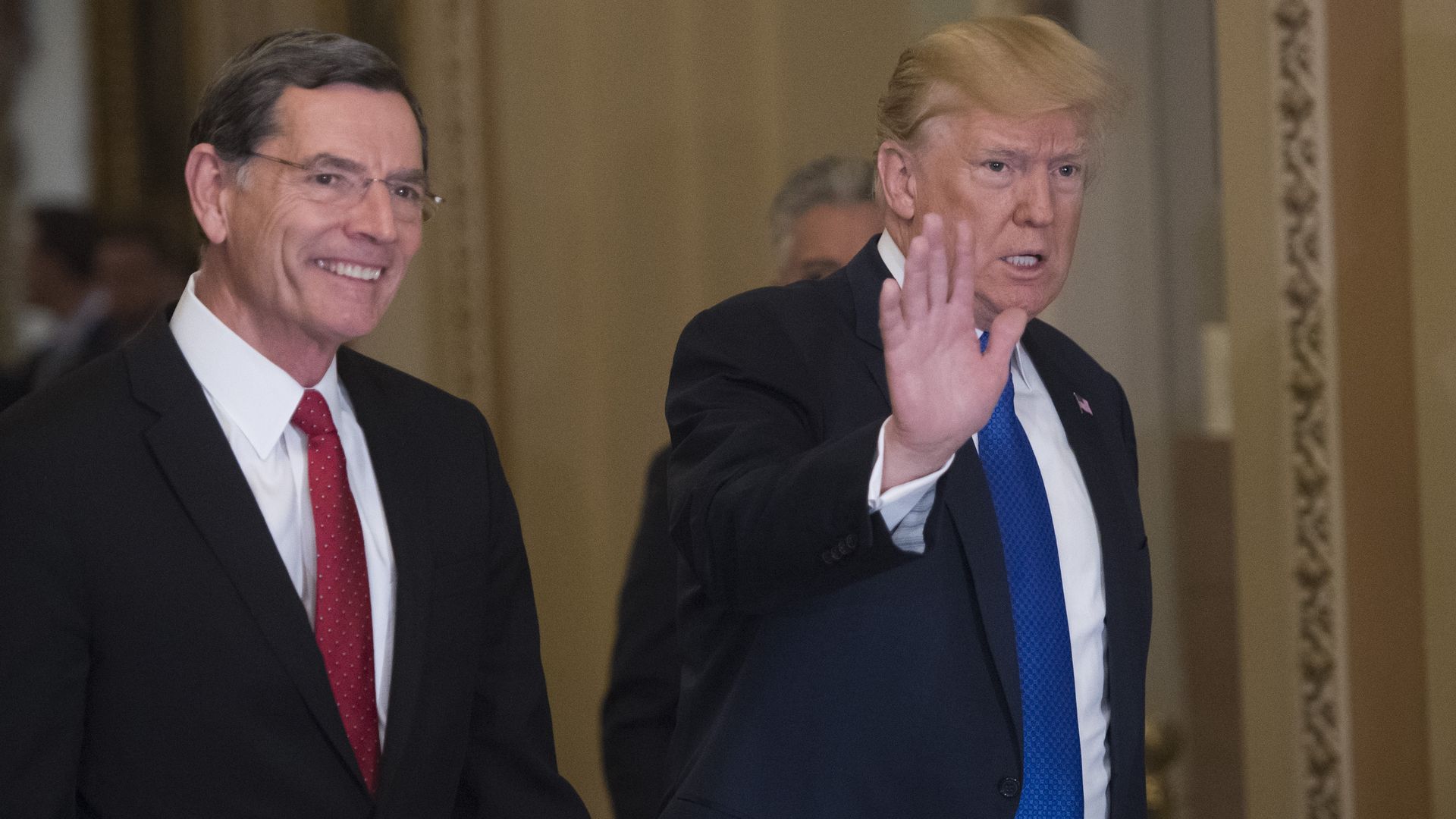 A bill pending on Capitol Hill would move the individual market another step further towards having separate, parallel marketplaces for sick and healthy people. A legislative push – which appears to be backed by some in the White House – would allow short-term plans to both be available for up to a year and to have guaranteed renewability.
Why it matters: While it's unclear how much of an impact this would have beyond what the Trump administration has already proposed, the bill shows that thought's being given to the legal parameters of what the administration can do. It would go a step further in undermining the structure of the Affordable Care Act than the administration has, with the added benefit of taking potential legal trouble off the table.
What the bill, which was introduced by Sen. John Barrasso, does:
Redefines short-term plans as lasting up to 364 days, which the administration has already proposed.
Gives applicants the option of selecting plans with "guaranteed renewability," which means that the plan wouldn't be allowed to drop the enrollee at the end of the coverage period. Of course, it could still raise premiums, especially if the enrollee became more expensive to cover.
"A short-term plan that's renewable is frankly not a short-term plan. It's sort of semantic gymnastics at that point. But, that's not the point here. The point is to create an unregulated market that can make an end run around the ACA."
— Larry Levitt of the Kaiser Family Foundation
Our thought bubble: Something like this doesn't have much chance of passing Congress, even if it's packaged into other must-pass legislation. But it could complicate ACA market stabilization efforts, which conservatives are very uncomfortable with.
A description of the bill sent to Axios makes it clear that the point of the legislation is to sort individual market enrollees based on health status:
"This policy change would essentially create two parallel markets. The ACA market would still accept everyone and rate policies without regard for risk. This would make it most attractive to unhealthy and lower-income people receiving subsidies."
"The new short-term policies would offer coverage that was non-compliant but a much cheaper option, making them attractive to healthier and younger people who find the ACA policies too expensive."
Critics say that this will drive up premiums for sick people, effectively undermining the ACA's protections for people with pre-existing conditions.
Between the lines: From a policy standpoint, it's hard to say how much of an impact this bill would have on the marketplace. The administration has already proposed expanded access to short-term plans on its own.
"I assume the idea is that short-term plans become more attractive to consumers if renewable. They essentially just become skinny plans that can be renewed for multiple terms," said Tim Jost, a law professor emeritus at Washington and Lee and an ACA supporter.
But it's an open question as to how many people the renewability aspect would attract that wouldn't otherwise choose a short-term plan.
Yes, but: The description of the bill also clearly states its purpose is to keep future administrations from reverting back to a narrower definition of short-term plans. And there are additional legal advantages to passing a bill.
"That would immunize the Administration's administrative proposal against legal challenges and prevent a future Administration from reverting to a more sensible definition of 'short-term'" plans," said Brooking's Matthew Fiedler. "That would be a very big deal."
It also indicates that the Trump administration has defined a limit on its ability to expand access to non ACA-compliant insurance plans. "The reason these short-term plans are exempt from the ACA's rules is because they are of limited duration, meaning they're not renewable," Levitt said. "The fact that the White House is floating Congressional action suggests they don't think they can do it administratively. "
Go deeper