This time, China can fight back against tariffs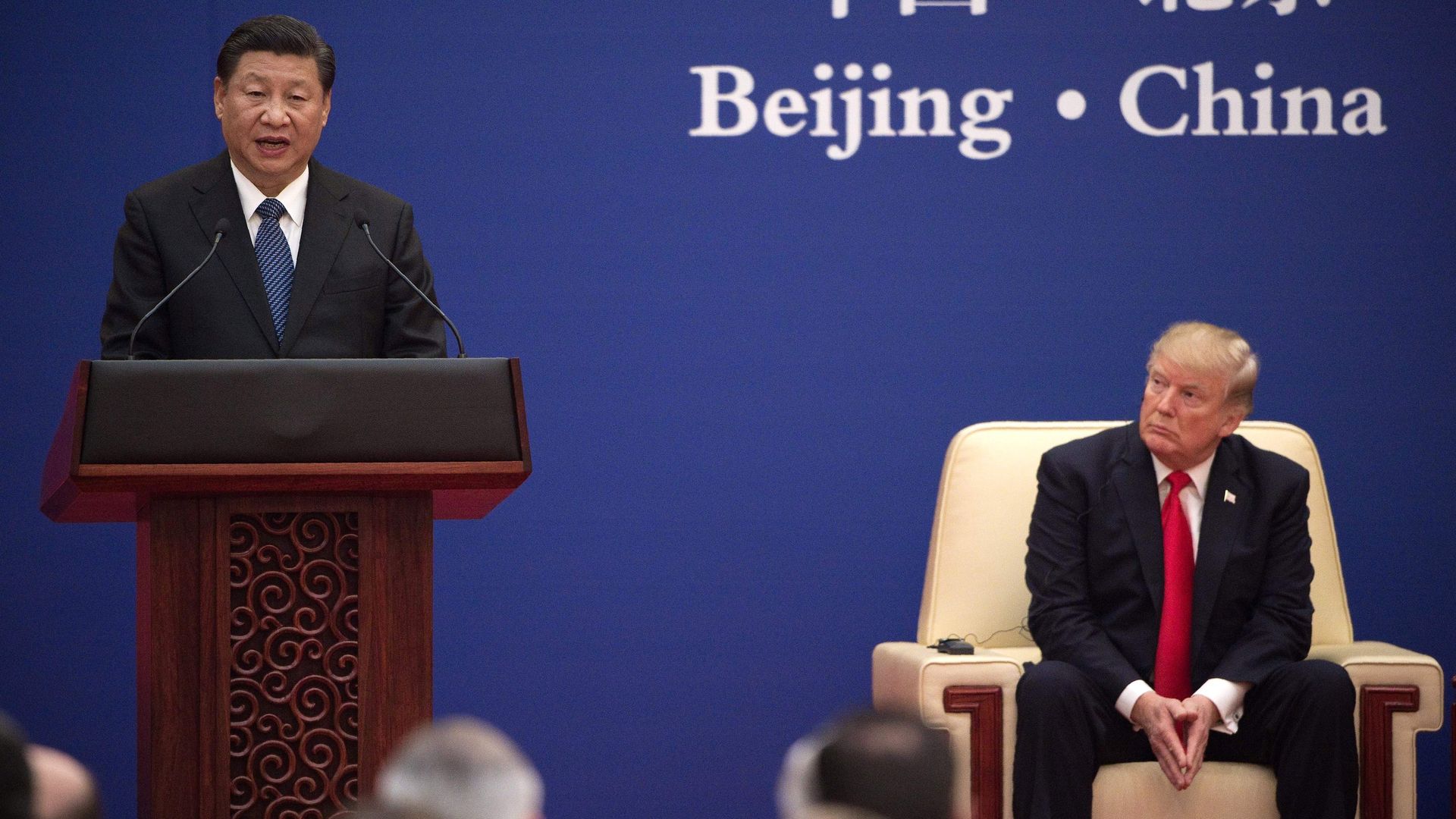 In 2002, President George W. Bush slapped steep tariffs on steel imports, warning about the collapse of the U.S. steel industry, then lifted them 21 months later to avoid a trade war with the European Union and Japan. Sixteen years later, President Trump is imposing steel tariffs of his own — but this time, the most powerful potential trade war foe is China.
The bottom line: China's capability to retaliate against Trump's tariffs now rivals that of the entire EU, and with Beijing's economic clout continuing to grow these tariffs may be the last time the U.S. gets to set the terms of engagement with China.
Then and now
In 2002, China produced less than 200 million tons of steel. By 2016, China had the capacity to churn out over 1 billion tons — so much that the government decided to pull production back to 800 million tons annually, per Reuters.
Before Bush rescinded the tariffs, the EU threatened to target Florida and Michigan, two key states for his re-election.
They've already announced plans for similarly politically-targeted tariffs this time around, while China has yet to make any specific threats.
China's position
China's domestic demand for steel is falling as its economy slows, and that excess steel is disrupting the world market, Mark Wu, a professor of international trade law at Harvard, tells Axios.
"China has to do something [in response to Trump's tariffs] just to signal its own resolve," Wu says. But they likely won't retaliate with the full brunt of their capability, with China content to let the West fight it out among themselves, he says.
The bigger picture
"We are witnessing something that no American now alive has witnessed, which is the rise of a new superpower," Frank Wu, a UC-Hastings law professor and chairman of the Committee of 100 Extraordinary Chinese-Americans, tells Axios.
And as China is expanding its sphere of influence to every corner of the world, the U.S. is actively retreating by pulling out of international trade pacts.
This is not really about tariffs. This is about American domestic policy and a contest for global leadership.
— Frank Wu on U.S.-China relations
What's next
Trump has been hawkish for years about a potential trade war with China, citing massive trade deficits as a sign that China is "ripping us off."
Ahead of Trump's tariffs announcement, Zhang Yesui, a top diplomat and former ambassador to the U.S., said: "China does not want a trade war with the US ... [But] we will not sit idly by and will take necessary measures if the US hurts China's interests."
Two routes China could take...

Action against U.S. projects in China by denying permits to American companies or rejecting U.S. investments.
Tit-for-tat tariffs against American goods.
Remaining questions
One big thing that differentiates Trump's tariffs from Bush's: Trump invoked Section 232, citing national security concerns as the motivation for the trade action. Bush didn't do that.
That raises more questions: Will other countries claim national security to retaliate, or to take similar measures in the future? Does this eviscerate WTO rules? Could China, or another country, file a case with the WTO challenging the action?
Go deeper