What we know about the Seychelles meeting on Mueller's radar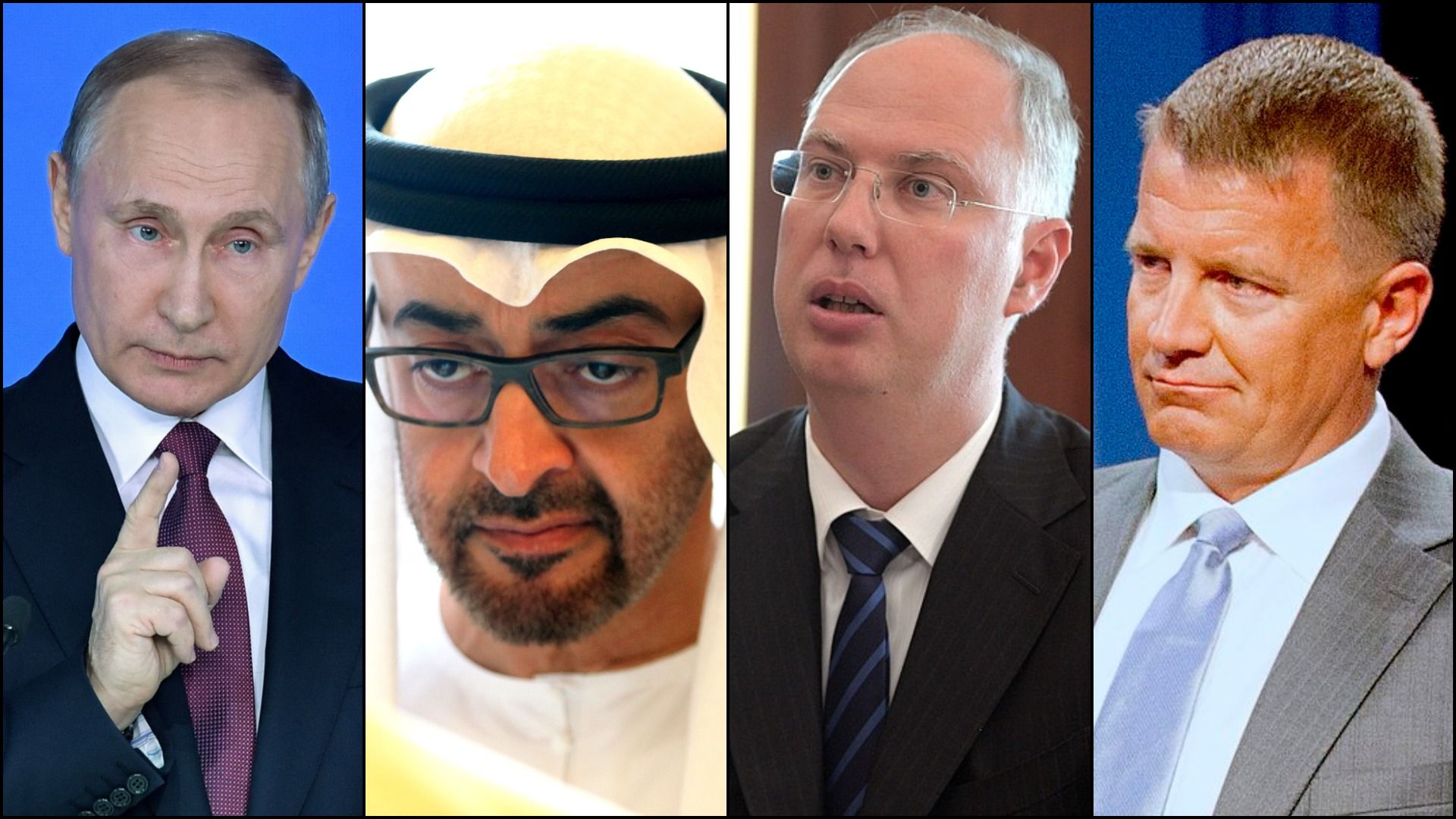 Last night, WashPost reported that a witness informed Robert Mueller that a January 2017 meeting in the Seychelles, which took place just days before President Trump's inauguration, was an attempt to set up a back channel between the White House and the Kremlin.
Why it matters: In the grand scheme of Mueller's sweeping investigation — which has caught 19 individuals and three companies in its web of indictments and guilty pleas thus far — a single meeting between a Russian emissary and an American businessman with no formal ties to the Trump transition team may seem relatively benign. But with reports that Mueller may be targeting the influence of foreign cash, the Seychelles meeting takes on a new significance.
The players
Erik Prince is a former Navy SEAL who founded Blackwater (now Academi), a private military contractor prosecuted for its conduct during the Iraq War. He is a Trump donor and the brother of Education Secretary Betsy DeVos, and he testified that he twice visited Trump Tower during the transition to meet with Steve Bannon — though he had no official position on the Trump team.
George Nader is a Lebanese-American businessman who once worked as a consultant for Blackwater and now advises Crown Prince Mohammed bin Zayed Al-Nahyan (MbZ), the de facto ruler of the United Arab Emirates, per the NYT. A Bannon associate and once-frequent visitor to the White House, Nader began cooperating with Mueller in January 2018.
Kirill Dmitriev is the CEO of the Russian Direct Investment Fund, the country's $10 billion sovereign wealth fund that specializes in direct foreign investments. The fund was sanctioned by the U.S. in 2015 in retaliation for Russia's annexation of Crimea. Dmitriev is a close associate of Vladimir Putin and was believed to have been representing the Russian president during his meeting with Prince and Nader.
What they're saying
Prince testified that he traveled to the Seychelles in January 2017 to meet with his Emirati business partners, who later introduced him to Dmitriev. During a 30-minute meeting, he stated the two men discussed "topics ranging from oil and commodity prices to how much [Dmitriev's] country wished for resumption of normal trade relations with the USA." Prince denies having acted on behalf of the Trump administration or having any knowledge that Dmitriev was representing Putin.
WashPost reported in April 2017 that the Seychelles meeting was first brokered by the UAE after an undisclosed discussion between MbZ, Michael Flynn, Jared Kushner and Steve Bannon at Trump Tower in December 2016. The Post revealed yesterday that Nader was also present at Trump Tower.
U.S., European and Arab officials have said the Seychelles meeting was an effort to establish a back channel of communication to the Kremlin, and that Prince presented himself as an unofficial surrogate for the president-elect, according to WashPost's reporting.
Outside takes on the meeting
Rep. Eric Swalwell (D-Calif.): "During his Russia investigation interview, Mr. Prince was asked directly by me and [Rep. Adam] Schiff [(D-Calif.)] who he met with while he was in the Seychelles. He never gave the name George Nader. If he met with George Nader, he lied under oath."
The Atlantic's Natasha Bertrand: "Worth remembering that Prince is an MbZ associate, has known Nader for over a decade, and lives in the UAE. He didn't *have* to fly to Seychelles in order to meet with them. Unless, of course, there was another reason. "
Seth Abramson: "Remember: Trump rewarded Prince for his pre-election service by making Prince's sister (DeVos) the most unqualified Secretary of Education in modern U.S. history. Remember: days after the Seychelles meeting, Trump planned to implement a unilateral dropping of Russia sanctions."
Sari Horwitz and Devlin Barrett: "Nader's account is considered key evidence [to Mueller] — but not the only evidence — about what transpired in Seychelles, according to people familiar with the matter."




Go deeper