Anti-globalism upending politics worldwide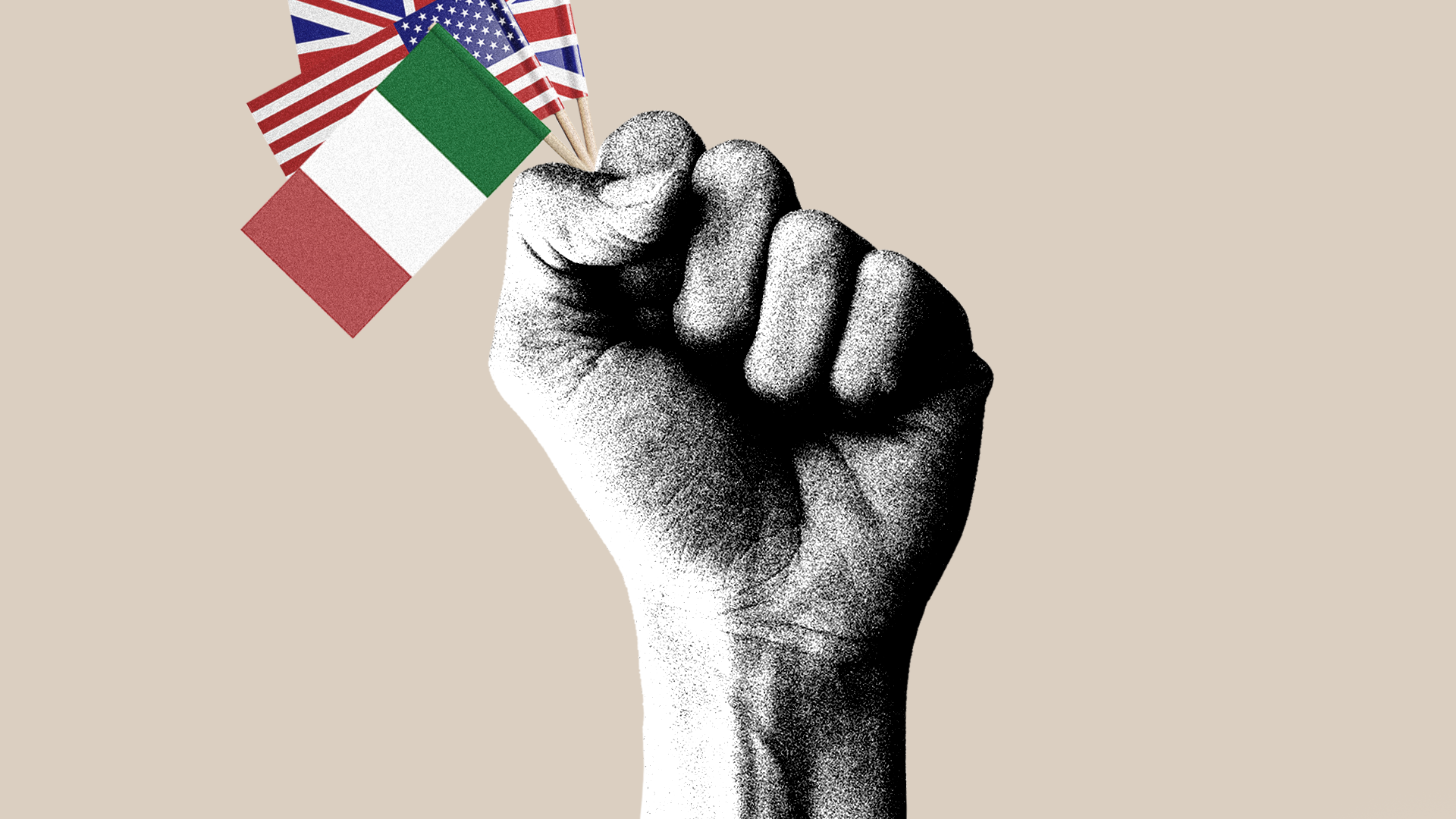 Politicians and policy hands across the West are working to avert trade war, but it's a sideshow to the bigger fight over the long neglect of people left behind by globalization, economists and scholars tell Axios.
Why it matters: President Trump's threat of tariffs and Italy's lurch to chaotic populism are of one piece — they are new chapters in the far-flung uprising against the post-World War II system that we've watched unfold for about two years. But because they reflect a global wave, experts say, there is no knowing how long this period of history will go on.
"If you can't solve the inequality problem, you're going to keep producing Donald Trumps."
— Michael Oppenheimer, New York University's Center for Global Affairs
Why this could be a long-term issue: During the Industrial Revolution, it took between three and six decades for wages to recover their former level, depending who you ask.
The chronology: Trump's campaign speeches were full of promises to enact stiff tariffs and denunciations of trade deals signed by his predecessors. On March 1, he followed through by announcing tariffs of 25% on steel and 10% on aluminum imports.
The move was denounced by leaders of both political parties and foreign leaders.
Some of the loudest protests came from the U.S. oil and gas industry because of the higher cost for drilling projects, reports CNN's Matt Egan.
Share prices rose Monday and yesterday on the belief that Trump would soften, especially when he said he might reprieve Canada and Mexico if they caved on NAFTA renegotiation.
Then, Gary Cohn, Trump's chief economic adviser and the top opponent of tariffs in the White House, resigned yesterday — a strong sign that the aggressive tariffs would proceed.
But that's not the big picture: Trump's support for tariffs are part of the same wave of discontent that led to Brexit, anti-European Union politics in Austria and Germany, and Monday's decision by Italians to sideline mainstream parties and give half their vote to two populist parties.
No one is certain what precisely underlies the wave, except that it appears to be a brew of discontent with migrants, a perceived threat to local culture, and economic unhappiness. And until the West contends with these and other systemic problems, experts believe the wave is likely to go on.
Like many economists, Nariman Behravesh, chief economist for IHS Markit, puts much of the blame on the exclusion of swaths of people across the advanced nations from the fruits of globalization.
"Western governments the last two or three decades have done a terrible job of helping those left behind," Behravesh tells Axios. "We are paying the price of that neglect."
"It's not that we got it wrong, and everyone else is right. Everyone got it wrong. Germany, supposedly with the best reskilling policy, is struggling with it."
— Behravesh
Economists have begged Trump not to proceed with tariffs, which they say will cost many more jobs than they'll create.
As an example, in 2009, President Obama slapped tariffs on Chinese tires. The result was 1,200 jobs saved, but a collective cost of $926,000 per job once you took account of the rise in the price of tires, according to a study by Gary Hufbauer and Sean Lowry of the Peterson Institute for International Economics.
"It's outrageous. The same thing is going to happen with this," Behravesh said.
Signs of escalation are already in the air. When Europe threatened to to retaliate with a tariff on U.S. jeans, motorcycles and whiskey, Trump counter-threatened a 25% tariff on European cars.
"That is a trade war and that's horrible," Oppenheimer said. "He's old enough to know what happened in the 1930s, but I guess he never learned it."
Go deeper