Google growth helps turn NYC into tech hub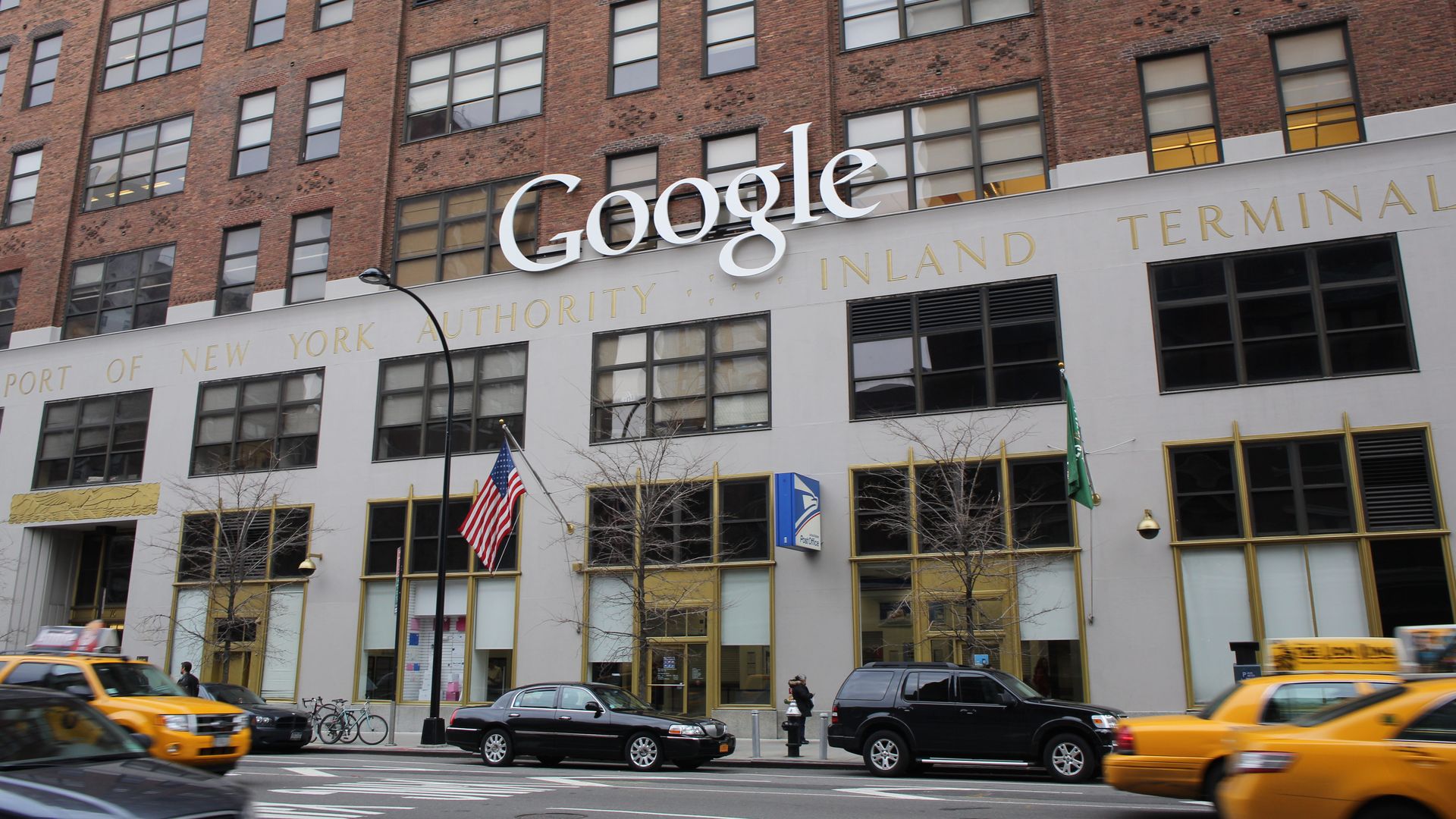 "Google is reportedly close to reaching a $2.4 billion deal to add a landmark Meatpacking District building to its already substantial New York campus," AP's Karen Matthews reports.
Why it matters: "[I]t would be among the priciest real estate transactions for a single building in city history. It would also give Google a remarkable Manhattan campus to supplement its still-growing main headquarters in Mountain View, Calif."
"The building, a block-long former Nabisco factory named after its ground-floor upscale food mall, Chelsea Market, sits across the street from Google's current New York City headquarters, a massive, art deco, former shipping terminal that also occupies an entire city block."
The nickname: "A New York Post real estate writer this week dubbed Google's slice of Manhattan 'Alphabet City,' a reference to the name of both Google's parent company and a neighborhood on Manhattan's east side."
Why it matters: "The Google expansion comes as other tech companies, including Amazon, Facebook and Spotify, are also growing in the city. ... Amazon recently signed a deal to bring 2,000 employees to ... Manhattan's far west side."
P.S. "Silicon Valley Is Over, Says Silicon Valley" — Kevin Roose's "The Shift" column in N.Y. Times:
"[A] growing number of tech leaders have been flirting with the idea of leaving Silicon Valley. Some cite the exorbitant cost of living in San Francisco ... Others complain about local criticism of the tech industry and a left-wing echo chamber that stifles opposing views. And yet others feel that better innovation is happening elsewhere."
"Venture capitalists, who recognize a bargain when they see one, have already begun scouring the Midwest. [Steve] Case and [J.D.] Vance [ author of "Hillbilly Elegy"] recently amassed a $150 million fund called 'Rise of the Rest.' The fund, which was backed by tech luminaries including Jeff Bezos ... and Eric Schmidt ... will invest in start-ups throughout the region."
Go deeper