Democrats may have already won the House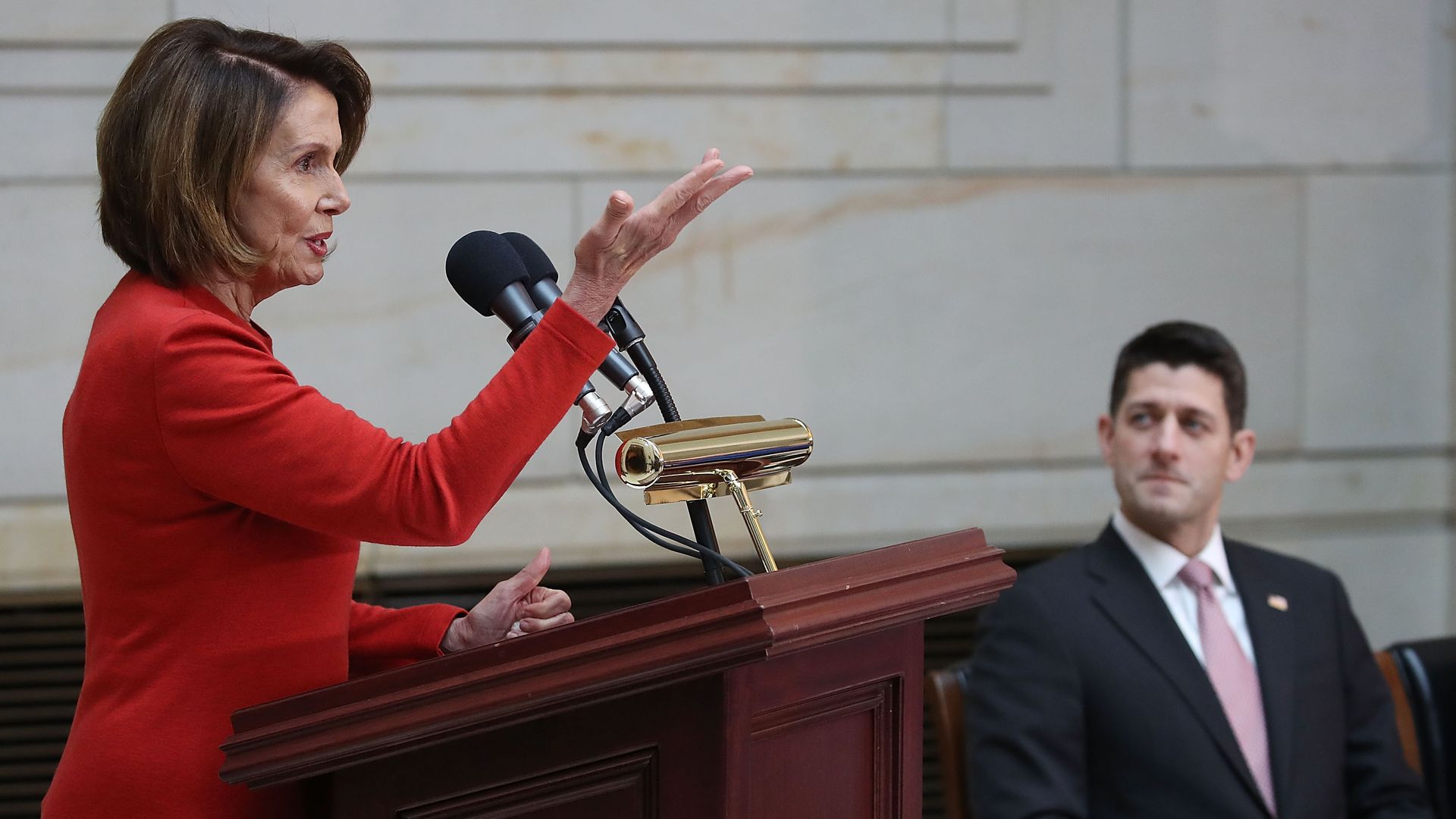 Top Republicans sound increasingly resigned to losing a special House election in Pennsylvania Trump Country a week from today, after party-affiliated groups spent more than $9 million on a race that should be a "gimme."
It's one of the increasingly bearish signs for the GOP ahead of November's midterms, with mammoth stakes for the West Wing: If Dems take the House and there's a Speaker Pelosi, President Trump faces endless subpoenas and perhaps impeachment proceedings.
We had a very clarifying conversation with an analyst who's reliably ahead of the curve, and he agreed to share his findings with Axios.
Chris Krueger, managing director of Cowen & Co.'s Washington Research Group, said he sees four "glaring red flags for the House GOP majority":
The correlation between the president's approval number and first-term midterm losses by the president's party: In the six times that the president's job approval was under 50%, the average loss was more than 43 seats. The Democrats need 24 to flip the House.
CA + PA = half-way there: California is the citadel of the resistance, which has 14 House Republicans. Between retirements, losing state-and-local tax deductions in the tax bill, and Trump's California disapproval, the Golden State could lose half its GOP delegation. The new Pennsylvania redistricting map — and similar anti-Trump trend lines — could cost Rs as many as six seats.  These two states get you halfway to a Democratic House.
Suburban danger zones: 2018 could make the suburbs great again for the House Democrats. The Democratic victories in last year's Virginia and New Jersey governor's races could well be the canaries in the coal mine. Remember that there are 23 House Republican seats in districts Clinton won — and most are suburban.
Trump Coalition Unique to Trump: This is the biggest wildcard.  Just like we saw with Obama voters in the midterms of 2010 and 2014, we suspect the unique coalition that supported the president will not turn out for generic House members of that President's party. Just as Obama voters didn't turn out for generic House Democrats, Trump-centric voters won't come out for generic House Republicans.  You do not drain the swamp by reelecting the establishment and the deep state.
Go deeper: Cowen's Washington Macro Commentaries
Get more stories like this by signing up for our daily morning newsletter, Axios AM. 
Go deeper