Theresa May presents her softest version of a hard Brexit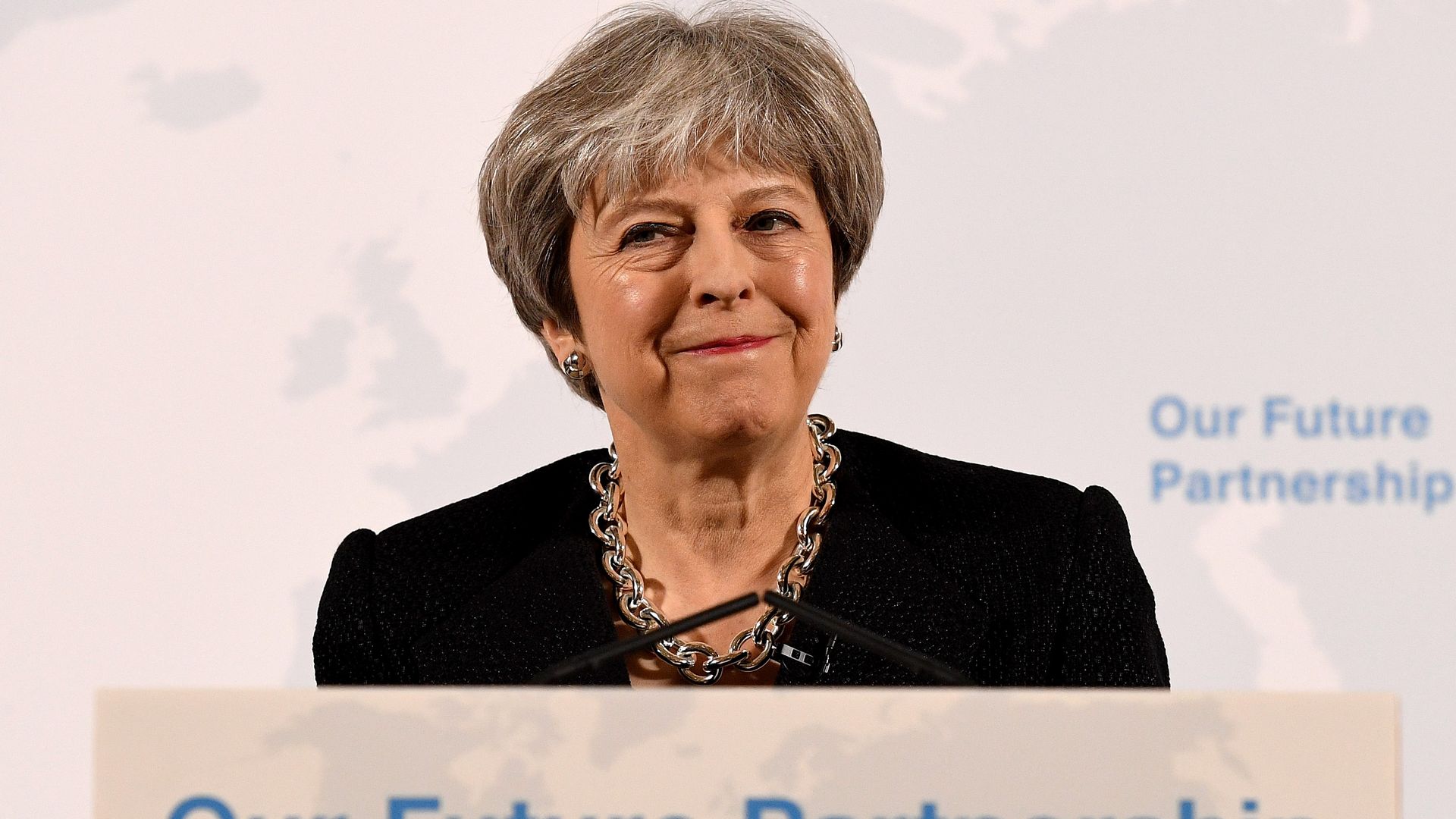 At the end of a week that saw the major players in Brexit set out their positions for the process, British Prime Minister Theresa May outlined her economic vision for the U.K.'s departure from the European Union in a widely-anticipated speech Friday, telling the EU that "we have a shared interest in getting this right, so let's get on with it."
What happened: May presented the softest version of a hard Brexit plan that removes the U.K. from the EU's single market and customs unions but still maintains important economic and regulatory links to the EU via a landmark trade deal — all in an attempt to assuage the dueling wings of her party's vision of Brexit.
Key quote: May was addressing her own Conservative Party as much as the EU when she said, "This is a negotiation and neither of us can have exactly what we want."
Her message: May blasted the EU's insistence on an "off the shelf" deal for the U.K., insisting that the U.K.'s unique status demands a bespoke trade arrangement. She brushed aside European concerns that her requests amounted to "cherry picking," listing off unique details from some of the the EU's other trade agreements, like with South Korea and Ukraine:
"The fact is that every free trade agreement has varying market access depending on the respective interests of the countries involved. If this is cherry picking, then every trade arrangement is cherry picking."
One big concession: May acknowledged that the U.K. might attempt to negotiate associate membership with some key EU regulators — like in the medicine and aviation industries — so that there would be only one approval process for important goods across Europe. She also floated that this plan would allow U.K.-based experts to provide key technical expertise to the EU.
The problem: EU representatives still assert that May is indeed "cherry picking" which parts of EU membership she does and doesn't want for the U.K., which might signal trouble in the trade negotiations to come, per The Guardian:
European Council President Donald Tusk: "From the very start it has been a set principle of the EU27 that there cannot be any cherrypicking of single market à la carte. This will continue to be a key principle, I have no doubt."
Irish Taoiseach Leo Varadkar: "It is not possible for the U.K. to be aligned to the EU when it suits and not when it doesn't."
Dutch Prime Minister Mark Rutte: "For example, membership of the internal market, that means certain obligations. Membership of the customs union, that means certain obligations."
May's five foundations for any trade deal with the EU:
Reciprocal binding commitments
An independent arbitration mechanism
Open, ongoing dialogue with the EU and the ability to consult on regulatory issues
Strong arrangements for data protection
The maintenance of links between people in the U.K. and the EU
A hot tweet among British political journalists:
Go deeper