Updated Mar 3, 2018 -

World
The four corruption scandals circling Benjamin Netanyahu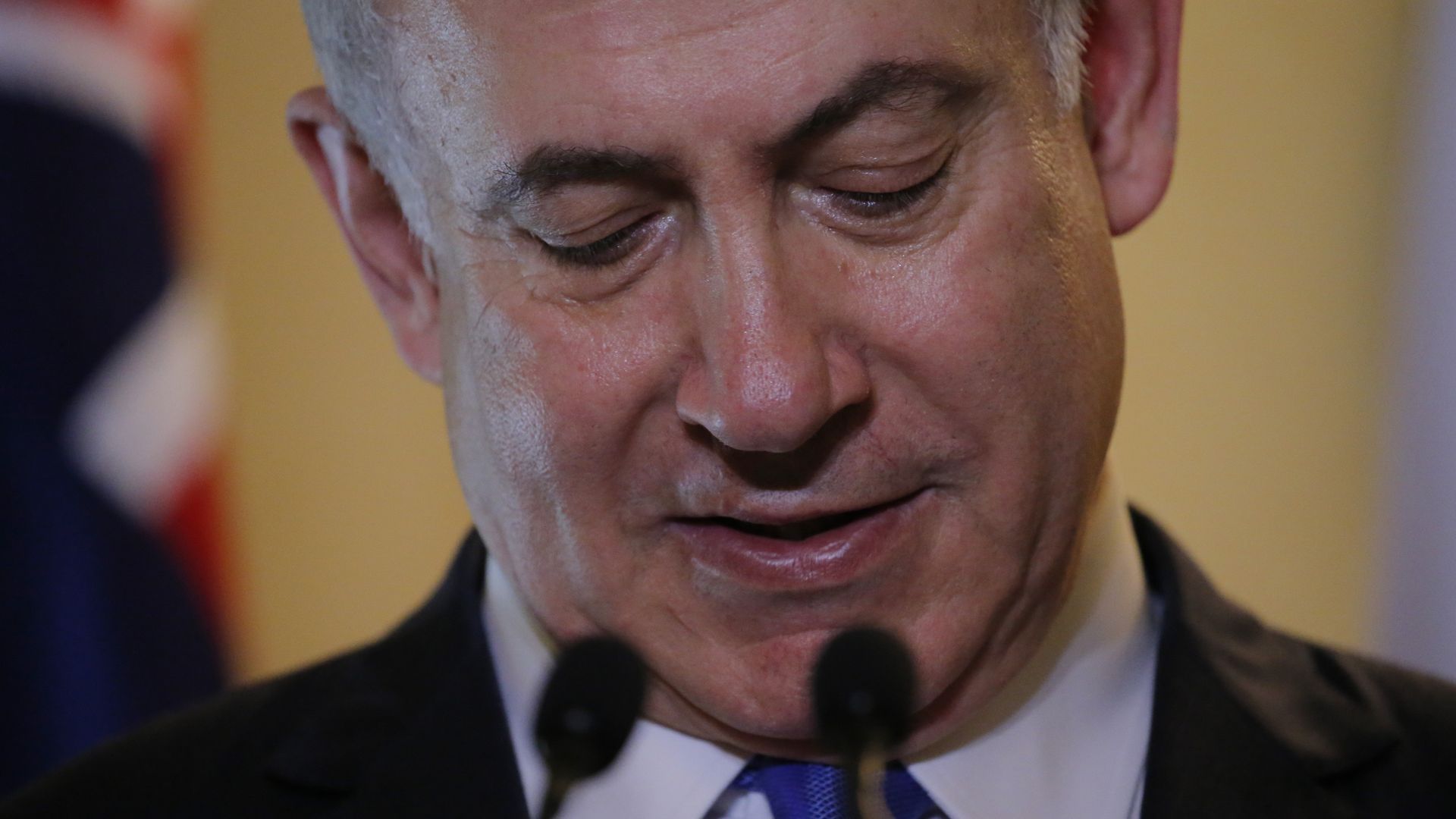 On Feb. 13, Israeli police recommended Benjamin Netanyahu be indicted on charges of bribery, fraud and breach of trust in two corruption cases. The 68-year-old prime minister has found himself embroiled in two other corruption inquiries as well, including one that landed him a sit-down interview with Israeli investigators Friday, according to Reuters.
Why it matters: Netanyahu, no stranger to corruption scandals during his four terms, has repeatedly denied wrongdoing and accused Israeli media of peddling fake news. But with evidence continuing to stack up against him, it remains to be seen whether Netanyahu can once again wriggle free and salvage his political career.
Case 1000
Case 1000 alleges that in exchange for political favors, Netanyahu and his wife received lavish gifts that included pink champagne, cigars and jewelry valued at around $280,000, per Haaretz.
The gifts came from two billionaires: Australian businessman James Packer and Hollywood producer Arnon Milchan.
Packer was reportedly seeking Israeli citizenship, which would have yielded him significant tax advantages.
Milchan pushed for a law that would cut taxes for Israelis who have spent time overseas. Netanyahu also reportedly helped the Hollywood mogul obtain a 10-year U.S. visa and advance his business interests.
Netanyahu has not denied accepting gifts, claiming they were tokens of friendship, but has refuted allegations that he granted any political favors.
Case 2000
Case 2000 involves Netanyahu's attempts to strike a deal with Arnon Mozes, publisher of Israeli newspaper Yedioth Ahronoth. In a recorded conversation, Netanyahu offered to cut the circulation of Yedioth's main competitor, Israel Hayom, in exchange for more favorable coverage.
The conversation was recorded by former Netanyahu aide Ari Harow, who has agreed to testify against the PM in order to avoid jail time in another case.
Per Haaretz, Netanyahu has claimed that "he was not serious about the offer to Mozes and was simply trying to test the publisher."
Case 3000
Netanyahu is not a suspect in the "Submarine Affair," considered one of the gravest corruption cases in Israeli history because of its defense implications, but several members of his inner circle are. Police are looking into the circumstances surrounding a $2.5 billion submarine deal with German manufacturer ThyssenKrupp.
Netanyahu's personal lawyer, David Shimron; former chief of staff, David Sharan; and former national security adviser, Avriel Bar-Yosef, have all been arrested for their involvement.
While Netanyahu is not a suspect in the case, critics are demanding answers over how such a major scandal involving his associates could have taken place without his knowledge.
Case 4000
Case 4000, for which Netanyahu and his wife were questioned on Friday, concerns the suspicious relationship between the Communications Ministry and Israeli telecom giant Bezeq.
A report found that while serving as communications minister, Netanyahu had not disclosed his friendship with Shaul Elovitch, the majority shareholder of Bezeq.
Netanyahu benefitted from positive coverage from a Bezeq-owned news website at a time when he had the power to shape telecom policy.
He later appointed a communications minister that was revealed to be providing Bezeq with confidential information that could advance their business interests.
Go deeper