The fallout from the wild White House gun-control meeting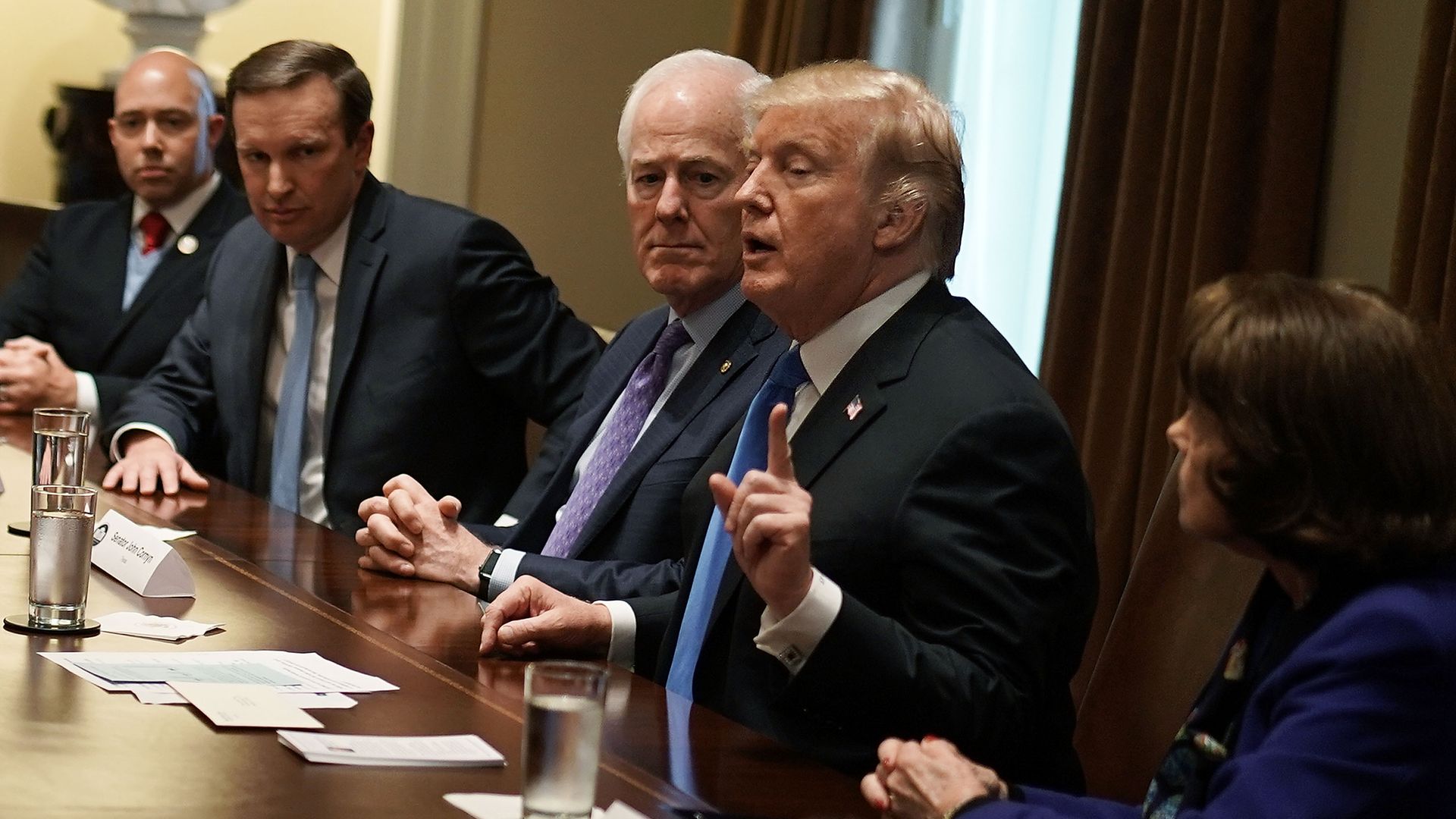 Yesterday's White House meeting on gun control was a stunning display of Trump leaving his party behind and siding instead with Democrats. Senate Republicans immediately dismissed Trump's directive to put together a broader gun package, instead hoping — and assuming — that he'll change his mind and come around to their side of the issue.
Why it matters: If Trump sticks with his proposals, it'll set up a huge clash between his dealmaking and Republican desires not to cave on one of the party's most defining issues.
What happens next: Majority Whip John Cornyn, who sat right next to Trump at the White House meeting, returned to the Capitol and said the same thing he's always said: The Senate should start with his popular, bipartisan bill that strengthens the background check system, and see what amendments could pass.
"Coming out of that, we would at least have a background check bill that would save lives," he told reporters.
Putting together a passable more comprehensive bill, as Trump told members to do, is "easier said than done," he added.
Republicans were, for the most part, careful to characterize the freewheeling, televised meeting as helpful, just not indicative of where things will end up. Many people I talked to were still shocked and didn't know what to think hours after the meeting ended.
Meanwhile, Democrats suggested the onus to get anything more done lies with Trump. The Democratic cosponsor of Cornyn's bill, Sen. Chris Murphy, said he was "not highly confident" that the president will follow through.
"The White House can now launch a lobbying campaign to get universal background checks passed, as the president promised in this meeting, or they can sit and do nothing," Murphy told reporters.
Bottom line: Republicans control both chambers of Congress. No one really thinks Majority Leader Mitch McConnell or Speaker Paul Ryan will ever bring the kind of legislation Trump endorsed up for a vote.
Go deeper