Updated Mar 1, 2018 -

World
Brexit's major players stake out their positions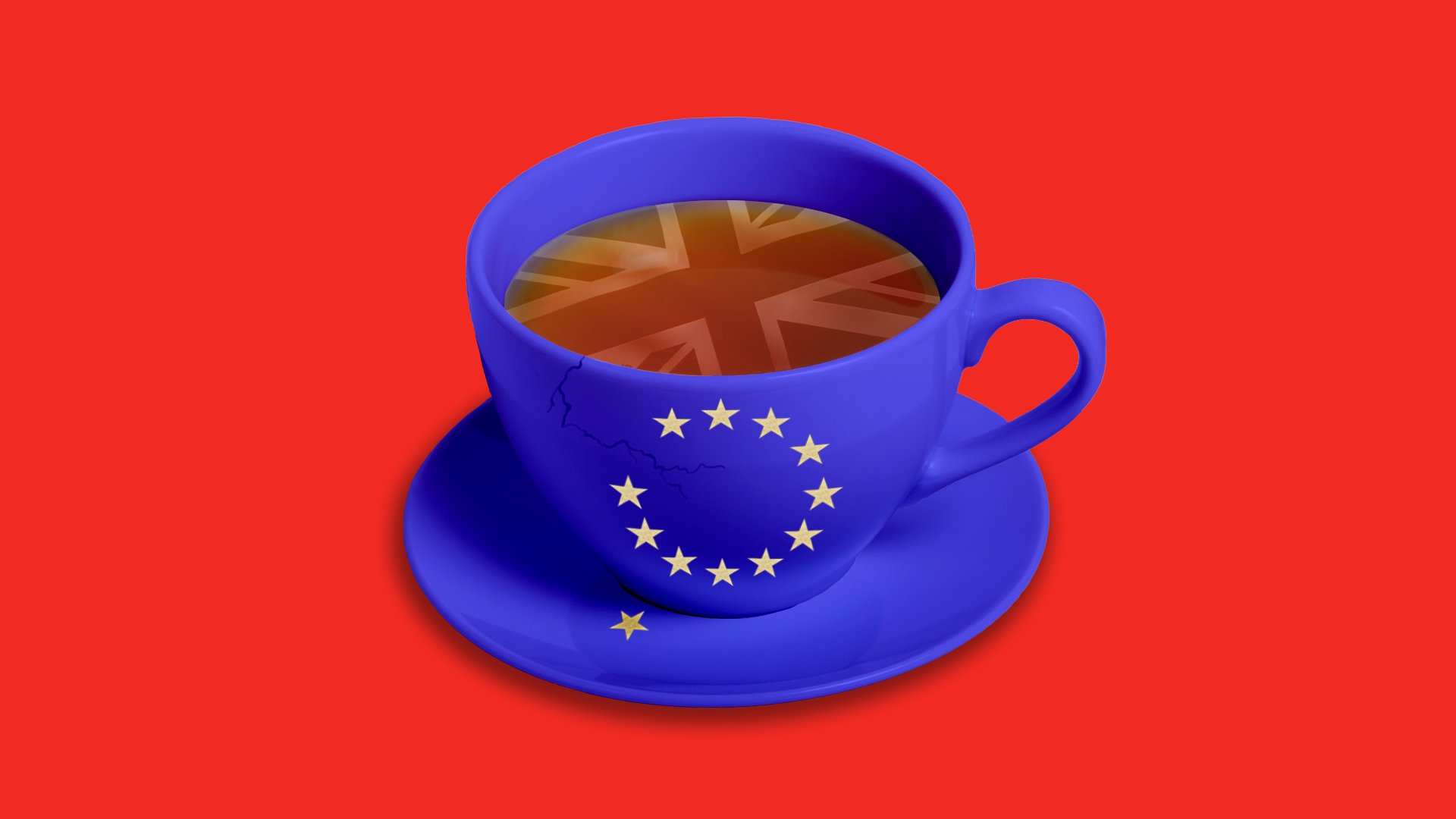 The key players in Brexit negotiations have finally begun to outline their visions of the end game this week, ahead of a widely anticipated speech tomorrow from Prime Minister Theresa May.
The state of play: The European Union issued its draft agreement for Brexit yesterday, elements of which have been rejected outright by May's government. Meanwhile intraparty disputes over Brexit are as much of a worry for May as international ones.
The EU's draft
Late last year, the U.K. and EU announced that they had reached a critical "phase one" deal, which injected some life into May's ailing premiership. But the draft issued yesterday apparently tossed aside those earlier agreements, throwing Brexit negotiations into another round of chaos.
Three big issues with the draft:
Northern Ireland: The EU's draft keeps Northern Ireland inside the EU's customs union after Brexit, which eliminates the need to institute a hard border with Ireland but places an economic border in the Irish Sea between Northern Ireland and the rest of the U.K. Given that May's coalition government is only afloat via votes from Northern Ireland's Democratic Unionist Party, this proposed arrangement won't fly. Indeed, May stated yesterday that "no U.K. prime minister could ever agree" to it.
Trade deals during the transition: The draft agreement prohibits the U.K. "from any action or initiative which is likely to be prejudicial to the Union's interest" during the transition period, which could mean that it wouldn't be able to negotiate its own free-standing trade deals during that period.
Free movement of people: It also allows for EU free movement laws to apply throughout the course of the transition period, something May expressly shot down last month, stating that EU citizens who entered the U.K. after Brexit Day in March 2019 shouldn't expect full rights "because they will be coming to a U.K. that they know will be outside the EU".
May's speech
The big thing: She's intent on removing the U.K. from both the EU's single market and customs union, which would give the U.K. the freedom to negotiate its own trade deals worldwide.
The strategy: May took a number of key Cabinet members to Chequers, the prime minister's traditional country hideaway, last week to hash out their Brexit disagreements. They arrived on a strategy described as "ambitious managed divergence," per the BBC's Laura Kuenssberg.
That policy essentially means that May will call for the U.K. to accept EU rules and regulations "on a voluntary basis" during the transition. That's a strategy that likely won't be accepted by the EU — which sees it as "cherry picking" some of the benefits of EU membership without upholding its most crucial obligations.
She's taking her plan to her full Cabinet today in order to sure up support before tomorrow's decisive speech.
The dissenting voices
From the left: Labour leader Jeremy Corbyn laid down the gauntlet for May in his own Brexit policy speech on Monday, calling for "a new, comprehensive U.K.-EU customs union" after Brexit. That decision firmly set the Labour Party apart from May's Conservatives — and his speech gained support from key members of the business community.
From the center: Corbyn's proposal opened the door for Brexit-skeptic Conservatives to break with their own party — given May's slim majority following last summer's electoral disaster — and side with Labour. That possibility has left May and her government scrambling to see if an allied Labour-Conservative parliamentary vote in favor of a customs union would actually be legally binding, per The Guardian.
From the right: From the other flank of May's own party, arch-conservative Brexiteer MP Jacob Rees-Mogg, who heads the powerful anti-EU European Research Group, blasted a leaked government document that largely jives with the EU's draft agreement as a "perversion of democracy". In characteristic style, he blasted May's "divergence" strategy — indeed, anything less than a hard Brexit — in the Telegraph:
"When we leave the EU on 29th March next year we need not continue to behave as if we were still a member.  That would make us a vassal state and there have been no vassals in this country since the era of the Plantagenets."
From the past: Former Conservative prime minister John Major gave a speech yesterday calling for the "option" for a second referendum on Brexit given that it is set to "hurt most those who have the least." He took a direct jab at May's lack of coherent policy thus far, saying, "With only 12 months to go, we need answers, not aspirations."
Go deeper